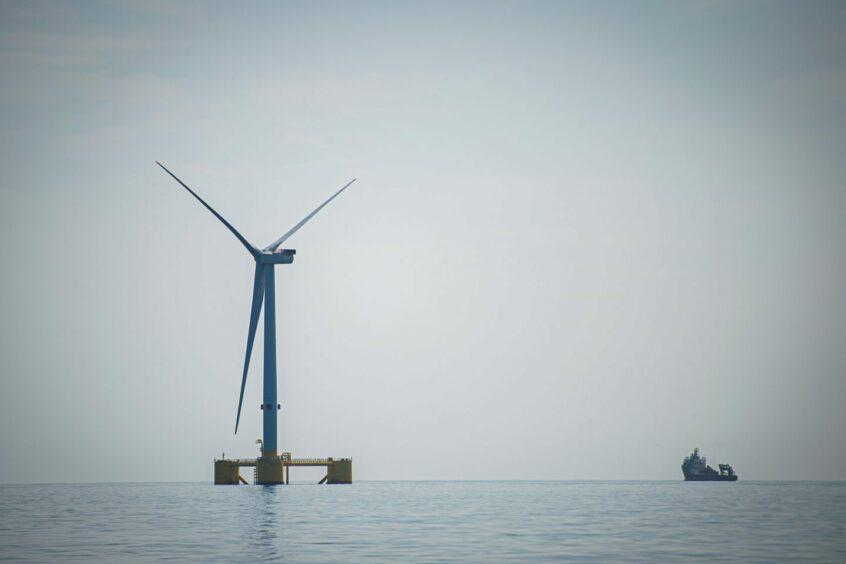 The seabed manager has refined plans for its upcoming floating wind leasing round off the south west coast, consolidating areas on offer and upping total capacity.
In an update this week the Crown Estate set out new parameters for Offshore Wind Leasing Round 5 process, its first major phase of development in the Celtic Sea and one aimed at supporting the emerging floating wind sector.
First announced in 2021, the programme was initially intended to establish 4GW of floating capacity by 2035, though the agency said the area could accommodate up to an additional 20GW by 2045.
However new changes will see a slight revision to these targets.
Notably, the leases offered in Round 5 will now cover three project development areas (PDAs) of roughly equal size, as opposed to the previously proposed four PDAs of varying sizes. Moreover, no bidder will be able to secure a lease agreement for more than one area – potentially widening the playing field.
As a result of the consolidation to three equal-sized areas, each will also be offered with a potential capacity of up to 1.5GW, upping the overall capacity available from a possible 4GW up to a potential 4.5GW.
Crown Estate says this would be enough to power more than 4 million homes.
It expects to publish a formal "information memorandum" on the round before the end of this year, ahead of the formal start of the leasing round.
The changes follow lengthy engagement with developers and stakeholders on proposals set out in July over how to make best use of available space in the Celtic Sea.
Crown Estate said the alterations changes would provide "better optimisation of the seabed, and give developers greater flexibility by providing more developable space in each of the three areas."
Existing parameters will also see developers required to set out specific commitments to ports, as well as establishing binding commitments on wider issues such as enhancing skills, addressing environmental impacts and delivering community benefits as part of the leasing process.
Managing director for marine Gus Jaspert said: "Round 5 is set to be one of the biggest projects of its kind in the world, and will be a game changer for the UK's energy security and net zero ambitions. It also stands to be transformative for communities across South Wales and South West England. Businesses and communities of all sizes stand to benefit from the opportunities on offer, but it will require ongoing collaboration to make these a reality.
"We will continue to work closely with governments, industry partners and our full range of stakeholders to drive the partnerships needed to truly realise the full potential of floating wind in the Celtic Sea."
Surveys in flight
Alongside updated information on the location and size of the new wind projects, further updates were given on the status of an ongoing programme of marine surveys across the PDAs.
The latest phase of this work started on 24th September, with aircraft now gathering data on the sea birds and marine mammals around the project sites and more widely in the Celtic Sea.
This follows the award of a contract to leading aerial surveyors HiDef for a two-year programme.
Developers have also now been told that comprehensive technical specifications for the whole programme of surveys will be published later this month, giving a complete picture of the data that will eventually be available.