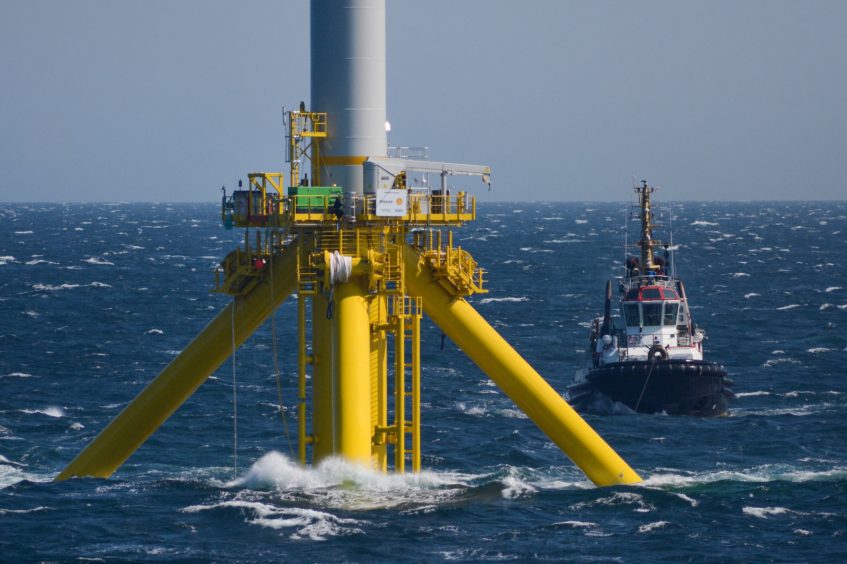 Generator RWE has launched a new study in tandem with the supply chain to explore how best to manoeuvre and launch floating wind foundations.
Announced during the Floating Offshore Wind conference in Aberdeen on Wednesday, the study will focus on how two types of floating platforms – one steel and one concrete – can be mobilised using various supply chain technologies.
As well as how to offload and launch structures from quaysides, it will also consider how to integrate next-generation wind turbines onto foundations using equipment from Sarens and Tugdock, who will deploy their crane and barge technology and submersible platforms, respectively.
The developer said these systems could help address logistical challenges ports face in order to accommodate commercial-scale floating offshore wind deployment.
Sarens provides large crane fleet services, heavy lifting and engineering transport, while Cornwall-based Tugdock has developed an innovative technology which combines a steel frame and patented air lift bags to act either as additional buoyancy or as a submersible platform for lifting or launching heavy marine structures.
With a load capacity of up to 25,000 tonnes and a modular design, the firm says it can be easily transported by road and is well placed to support the deployment of commercial-scale floating wind.
The two companies announced a collaboration earlier this year.
The RWE-backed study will consider the use of these systems at the Port Talbot facility in South Wales, run by Associated British Ports, which is presently being upgraded to enable the manufacturing, assembly, and integration of floating offshore wind turbines.
The results will inform activities at other suitable ports in the region, such as the Port of Pembroke, owned and managed by Port of Milford Haven Authority.
It comes as RWE looks to secure "at least 1GW" of floating wind capacity as part of the upcoming Celtic Sea leasing round.
Philippa Powell, Celtic Sea project director at RWE said: "We are set to participate in the upcoming Crown Estate's UK Round 5 seabed auction. Commercial scale floating wind leasing offers the potential for multi-billion pound investment into the region; innovation is one of the key mechanisms that we are pursuing to try to ensure that the potential of this opportunity is realised locally.
"Working with Sarens and Tugdock is another example of our approach to identify local suppliers to help unlock the huge potential offered by seabed leasing in the Celtic Sea. We see huge potential in a combined Sarens-Tugdock solution, that is flexible and exportable."
Carl Sarens, director of technical solutions, projects and engineering at Sarens, added: "This is the perfect start to our new partnership with Tugdock. It is great to see such a prestigious company as RWE showing confidence in our innovative approach. We are excited to be working with RWE to help accelerate the deployment of floating offshore wind technology in the Celtic Sea."
Lucas Lowe-Houghton, director of strategy and growth at Tugdock said: "The sheer scale of floating offshore wind turbines and their sub-structures creates a significant logistical challenge for ports around the world, many of which are constrained by size, water depth or tidal range. Our unique technology has been designed to meet this challenge head on."