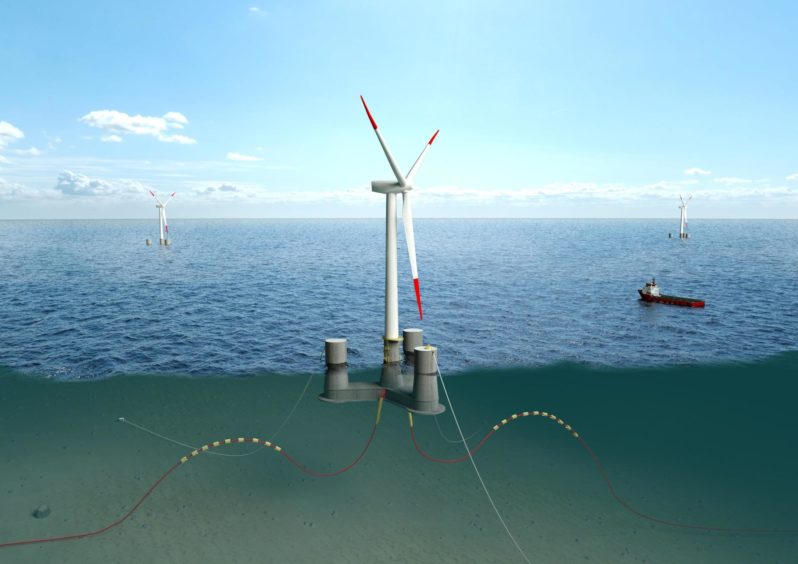 Successful bidders including SSE Renewables and BlueFloat Energy have signed option agreements with Crown Estate Scotland (CES) for floating offshore wind sites secured as part of the ScotWind auction round.
One partnership, comprised of clean energy developer SSE Renewables, Japanese conglomerate Marubeni and Danish fund manager Copenhagen Infrastructure Partners (CIP) confirmed the signing of the agreement with CES on Monday.
At the same time, Falck Renewables and BlueFloat confirmed they had signed option agreements on three successful bids.
The former joint venture paid option fees of £85.9 million for rights to develop up to 2,610MW of capacity in the January auction round, for what they say will become one of the world's largest floating offshore wind farms.
The joint project is located in the E1 Zone in the Firth of Forth, off the Angus Coast, and was one of the largest lease areas offered CES during the ScotWind process.
First generation from the project is targeted before the end of the decade, the developers said.
In a statement the partners said a "significant amount of pre-award survey work" was already undertaken by the group, while a major new geophysical survey began in early April.
Ornithological and marine mammal aerial surveys are also underway, as well as co-ordination and mobilising wider regional eastern aerial surveys in co-operation with other East 1 and East 2 ScotWind developers.
"It is great to have a signed option agreement for our project, the result of a huge amount of work from our team. Progress is really ramping up and critical work like our geophysical survey which is underway will support our consenting plans allowing us to understand ground conditions and environmental habitats over our lease area," noted SSE Renewables senior project manager David Hinshelwood.
Bellrock, Broadshore and Stromar
Meanwhile, Bluefloat and Falck said their joint site east of Aberdeen, in Plan Option E1, will be known as Bellrock, while a site secured north of Fraserburgh in Plan Option NE6 will be named Broadshore, for which they paid a combined £41.4 million in fees.
A separate consortium of Falck Renewables, Bluefloat Energy and Ørsted have also jointly signed an option agreement on a site east of Caithness in Plan Option N3, which will be known as Stromar.
Together the three areas could accommodate up to 3,000MW of offshore wind capacity – also scheduled to be operational by the end of the decade, subject to securing consent, commercial arrangements and grid connections.
In addition commitments to build a local workforce and Scottish supply chain, the partners said they aimed to establish a new model to ensure communities benefit from offshore wind.
They said work had already begun with community ownership experts Energy4All on a new framework which will allow residents of Scotland and Scottish communities to share the financial benefits of the offshore wind energy projects the consortium plans to build in the future.
Falck Renewables Wind managing director Richard Dibley said: "These offshore wind projects will have a hugely positive impact in Scotland, something we have always been passionate about over our more than 15 years delivering onshore wind in Scotland. They will create jobs, strengthen local supply chains, generate economic benefit and help to empower communities as we forge ahead and turn our plans into reality."
Recommended for you

Time to move forward with confidence to deliver on the potential of ScotWind