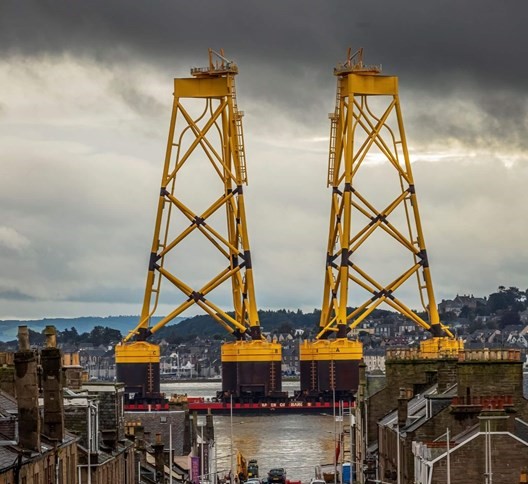 Companies capable of making an array of offshore wind components are being pushed to engage with BP (LON: BP) on its ScotWind project.
In an update on the North Sea Transition Authority's energy pathfinder portal, the London-listed energy giant signalled its desire to collaborate on the Morven offshore wind farm.
Though not classified as urgent, BP is seeking to cooperate on fixed foundation fabrication, ship building, cable manufacture and tower fabrication.
Onshore and offshore substation construction, as well as engineering of wind turbine blades, are also listed.
It is an advertisement that will undoubtedly prick the ears of many companies with current or future offshore wind ambitions.
The energy pathfinder portal is designed to help the supply chain get its ducks in a row by giving clear sight of work coming down the road.
Measures are being taken at all levels to try to boost the UK's renewables manufacturing capabilities ahead of the green energy boom.
But there are still real fears that developers will opt to have components fabricated overseas and shipped to Scotland, meaning a lack of real domestic benefit.
Delays to the Scottish green freeport process, seen as key lever in securing local manufacturing work, is doing little ease concerns.
Investment across the supply chain
In developing Morven, BP has promised investments in infrastructure, ports, harbours and shipyards, including the construction of four support vessels.
These new-builds will involve spend of over £100 million, with expectations it will support 500 associated jobs.
In a post on the energy pathfinder portal pathfinder, BP stated: "It also triggers additional investment in Forth Ports, who are creating Scotland's largest renewable hub at the Port of Leith, supporting up to 3,000 direct and indirect jobs in the Forth Estuary net zero corridor."
Aberdeen the hub for Morven
Morven is one of 20 offshore wind projects selected as part of Crown Estate Scotland's ScotWind leasing round, the results of which were unveiled in January.
BP, which has been steadily growing its offshore wind pipeline in recent years, secured acreage off the east coast of Scotland alongside German developer EnBW.
Earmarked for about 36 miles off Aberdeen, Morven will be a fixed-bottom project, with a total generating capacity of around 2.9 gigawatts (GW), enough to power more than three million homes.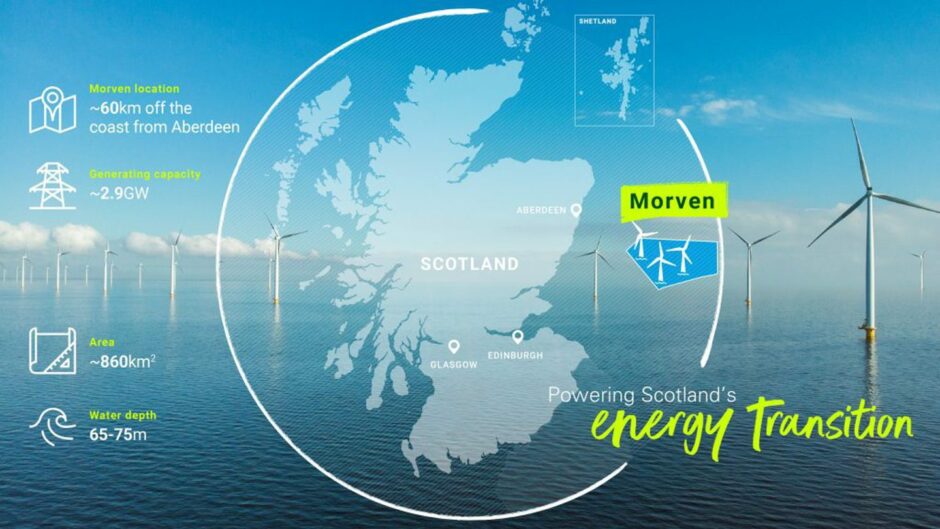 In order to support development of the scheme, BP is working to make the Granite City its "global operations and maintenance centre of excellence for offshore wind".
The move is expected to create up to 120 new direct jobs and contribute up to £40 million per year to the local economy.
In order to support oil and gas workers to be part of the energy transition, BP has also committed over £1m to the X-Academy in Scotland as part of a five-year deal.
BP said: "The success of the bid is expected to unlock a number of investments across the country, as part of BP's integrated energy company approach, leveraging its existing North Sea infrastructure, skills and relationships and EnBW's experience in offshore wind.
"Along with the offshore wind development, these investments include significant expansion of electric vehicle charging infrastructure in Scotland and green hydrogen production. Together, these represent up to £10 billion of investment in support of offshore wind and Scotland's energy transition."
Recommended for you

ESG, oil & gas and the energy transition