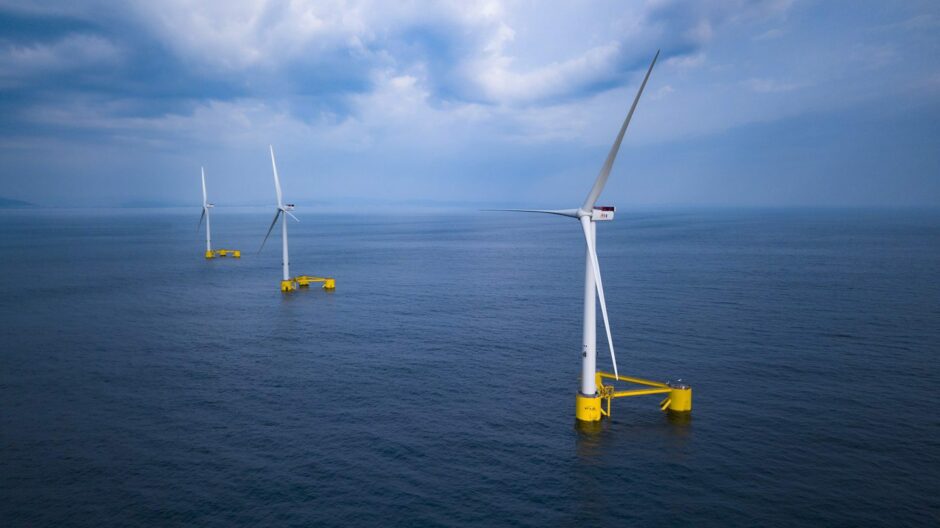 A court has thrown out an offshore wind lawsuit for £400m in damages over a contested ScotWind seabed lease off Aberdeenshire.
Ocean Winds, the Franco-Spanish joint venture company, took action in the Scottish Court of Session against BlueFloat Energy and its partner consortium which won seabed rights to the NE6 project in January 2022.
It claimed for £400m damages – profits it said it would have received from the windfarm had it won the lease.
'Grossly exaggerated, false and misleading'
The firm said the Bluefloat consortium made statements in its bid which were "grossly exaggerated, false and misleading" over its previous experience in floating offshore wind, linked to a project called WindFloat Atlantic off Portugal.
Court documents show Bluefloat "strenuously denies" this. The firm had no comment when approached by Energy Voice.
Ocean Winds said these claims led to BlueFloat winning the ScotWind lease and gave Crown Estate Scotland, which manages the leasing round, cause for action as a breach of contract.
Judge's decision
The judge Lord Sandison threw out the action in which Ocean Winds accused the Bluefloat consortium of an unlawful means conspiracy.
His decision was, in part, because there may have been other bidders for the NE6 site and there was no guarantee Ocean Winds would have won in any case.
Other factors in the decision included the Statement of Commitment in the lease not being regarded as "any term of a contract" and was "at best some variety of pre-contractual representation".
On the alleged misrepresentation, Lord Sandison said it is "not necessary to reach that conclusion" to decide whether damages are owed.
In his conclusions, however, he conceded that it is "possible" that the consortium "co-incidentally and independently advanced very similar, if not identical, hypothetical faslehoods".
He decided not to dismiss the conspiracy claim as irrelevant because it is "far from impossible" to "infer the presence of the requisite ingredients of a conspiracy to injure".
ScotWind in court over NE6/ Broadshore
Bluefloat is partnered with Falck Renewables – now knows as Renantis – on the NE6 project, which has since been rebranded as Broadshore.
Quantum Energy Partners, Eneus Energy,  TTI Marine Renewables, DNV Services UK, HaskoningDHV UK, Offshore Wind Consultants UK, Energy4All and Vector Renewables Espana are also part of the consortium.
The project site lies 30 miles north of Fraserburgh.
According to Broadshore's website, the consortium plans to spend £2.63 billion on the Scottish supply chain over the duration of the project.
Ocean Winds, a joint venture of Spain's EDP Renewables and France's Engie, was contacted for comment.
A spokesperson for the company said: "Moray Offshore Renewable Power Limited (fully owned by Ocean Winds, a key player in floating offshore wind) has been engaged in court action against Bluefloat Energy concerning claims made by the company concerning their experience in WindFloat Atlantic Project, a floating offshore project operated by OW.
"We are analysing the court decision that has been issued and have no further comments to make at the moment."
Recommended for you

Monitoring begins at 1GW floating Scotwind site off Caithness