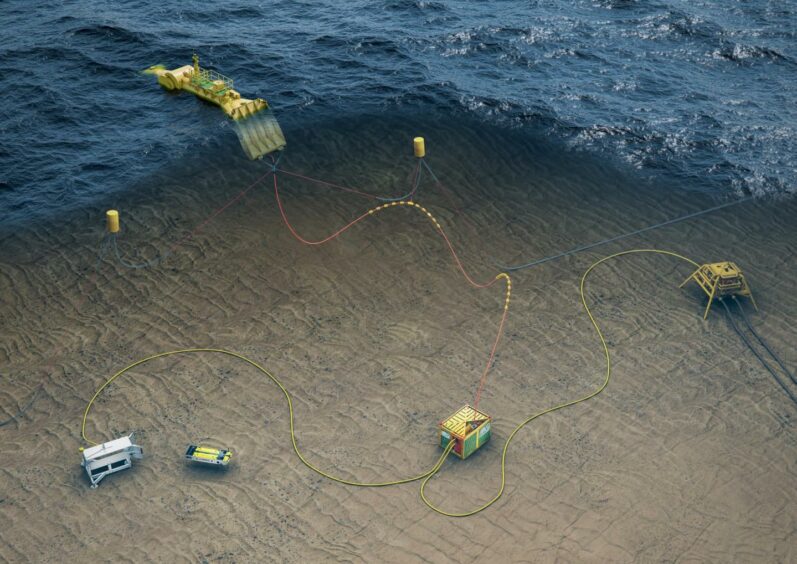 Delegates at an Energy Voice event Thursday afternoon heard how a range of technologies, from AI to smarter valves, are enabling the sector in its journey to net zero.
Featuring presentations from service providers, operators and technology developers, the second session of the virtual Future North Sea summit saw hundreds attend to explore the technologies needed to make the basin fit for purpose in a net zero world.
Chaired by Mary Thorogood, government relations and external affairs director for the Net Zero Technology Centre (NZTC), panellists included representatives from Baker Hughes, Schlumberger, Score Group, CNOOC and Storegga.
The session began with a presentation from Schlumberger product development manager for sustainability, Colin Longfield, who highlighted how the oilfield services giant has configured its technology development and R&D plans around the themes of the UN Sustainable Development Goals (SDGs).
In addition to addressing specific work areas such as methane emissions, well construction and electrification, he emphasised the overarching importance of collaboration – also a theme in the day's earlier session – to make the most of wide-ranging emissions reduction opportunities.
"Although individual component technologies can make meaningful contributions to reducing oil and gas emissions from the value chain, some of the biggest impacts can occur when entire projects are planned collaboratively. Early engagement is key," he noted.
"If we work together to understand project drivers early, we can help assess the relative impact of available options and our teams can design solutions that best fit the project need."
He pointed to projects with Equinor and Var Energi in the North Sea, where new technologies such as transient testing tools and multilateral well drilling systems had been able to quantify and unlock new resources, with vastly reduced CO2 footprints compared with conventional methods.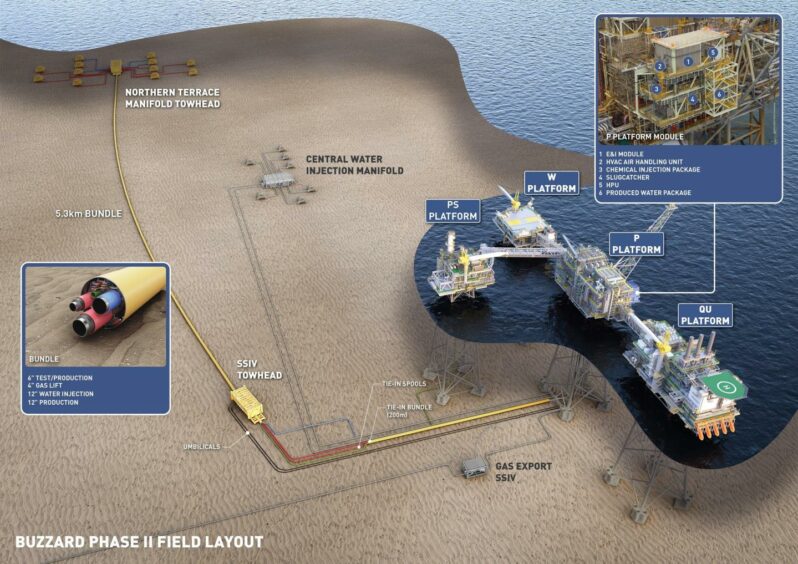 Electrification and emissions
CNOOC International senior manager Clive Sirju offered an operator's perspective on transition technology, highlighting the areas of interest for reducing emissions across its Buzzard, Golden Eagle and Scott assets.
With power generation responsible for 70% of the company's direct (scope 1) emissions, it's clear that efforts around platform electrification will continue be one of – if not the most important – targets for action.
He also nodded towards future opportunities for these assets, adding: "We are working on a strategy towards CUS and hydrogen, recognising the fact that at some point in time, there may be a reuse or repurpose of our existing facility. That needs to be included in our plans going forward, but of course it needs to be a business opportunity for CNOOC."
Mr Sirju said CNOOC was also participating in several NZTC programmes which it hoped would yield results, in projects related to alternative fuel gas turbines and offshore manning optimisation, and will shortly join another to explore reservoir opportunities for carbon sequestration.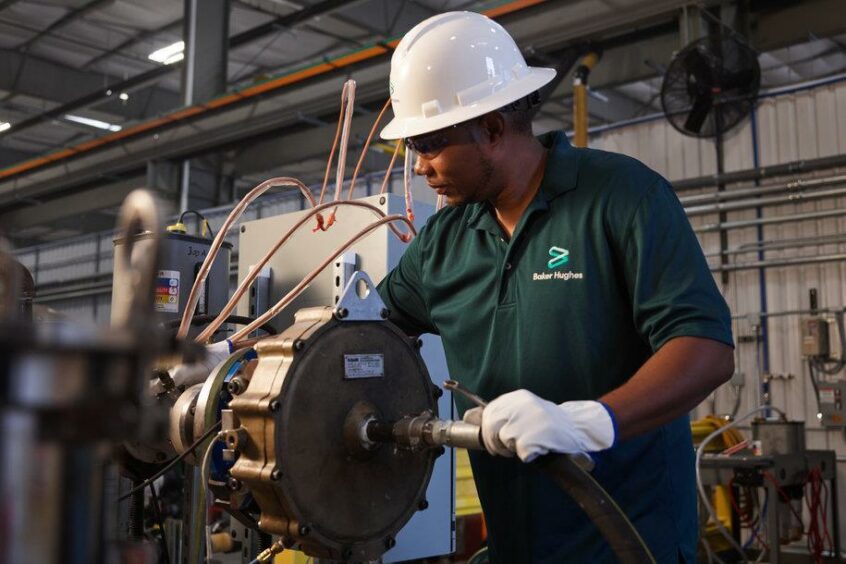 Going mainstream
Baker Hughes SPS systems product manager, Matt Lamb, explored the company's efforts into new electrification technologies, noting that its current technology and assistance pathway "takes us far beyond today's systems."
He also said the sector was at a critical moment in the adoption of electrical technologies, adding: "I think for the industry, subsea electrification is ready to go mainstream.
"I think it offers a lot of opportunities to enable both capex and opex savings, and also how we improve the environmental [impact] as well," he said, noting the enhanced reliability and control offered by, for example, electrical submersible pumps over hydraulics.
Drawing on his previous experience in the aviation sector, and referencing the widespread adoption of "smart systems" by consumers in everyday products such as Alexa, Mr Lamb also put forward that oil and gas was also reaching a place of greater trust in automation and AI applications.
"I think we're going through the same evolution with electrification and digitalisation of our subsea systems. The technologies already exist, what we need to do is intelligently configure them into a cohesive system," he explained.
He added that adoption of these new systems now will also enable greater integration of other technologies such as CCUS or hydrogen, and greater access to renewable energy for power and storage – all of which can enable greater emissions reduction and greater sustainability in the long run.
Get smart
Score Group sales and marketing director Dave Anderson offered a supply chain perspective on solutions to enable rapid emissions reduction.
While flaring and venting may receive much attention from operators, he noted studies showing that up to 75% of emissions come from leaking valves, and highlighted the need for "robust management systems" to ensure these are brought under control – particularly in the case of methane.
Smarter valves and supporting technologies – such as those developed by Score – can assist in this. But Mr Anderson also pointed to the strategy behind addressing these issues: "We want to take a top-down approach – go for the biggest problems first and that's what's going to take us to zero emissions at the earliest opportunity."
Likewise, the use of smart components can also ensure that maintenance or replacement is carried out before a critical failure – avoiding unnecessary emissions and costs.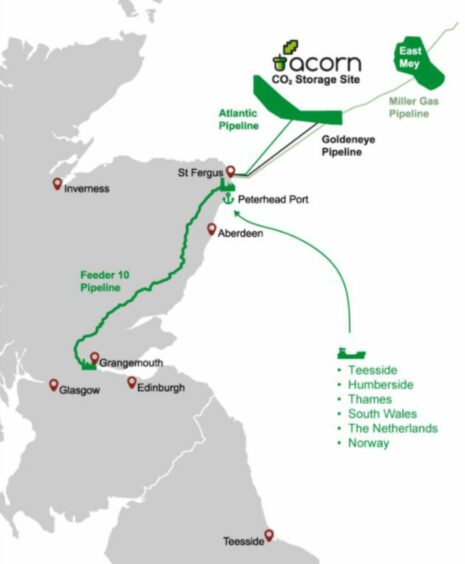 From Acorns grow
Finally, Storegga stakeholder and communications lead Charlotte Hartley set out the national and international scope of the CCS developer's ambitions.
In addition to the Acorn CCs project, based around the St Fergus Gas Terminal, Ms Hartley outlined wider plans that could see a carbon-capture enabled hydrogen production plant and the UK's first commercial direct air capture (DAC) facility integrated into local infrastructure.
Successful delivery of these plans could see the site become a hub with international reach.
"We are looking at where we can bring CO2 in from elsewhere around Europe, and looking at convenient transport solutions for major emitters," explained Ms Hartley.
"This is particularly prevalent for the countries that have large profiles of emissions around industry and ports and that don't have a particularly strong local CO2 storage solution. That is how we hope to kickstart a CO2 management industry."
This would see links forged with other storage sites in regions like Norway or the US Gulf of Mexico, where support for the technology is also growing.
Further afield, she noted agreements that will allow Storegga to explore for potential CCS sites in areas such southeast Asia, Australia and Eastern Europe.
"There's a lot of potential, a lot of things in the pipeline, and a lot of CO2 to be stored," she added.
"So we are really looking at this from a sustainable growth perspective – in the transitional technology area, and in what Storegga is seeking to build, there's so much potential, because we have such a big, global challenge that we need to face."
Recommended for you

'Critical' years for rapid test and deployment of net zero technologies