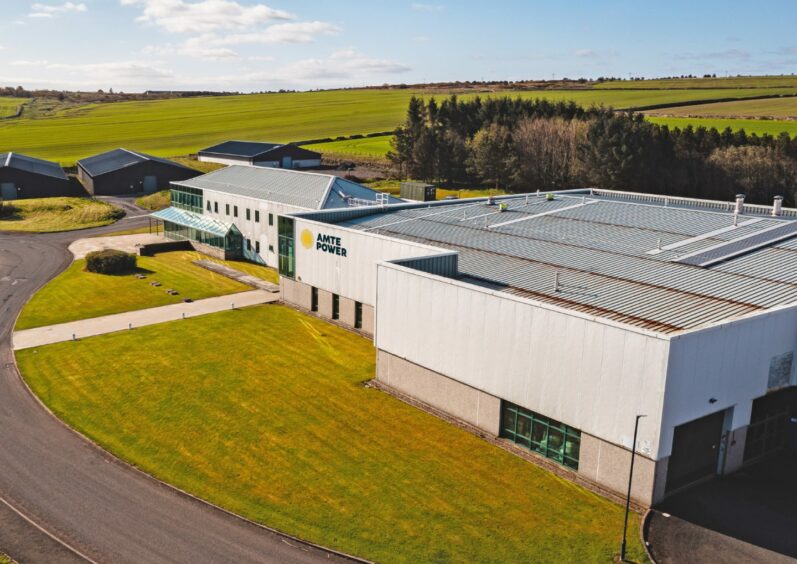 Battery company AMTE Power insists it is "committed" to its Thurso base after suggesting it could be tempted to the US to take advantage of President Joe Biden's green subsidies.
Over the weekend, the Highland-based manufacturer hinted it is mulling a move because of the US's new Inflation Reduction Act.
However, the company said on Monday it is "incredibly proud" of its UK heritage.
The comment came on the same day First Minister Humza Yousaf said he was concerned at reports the firm might move.
'Incredibly proud' of UK heritage
In July last year, AMTE Power announced Dundee as its preferred site for its new £160 million project, which could bring more than 200 jobs.
The company specialises in lithium-ion and sodium-ion batteries for energy storage and electric cars.
Information from the American Senate shows the US will pour a colossal £369 billion into energy security and climate change programmes during the next 10 years.
AMTE CEO Alan Hollis told The Press and Journal: "We are incredibly proud of our UK heritage at AMTE and we want to remain a UK business.
"We have developed our technology here and our intention is to commercialise our products in the UK, using our Thurso facility and by scaling up production at our preferred gigafactory site in Dundee.
"Our plans would unlock hundreds of green collar jobs while supporting the UK's wider push to deliver net zero.
"Like any good business, we are always monitoring the wider market and must factor the global context into our considerations, but we do not currently plan to relocate.
"We remain committed to Thurso and Dundee remains our preferred site."
Plans to scale up
The Thurso site has the second largest cell production capacity in the UK and makes Ultra Prime cells used in challenging industrial environments including sectors such as construction, oil and gas and mining.
It also manufactures Ultra Safe cells for use at wind and solar power generation sites as well as for domestic residential storage.
The firm recently revealed plans to scale up its factory this year.
It agreed an unsecured £580,000 loan from Highlands and Islands Enterprise to support the group's operations in Thurso.
The comments suggesting interest in the US may have been a warning shot to the UK government as it reviews a response to the Inflation Reduction Act.
First minister 'concerned'
At the STUC conference in Dundee on Monday, the first minister said he was "concerned" to hear AMTE had hinted at a US move.
He said he would do everything within his powers to keep investment in the city.
Mr Yousaf said: "I am concerned to hear that and I will work right across the UK with other governments to see what can be done to attract investment to Scotland.
"Scotland has a very good track record of attracting inward investment, which is why I was dismayed by recent UK Government reports to curtail external activity.
"I will see what we can do within our powers, limited as they may be, to try to ensure that investment comes back to Dundee."
There is speculation surrounding the future of UK battery manufacturing following the recent collapse into administration of Britishvolt in Northumberland with most of its 300 staff being made redundant.
However, Australia-based Recharge Industries has been successful in its bid for ownership of Britishvolt and now claims it will be able to create the UK's first "gigafactory".
WAE Technologies is also due to open a new battery plant in Oxfordshire in April, creating around 300 jobs.
UK must grasp the opportunity
Despite Mr Hollis' reassurances for Thurso and Dundee, he put pressure on London to act in support of growth sectors such as electric vehicles.
The AMTE chief said: "The UK has strong fundamentals which can support the development of a homegrown battery manufacturing sector, but we need the right support from government to allow the UK to compete on the world stage.
"Developing an end-to-end industrial strategy which accounts for the full scope of battery demand and production, from raw materials sourcing through to end of life management and recycling is essential.
"The UK has a fantastic opportunity, but it needs to grasp it now."
Pressure on green jobs for the future
Mr Hollis's warning echoes that of St Andrews University battery expert Sir Peter Bruce.
Sir Peter told the Press and Journal: "The future is green jobs and if we don't get a stake in that, then Scotland and the UK will suffer, so the challenge is how
"How do you get costs of the vehicle down?
"You either subsidise it or you try to make technology at lower cost. You probably have to do both – one of the biggest costs of an EV is the battery.
"There is a research and development challenge in getting costs of those batteries down, to use lower price materials and manufacturing processes.
"The US offers significant subsidies for people to buy EVs provided the components that go into them are made in America so driving home-based manufacturing.
"The European Union is doing the same thing and it is important the UK looks seriously at what it is going to do or the danger is we lose out."
The price of raw materials has soared making battery elements cobalt and nickel more expensive.
Sir Peter stressed the need to recycle these materials.
Recommended for you

Scottish wave developer puts plans in Mocean