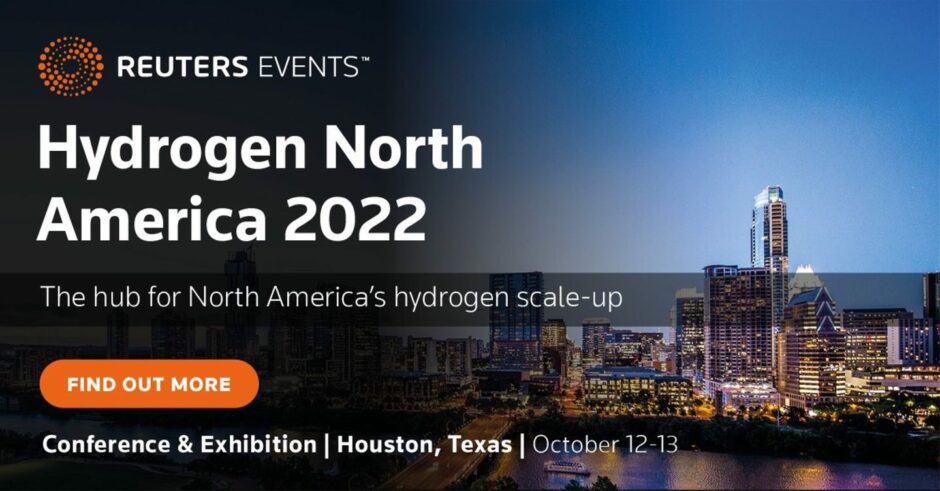 Reuters Events – announced the launch of Hydrogen North America 2022 (October 12-13, Houston, Texas). The two-day summit will unite policymakers and industry leaders to collaborate and foster a hydrogen society.
Now launched – download the Hydrogen North America 2022 info pack
Five Pillars to Build North America's Hydrogen Economy:
1) The Roadmap to a North American Hydrogen Economy– Since the Biden Administration's prioritization of hydrogen, policies promoting the production of clean hydrogen are now falling into place. The Administration have plans to significantly improve hydrogen's competitiveness by slashing the price of the fuel by 80% by 2030. Now, it is a matter of industry leaders, policymakers and investors collaborating to realize hydrogen's true potential to redefine the energy landscape.
2) Accelerating and Scaling-up Hydrogen Production– Standing in the way of a hydrogen revolution is achieving cost-competitive clean hydrogen. One of the biggest drivers of cost reduction is to scale up hydrogen production which is essential in realizing any commercial breakthrough. A combination of cost reductions in electricity and electrolysers, shared with increased efficiency and operating lifetime, will deliver an 80% reduction in the cost of hydrogen. Uncover how low carbon and renewable hydrogen projects have evolved from pilot to commercial scale ventures in time to meet net zero targets.
3) The Path to Bankability – Securing Finance and Off-takers- To bring hydrogen to the point of competing on a level playing field with other energy sources, continued and significant investment is required. To be bankable, a hydrogen project must secure an off-taker. Unlock project finance by securing those long-lasting offtake agreements and utilizing government incentives.
4) Building the Hydrogen Foundation – Infrastructure, Storage and Transportation- Despite hydrogen having significant potential to decarbonize energy consumption, several challenges surrounding infrastructure, storage and transportation hinder achieving this potential. Several companies are already tackling these challenges through extensive innovation and technological breakthroughs, and these challenges are being transformed into avenues that will accelerate North America's hydrogen economy.
5) Hydrogen Decarbonizing North America's Mobility Sector – The transportation sector is the second largest producer of global CO2 emissions and one of the most challenging sectors to decarbonize. In North America's mobility sector, the hydrogen revolution is taking shape. Hear from companies integrating hydrogen at every level, starting in the FCEV industry, to companies revolutionising North America's heavy-duty vehicle industry and all the way to the skies. Now, the key challenge lies in promoting the widescale accessibility of hydrogen in transportation through technological breakthroughs and the development of a new mobility value chain.
Leaders speaking at the event include:
· Paul Browning, President & CEO, Fortescue Future Industries
· Maryam Brown, President, SoCalGas Company
· Brett Perlman, CEO, Center for Houston's Future
· Jon Gordon, Co-Founder, Head of Partnerships & Government Affairs, Universal Hydrogen Co.
· Mark Webb, Chief Innovation Officer, Dominion Energy
· Andreas Rupieper, Managing Director, ITM Linde Electrolysis
· Pablo Koziner, President, Energy and Commercial, Nikola Motor Company
· Justin Barash, Vice President, Goldman Sachs
· Daryl Wilson, Executive Director, Hydrogen Council
· Rich Gottwald, President & CEO, Compressed Gas Association
· Freddy Reyes Falck, Sr. Vice President of Engineering, PDC Machines Inc.
· Ashley Cuthbertson, Sr. Director Catalysis Technologies, Alkegen
Receive your copy of the Hydrogen North America 2022 info pack
"Hydrogen is at the forefront of the energy agenda, and we now need real world action. Policymakers, the energy value chain, investors, and industry leaders must unite to collaborate and build North America's hydrogen economy. We are excited to facilitate this at this leadership event and support the hydrogen scale up." – Sophie Morgan, Project Lead Hydrogen, Reuters Events
Contact
Sophie Morgan
Project Lead – Hydrogen
Reuters Events
UK: +44 (0) 207 536 7257
E: sophie.morgan@thomsonreuters.com
Recommended for you

Full speaker line up unveiled for AREG Energy Futures conference 2022