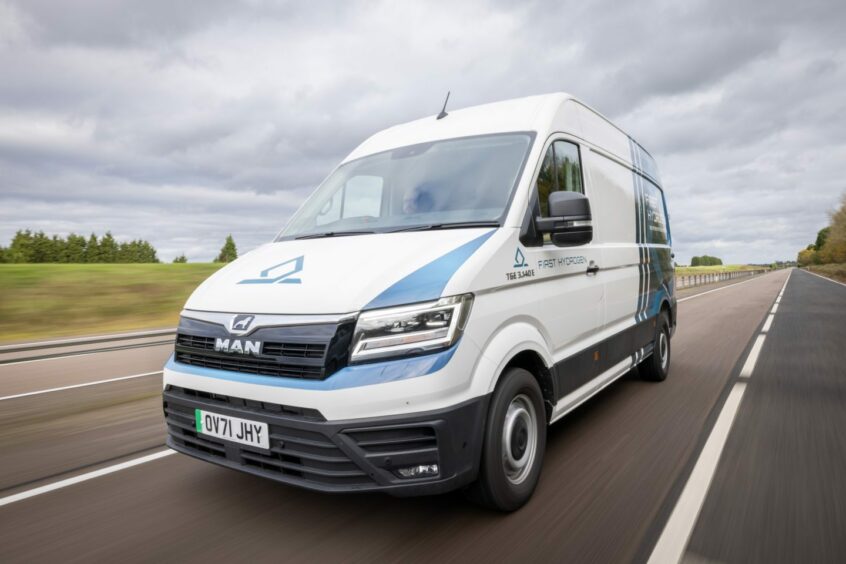 SSE's team in Aberdeen are road testing First Hydrogen's new hydrogen-powered van, the first UK utility to do so.
The firm will trial the new green hydrogen-powered vehicle to find out what benefits it can bring compared to its current fleet of electric vehicle engineering and maintenance vehicles as an alternative to fossil fuels.
The light commercial vehicle (LCV) has spent the last few weeks operating from one of SSE's sites in Aberdeen, which is located next to a hydrogen fuel station.
After two days' training, four SSE drivers have been using First Hydrogen's vehicle to carry the equipment and tools which play a key part in the engineers' day-to-day jobs.
One of the firm's drivers, Will Hannaford, said the "van is very pleasing to drive and is much smoother than my diesel vehicles."
Mr Hannaford continued: "The zero-emission van will obviously improve the environmental impact of our day-to-day operations, but it has the additional benefit of performing well in city driving and recharging its battery during use, which gives it an impressive range."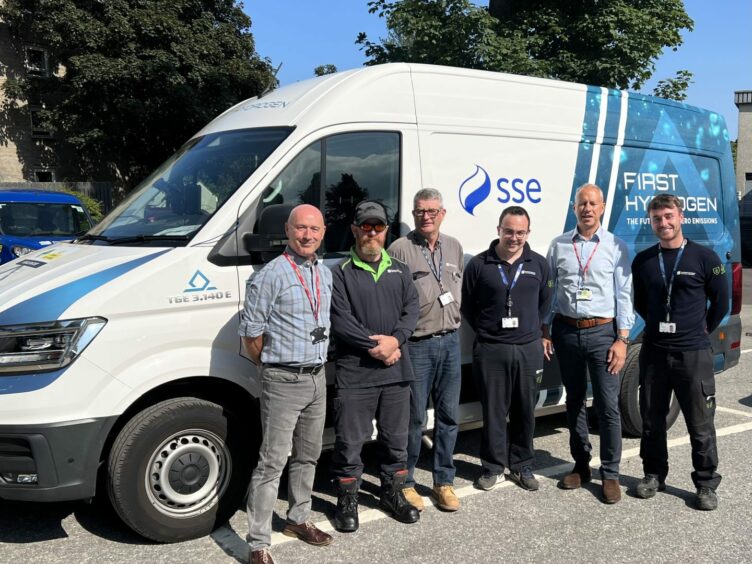 First Hydrogen's fuel cell electric vehicle can travel further on a single tank of fuel than equivalent battery electric vehicles.
SSE claims that on a single charge, the vehicle can carry heavier loads without compromising on range.
The hydrogen van is also quicker to refuel than an equivalent electric vehicle is to recharge with the First Hydrogen van taking 5 minutes, compared to the 5 hours for an EV.
Another SSE driver, Angus Burrows, added: "It was also exciting to see how much work had gone into developing the vehicle and my enthusiasm has continued throughout the trial – I still find myself speaking about the vehicle in my day-to-day conversations!"
Onboard instruments are being used to monitor the van throughout the trial, this will help First Hydrogen's engineers to understand fuel consumption, mileage, and vehicle performance in different conditions.
These instruments will also track location, and status in real-time.
Aberdeen City Council co-leader, Ian Yuill, says: "Aberdeen has been working for more than ten years to position itself as a leading city in bringing hydrogen technology to the market.
"Our city is genuinely a world-leader in the delivery and the use of hydrogen as a fuel.
"Hydrogen is here now and is providing an important part of the transport mix in our city."
Recently plans for the first phase of a scalable, green hydrogen production, storage and distribution facility in Aberdeen took a step forward.
The local authority's planning committee approved proposals for the Aberdeen Hydrogen Hub, which is being delivered by BP Aberdeen Hydrogen Energy Limited – a joint venture between BP and Aberdeen City Council.
Recommended for you

Aberdeen Hydrogen Hub FID expected 'later in the year'