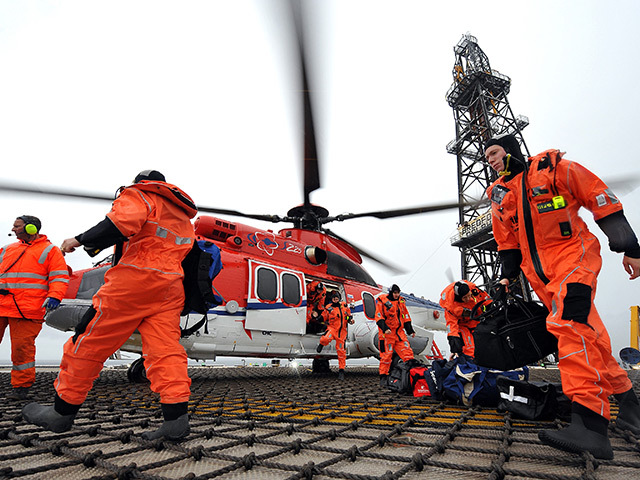 The oil industry has called for "clarity" on social distancing guidelines on oil rigs following claims firms are confused about how workers should behave when offshore.
The plea by Oil and Gas UK (OGUK) came after complaints that Scottish Government guidance diverges from the UK Government's for those working offshore during the coronavirus pandemic.
This week North East MSP Liam Kerr challenged First Minister Nicola Sturgeon on the issue, saying UK guidance outlined how to socially distance on an offshore structure and recognised that people cannot always stay two metres apart.
The UK guidance states that staff should work side-by-side or back-to-back rather than facing each other and should wash their hands more frequently than normal.
At Holyrood, Mr Kerr told Ms Sturgeon: "The Scottish Government guidance does not seem to have made that exemption. My understanding is that that has left companies confused and, potentially, exposed."
The Tory MSP asked the Scottish Government to adopt a similar exemption in its guidance so that the oil industry could keep operating.
Mr Kerr's call was echoed by Trevor Stapleton, OGUK HSE Director. He said: "The offshore oil and gas sector provides a vital service to provide the energy our homes and industries need 24 hours a day, 365 days a year and its ongoing operation is essential for everyone living in the UK in these challenging times.
"We're asking the Scottish Government for clarity on their alignment with UK guidance to provide clarity to our companies and essential workers both offshore and on site.
"Our sector is already subject to some of the most stringent health and safety regulations and companies are already taking a number of steps to ensure social distancing is adhered to offshore through measures such as social distancing, staggered meal times and where possible single person cabin occupancy.
"Taken together, we've got a comprehensive response but we continue to develop this through listening to our people and continuing to push for expanded testing capability across our workforce."
Ms Sturgeon said she would look into the point that Mr Kerr had raised.
"In Scotland we have issued guidance for companies that operate in the space between businesses that have been told categorically to close, and those that are essential to keep the country going," Ms Sturgeon said.
"The guidance asks whether businesses are doing something that is essential to the country's material wellbeing, and if so, whether they can allow people to work from home or can work safely using social distancing, with two metres between staff? If they cannot, our very clear advice, which is based on health considerations, is that businesses should close…. I ask businesses across Scotland to ensure that they pay heed to the advice and guidance that the Scottish Government gives. We will keep it all under review."
Recommended for you
X

Updated: Baker Hughes posts £13bn loss as price rout, Covid-19 bite hard