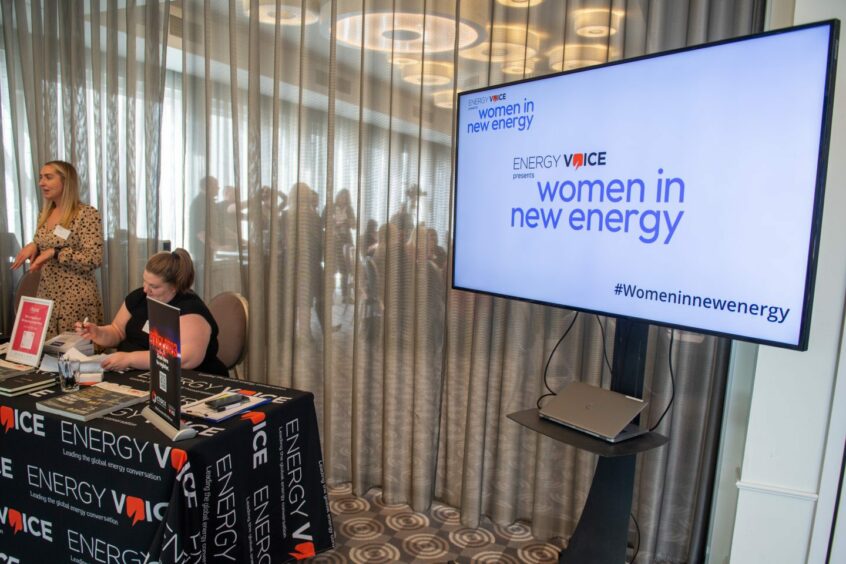 The first-ever Women in New Energy event (W.I.N.E) took place in Aberdeen's Chester Hotel this week and there is a "huge appetite" for the event, says Think PR's chief executive.
The Think PR boss Annabel Sall said: "The feedback and support from the industry has been amazing – what came from a discussion about the need for a platform to share knowledge, expertise and insight into the new energy sector is now a sold-out event.
"We knew there was a need for mentoring too and we are delighted to be the catalyst for discussion around this and the other challenges and opportunities too."
As an initial idea between Ms Sall and Beena Sharma, chief executive of CCU International, W.I.N.E was launched in partnership with Energy Voice and supported by Expro, Aker Solutions, Wood, LMS, 3t, Leyton, TotalEnergies and AXIS Network.
Ms Sall added: "The amazing feedback we have had following our first event for Women in New Energy shows the huge appetite there is in understanding how we can support people from all backgrounds in this industry as well as those entering the sector.
"My passion is ensuring we encourage the younger generation to look at the new energy market as an interesting, fulfilling and rewarding opportunity and the way to do this is through effective PR and Marketing with support from the industry."
The event held two-panel sessions and audience Q&A sessions as well as an exclusive AXIS mentoring clinic, a Private 3t Workshop and a drinks reception.
Panel session one, titled 'local leaders', was moderated by Ms Sharma and welcomed Ingrid Huldal, director of portfolio advancement at Expro, Christina Horspool, vice president of sustainability and climate action at X – Academy, Sarah Clark, executive business partner to chief executive officer at Wood, Martin Hottass, corporate development director at 3t, and Jessica McGlynn, senior technical consultant at Leyton.
Following a mentoring clinic for in-person attendees by gender diversity group AXIS Network the second panel session covering international influencers was moderated by Fiona Booth, finance and HR director at Load Monitoring Systems.
The second-panel session played host to Alessandra Simone, petroleum engineer and project technical leader at Geostock Sandia, Paula Smith, head of people and organisation UK at Aker Solutions, Marielle Inizan, Central North Sea asset director at TotalEnergies, Nick Little, head of school at ISA, and Aine Mishra, change management consultant at EY.
Ms Sall commented: "As a business, the new energy sector has been a focus for us for some time. Every story is different and we have been there to help businesses identify the best way to communicate to their target audience, through the right platforms in a proactive and strategic way.
"Our role is to also ensure our clients are updated with current trends, topics and industry focuses to ensure they can focus on their own business and success."
Over 200 delegates attended the W.I.N.E and plans for further events and initiatives will be announced this year.
Recommended for you

Women In New Energy conference brings pioneering leaders to Aberdeen