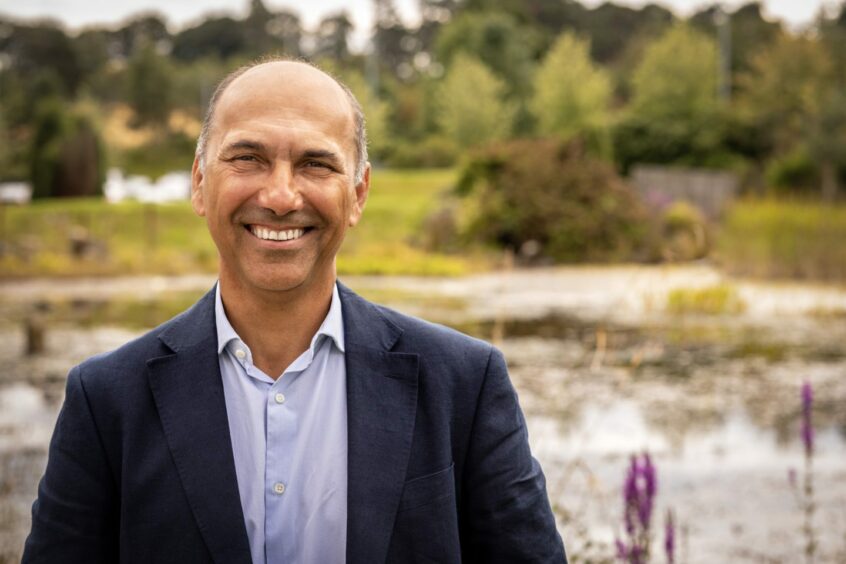 "Having spent 30 years working across Africa, Asia and the Middle East, the UK stands out for its long history and resulting skills, experience and competence of the people in it," says TotalEnergies' Nicolas Payer.
Appointed the new North Sea managing director this year, taking over from Jean-Luc Guiziou, he praises what he's seen in the operating community and supply chain.
"Naturally, I see a strong attention to safety, and that too is linked to the basin's history and experience."
Even with that attention to safety, incidents can and do occur.
Mr Payer, unveiled in January, was quickly confronted with that.
The following month, Storm Otto hit the region; leading to a serious incident when the powerful winds ripped off a helicopter's blades on the Elgin-Franklin installation while workers were still on the helideck.
No one was injured, and an Air Accidents Investigation Branch (AAIB) probe is ongoing.
But the incident had been captured on film, and the team had a decision to make on whether to release it.
In March, speaking about the incident at an industry safety conference, TotalEnergies' HSE manager confirmed it was Mr Payer's decision to release it in the interest of transparency.
'Getting people home safely, every time, is our priority'
Mr Payer said being open about these incidents could save lives in future.
"Transparency and openness are critical when it comes to safety. How can we be safer if we don't share the issues,  learn from one another? There is undoubtedly an element of fear – fear of being judged, fear of being reprimanded, fear of being seen to be unsafe or in a negative light.
"Of course, no one wants any of these things to happen, but we need to overcome those fears to help us avoid the worst-case scenarios – hurting people, people dying. I have no regrets about sharing the footage of the helicopter incident on Elgin, I think we did the right thing.
"Apart from anything, many more people now know what the risks are and may now be prepared for a similar scenario. Because we shared it, it might save someone's life. We'll never know, but I am okay with that. Getting people home safely, every time, is our priority."
Offshore Europe 50 and TotalEnergies in the North Sea
The skills, experience and competence in the North Sea which TotalEnergies refers to comes from its maturity; Offshore Europe, the premier showcase of the sector, celebrates 50 years this week.
That plays over to its oil and gas fields, where decommissioning is taking place, though Mr Payer highlights there remains "lots of potential for near-field tie-backs to existing hubs".
It's also reflected in its leading pace for elements of the energy transition, with work on offshore wind and the North Sea Transition Deal, signed with government in 2021, to reduce emissions from the sector.
"The UK is well positioned to influence and lead the rest of the world through the energy transition.
"The North Sea Transition Deal paved the way for the energy transition in the UK; we see a clear roadmap to reduce emissions in the fossil fuel-based energy system and accelerate the renewables system, which is aligned to TotalEnergies' ambition. The UK is an important country where we can put in motion our multi-energy strategy."
Firms like TotalEnergies are also building up sizeable portfolios in offshore wind and other renewables and low-carbon technologies (more on that online tomorrow), with the sector.
'The UK is an important country where we can put in motion our multi-energy strategy'
It's exploration and production business is well known, but with a 5GW offshore wind pipeline, 500 MW of secured solar projects, and involvement in the Northern Endurance partnership for carbon capture and storage (CCS), it's an evolving picture.
"We're also the UK's largest B2B supplier of gas and third largest supplier of electricity (both by volume), powering 290,000 business sites across the country. We're the only major energy company still manufacturing lubricants in the UK, which we do at our Ferrybridge plant; and we're producing and distributing lubricants, bitumen fuels and biofuels across sectors, including aviation; we're building our solar business with 500MW in the pipeline; are establishing ourselves in CCS and our electric vehicle charging business is growing in London with more than 2000 charging points.
"We're also interested in developing our battery energy storage business, which is already in progress through our wholly-owned subsidiary Saft, in Newcastle.
"The future of TotalEnergies in the UK is diverse, it is exciting. I'm delighted to be part of it."
More from TotalEnergies on electrification and cutting emissions later this week.
Recommended for you

Leading North Sea safety advocate embarks on new consulting journey