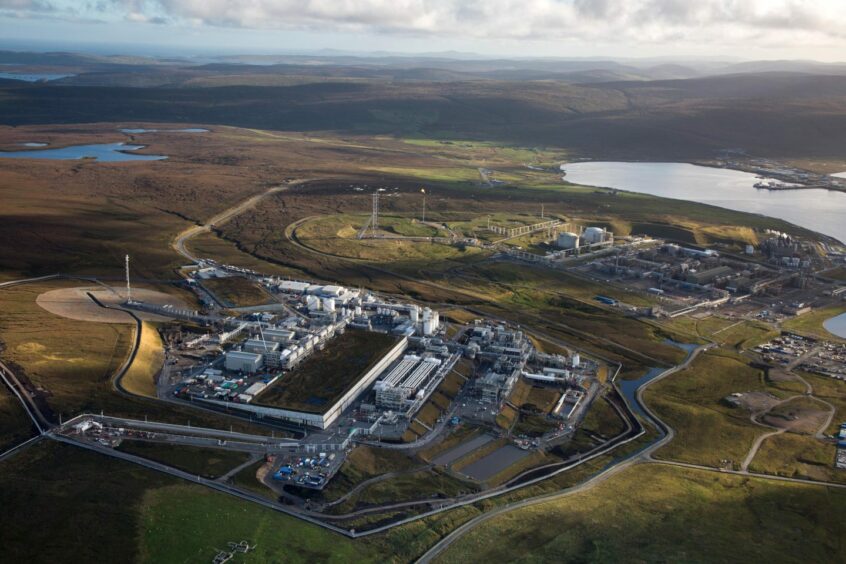 TotalEnergies is weighing up its projects for FID (final investment decision) in the West of Shetland, but the uncertain fiscal regime in the UK may have an impact.
TotalEnergies has been working on the Glendronach and Edradour West projects  – the former being a 100 million-barrel discovery.
Partner Kistos said they are "ready to sanction" those, with the expectation that will take place on Glendronach in the second half of the year.
On those projects, UK managing director Nicolas Payer said: "The current cost environment and the lack of predictability on fiscal terms are making it challenging for final investment decisions to be taken, particularly in relation to drilling and subsea work in the harsh environmental conditions West of Shetland.
"For now we continue to explore all of our WOS opportunities in anticipation that these will lead to future additional resources for the Shetland Gas Plant. At the moment none of the opportunities are fully mature, they're still being worked."
TotalEnergies has cut its 2023 UK spending by 25% already over the Energy Profits Levy (EPL).
Meanwhile, oil and gas prices have fallen from the highs seen after Russia invaded Ukraine, which is when the original levy was introduced.
The industry has widely condemned the levy in recent weeks with Ithaca Energy saying "there are no windfall profits in the industry".
Last month, Harbour Energy swung from a $1bn post-tax profit in H1 2022, to an $8m loss in its half-year results.
Chancellor Jeremy Hunt.In June, the UK Government introduced a price floor, which would see the levy end if oil and gas prices dropped to $71.40 per barrel for oil and £0.54 per therm for gas, for two consecutive quarters.
However, on current projections, analysts have said it is unlikely that prices will fall to those levels, meaning the price floor will have no impact.
"We contribute significantly to the UK through tax and that increased last year because of the higher commodity prices and the increase in the tax rate via the EPL (Energy Profits Levy)," said Mr Payer.
"These increases did have an impact on our investments and we've already reduced our 2023 plans by 25% simply because some developments were no longer matching our investment criteria with this new regime."
Mr Payer said that, while that move was a welcome step, "the low level of the trigger prices does not change the impact on investment decisions and the sustainability of the industry in the UK when prices have dramatically decreased since 2022".
West of Shetland and fiscal stability 
With long-term cash-intensive projects, which covers much of the energy industry, fiscal stability remains the key ask – beyond just the windfall tax situation.
Even for developments where subsidies are available, like the Central North Sea electrification scheme, there needs to be long-term certainty.
Mr Payer said he is pleased with how the scheme, which also includes platforms owned by BP, Shell and Harbour Energy, is progressing – towards the concept select stage.
However, he added: "Projects like this are also very complex and require a lot of brownfield work on our platforms; the investment is significant and of course this is also the kind of project that needs regulatory and fiscal stability."
Going forward, he added: "We need greater visibility and predictability of the future fiscal regime because that influences our investment in the long term. That's what companies like ours look for most: the certainty of a competitive and stable fiscal and regulatory regime, which makes investments attractive regardless of who is in power. We welcome further discussion on these topics: level of tax, incentive to invest, and the predictability of the regime."
It all comes while debate rages on about the future of the energy sector in the UK, and whether new licences or continued extraction of domestic oil and gas is the right move.
To this, Mr Payer states: "We believe that global demand for energy will increase in the short term, and today, that need cannot be met from renewables alone.
"So it stands to reason that we must continue to produce energy from fossil fuels. Indeed, even in 2050 we expect 25% of our output to be related to petroleum products. In the UK, where we are a net importer of fossil fuels working to very high standards in HSE, it makes sense to ensure that we produce what we have from our own resources before we look elsewhere.
"That's an argument for environmental and production practices in the UK, but it's also an argument for ensuring the UK's energy security. The war in Ukraine has demonstrated the need for that more ably than anything. We will need to continue producing oil & gas and for that we will need licences.
"That doesn't mean we stop pursuing renewable energy – the two can and must go hand in hand, that's the energy transition in action."
READ MORE: TotalEnergies' Payer on North Sea strategy and having 'no regrets' on Storm Otto video
Recommended for you

Interview: Anasuria on 'exciting' first year as North Sea duty holder