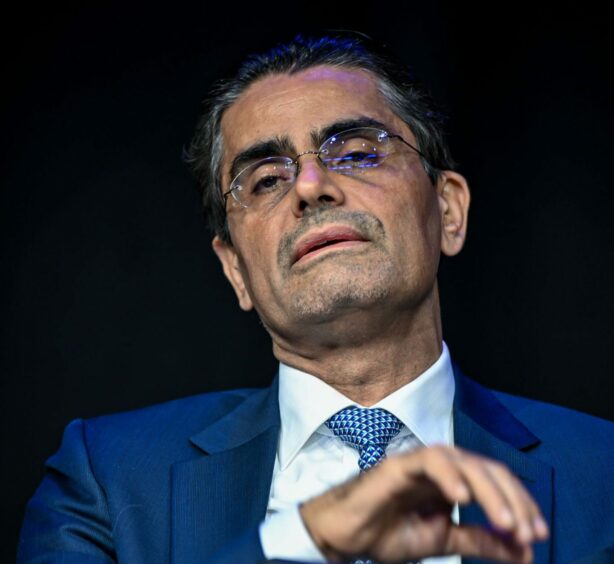 EnQuest (LON: ENQ) CEO Amjad Bseisu has warned that the UK is "completely uncompetitive" for upstream oil and gas investment.
Speaking at Offshore Europe, the head of the North Sea operator set out challenges for the sector – predominantly the windfall tax, which saw EnQuest drop to a $21m loss this week, reversing last year's $200m profits.
Mr Bseisu was speaking at the launch of trade body Offshore Energies UK's (OEUK) economic report, which itself warned that same £100bn of energy projects in the region are held up by uncertainty from government.
"We clearly now are completely uncompetitive in the upstream oil and gas business," said the EnQuest CEO of the UK regime.
"It's very difficult for us to invest in such short-term, short-cycle, and I think something the investment horizon or investment allowances – or a shift to the Energy Profits Levy (EPL) is probably needed to create a fairway for investment."
The messaging comes as OEUK and others warned that finance is spending with their feet, on other countries which are incentivising investment.
Policy manager Ross Dornan warned that companies are "wrangling with huge pressures" and said we "need to ensure that progress across the energy sector doesn't grind to a halt, that we see action as well as talk".
He added: "It puts our future prospects at risk. The international competition for investment is fierce; other countries are putting packages in place to encourage companies and investment into their countries. The UK does risk getting left behind unless we take fast action."
Clear energy transition segue needed – EnQuest
Mr Bseisu set out various changes in the system, like changes to the windfall tax, are making investment difficult.
He said there needs to be a "very clear segue" for the energy system to transition to renewables, noting it's "an evolution, not a revolution".
The economic report warned that rigs and vessels, currently used in oil and gas, will be needed in carbon storage work and offshore wind by 2030 – but policies that contrain licensing or exploration could drive them away.
Mr Bseisu said: "We want continuity of jobs, continuity of industry, and we want Aberdeen to thrive and continue to thrive."
Windfall tax is biting
CEO of OEUK, David Whitehouse, told the conference: "We mustn't get left behind, but the signs are worrying.
"It's clear to me that the windfall tax is biting. All credible net zero scenarios say we need abated oil and gas in the UK for decades to come, and yet in the first six months of this year, we produced 30% less crude oil from the North Sea than the same period last year; we are seeing lowest production levels on record in the UK.
"With investment on hold, we're undermining our energy security."
He added that "when the extraordinary conditions have gone, the windfall tax must go".
Mr Whitehouse also cited Vattenfall halting development of the Norfolk Boreas on the east coast due to rising costs, meaning Britain could struggle to miss wind targets without support.
There is also "still more clarity required to give line of sight to a final investment decision" to Track 2 CCS projects announced last month.
"The truth is, the opportunities are huge – we should be proud of that, we should be inspired by that – but we have too much investment on hold.
"Projects are progressing, projects will get sanctioned, but not in the numbers the UK needs to deliver secure, affordable energy, to protect and grow our jobs, to deliver on our climate goals, to grow the economy."