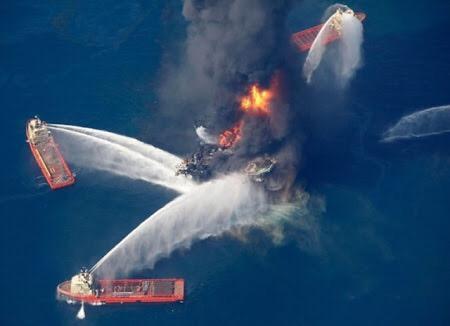 This copy has since been updated, to read the most recent version of this breaking event click here.
An oil worker has died and more than a dozen others have been injured after a fire broke out on an oil platform in the Gulf of Mexico.
The incident happened on the Pemex operated Abkatun Alpha platform in the Bay of Campeche earlier today.
A spokeswoman for Pemex confirmed one person had been killed while 16 others had also been hurt.
Two of the workers are believed to be in a serious condition.
They are being treated at the Hospital General de Pemex, in the Ciudad de Carmen, and at the Mexican Social Security Institute.
Around 300 workers were evacuated from the platform as eight fire fighting boats tackled the blaze.
The platform forms part of the Abkatun-Pol-Chuc offshore complex.
In 2012, 26 people were killed at a fire in a Pemex natural gas facility in while at least 37 people died following a blast at the company's headquarters in Mexico City in 2013.
Data from the US Energy Information Administration, shows production at the complex has fallen steadily since the 1990s.
#VideoTwitt del incendio en la plataforma petrolera Abkatun Alfa en la sonda de Campeche. Desalojan a trabajadores pic.twitter.com/GRMSH16GHq

— Cinco Radio (@JavierLopezDiaz) April 1, 2015