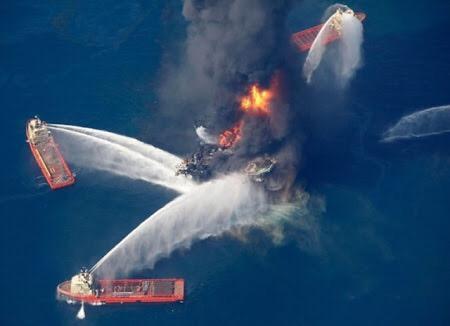 A fire which broke out on an oil platform in the Gulf of Mexico has now been put out.
Mexican state-owned Pemex said there were four fatalities on the Abkatun Permanente platform in the Bay of Campeche.
One of the workers was from Pemex, while another was a contractor working for services firm Cotemar.
Two others killed in the fire have yet to be identified.
Pemex also confirmed at total of 302 personnel had been evacuated from the scene, with around 45 workers being treated for injuries.
At least two of those injured are in a serious condition.
Dramatic footage and pictures from the scene showed the extent of the blaze, which is the third incident involving the company in the past four years.
Pemex said the fire broke out in the dehydration and pumping area of the platform, although it is not yet clear what caused it.
Eight firefghting boats had battled the flames and the company's chief executive, Emilio Lozoya Austin, also praised the work of emergency services and the Mexican navy.
The platform is part of the Abkatun Pol Chuc complex.
The fire damaged platform helps to separate oil and gas from various wells, producing around 40,000 barrels of oil per day (bopd).
Around 300,000 barrels of oil are produced everyday from the complex as a whole.
Output at the platform was stopped, however production in the rest of the complex was not affected.
In 2012, 26 people were killed in a fire at a Pemex natural gas facility.
A further 37 people also died at a blast at the company's Mexico City headquarters the following year.
Mexican President Enrique Peña Nieto has also expressed his condolences to those killed or injured in the incident on Wednesday.
Recommended for you

Large oil spill reported near site of Pemex platform blast in Gulf of Mexico