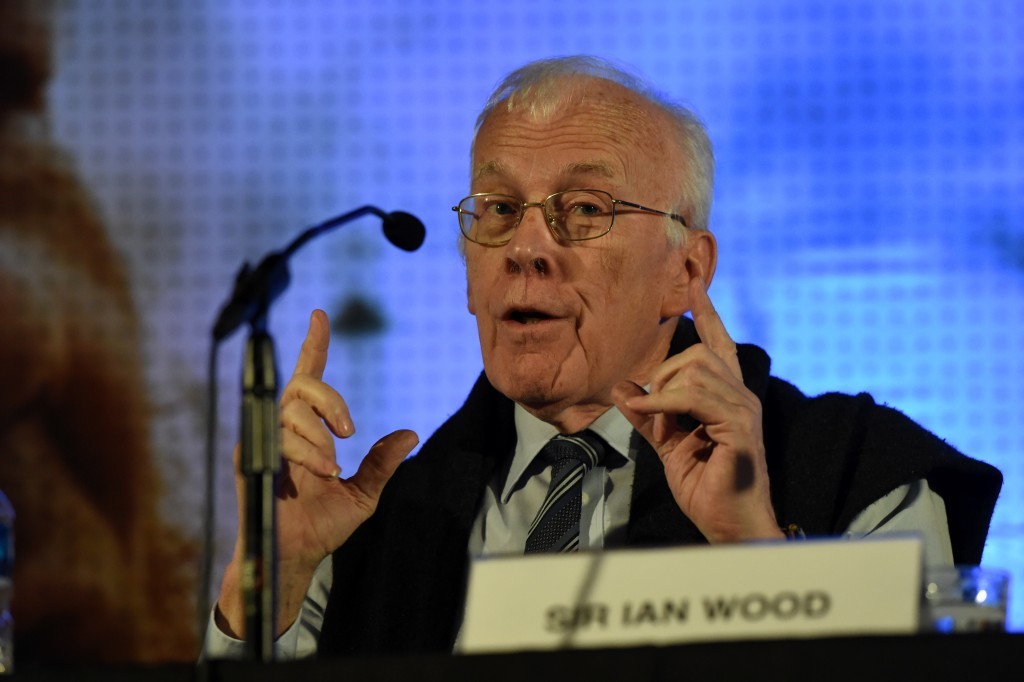 There is no 'magic wand' for the industry.
Instead, recovery from the downcycle will take a three-pronged approach, with the sector, government and OGA all pulling in the same direction.
That was the resounding message from Energy Voice's expert panel and later reflected by the 300-strong audience members of last night's debate.
Jim Johnstone, of property company FG Burnett, said: "It is clear there is no magic wand for the industry. I work in property and know how difficult it is to attract graduates into the non-oil and gas sector because of the salaries that are being paid by oil firms. It is very hard for us to compete with that.
"The oil industry has always paid big money but we have get away from the crazy day rates. I know a lot of guys on £1000-£1500 a day. It's good for them but not good for the industry and makes it hard for other sectors to compete for talent.
"Many people get a good job and then after two to three years they set up on their own and start making really big money.We have to tackle the contractor ethos that has driven the massive rise in wages. It's unsustainable and I think that was acknowledged tonight."
Industry veteran Sir Ian Wood was joined by sector newcomer Rebecca Wain. The Statoil graduate geologist struck a chord with the audience as she called on the industry to focus on short-term gains.
John Strachan, of law firm Burness Paull said: "The quality of discussion was very good.
"We heard very familiar themes. I don't think the point tonight was to find solutions, but for the discussion to continue and for the topics to be shared.
"The industry has to get its house in order with regard to cost but it has to ensure it does lose the talent and experience it needs when the upturn comes.
"I was very impressed with Rebecca Wain, the young graduate, who spoke very well and held her own among a very distinguished panel of experts.
"It is clear the Oil and Gas Authority will have a significant role to play going forward. A lot of people have high hopes for what it can do in terms of pulling all parts of the industry together."
Renee Raper, of Aberdeen Business School, added: "I thought the results of the survey were interesting. It was clear that training and education was more important than remuneration, but why have companies stopped doing training and development? It appears they are saying one thing and doing another.
"It is still encouraging that we can have this kind of conversation and it was a well attended event."
The event revealed the research findings of Energy Voice's latest survey.
Students and young graduates on the night were able to ask the panel advice on the best way forward.
MBA student Arundhuti Dasgupta, said: "It was a good open forum. It's not up to companies to make up jobs for people to get into the industry. We have to show that we have something to offer and add value.
"I think they North Sea is still expensive to operate in – with lifting costs of $45 per barrel, which is far higher than other regions. That is a real challenge. Costs have to be kept down to ensure there are chances for jobs to be created.
"But people trying to get into the industry have to be positive about being able to find work in the industry. There are still very good opportunities if you get out there and speak to the right companies."
Sir Ian Wood reinforced his confidence in the sector's future when he said that the North Sea was facing one of its "toughest times ever" – but insisted it was "not dead by any means".
Dr Abhishek Agarwal, of Robert Gordon University, added: "The three key themes I took away from tonight were: firstly, the need for incentivising investment and encouraging new technology; secondly, the need to ensure the protection of the existing industry infrastructure and thirdly, the need to recruit young people.
"I don't think there were any solutions proposed, but it is very encouraging that people are coming together and at least discussing the issues."
#OG2050 was supported by Burness Paull, RGU, EY, AVC, Fifth Ring and Douglas Westwood.