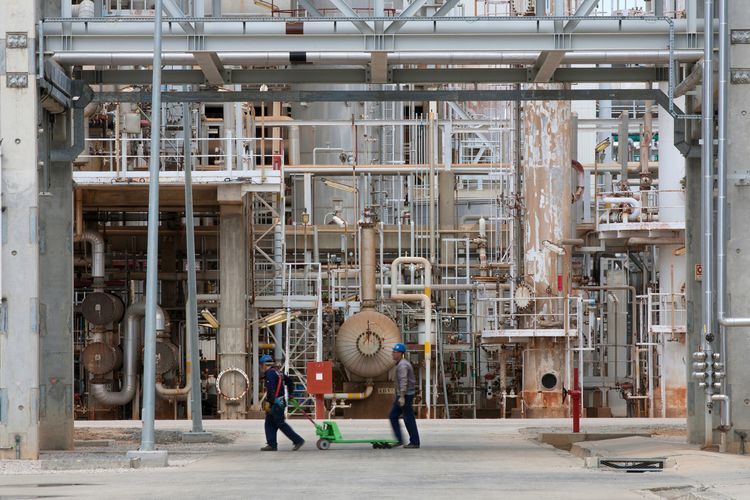 The oil guru who predicted the market rout in 2014 said OPEC and its allies should have gone much further when they extended their supply deal last month.
"They should have cut another million barrels a day for ninety days in order to drain the system," said Gary Ross, global head of oil at PIRA Energy, a forecasting and analytics unit of S&P Global Platts.
For Ross, the producers missed an opportunity to deepen cuts between June and August when refinery demand is higher and so accelerate the decline in inventories. Such a move would have pushed the market into backwardation, when near-term prices are higher than those for later months, he said. That structure favors OPEC because it would discourage their shale-oil rivals from locking in prices for future production.
"If that was really their objective, then they should have cut during this window of maximum crude runs to accelerate," he said.
The Organization of Petroleum Exporting Countries and partners led by Russia re-upped their agreement on May 25, agreeing to maintain curbs of as much as 1.8 million barrels a day until next March. Yet benchmark crude prices have since slid toward $47 a barrel, and the International Energy Agency said Wednesday that the cuts are only slowly diminishing global stockpiles.
Ross's view was echoed by analysts at Sanford C. Bernstein Ltd., who said OPEC needs to cut deeper for longer to restore inventories to normal levels. "OPEC needs to drain by 34 million barrels a month or 1 million barrels a day for the next 10 months," the analysts wrote in a note. "This looks challenging."
Ross also warned that Chinese crude-demand growth is set to decrease in the second half of this year. "That poses a real problem for OPEC as they enter 2018," he said.
Ross lowered his forecast for benchmark Brent crude to $50-$55 a barrel by year-end, he said Wednesday. In early February, he expected Brent would be trading near $60-$65 a barrel by now and reach as much as $70 by year-end.
Although the market is rebalancing, the surplus isn't reducing at the rate OPEC had hoped and will still be at 150 million to 200 million barrels by year-end, Ross said. That's partly because crude production is increasing in Libya and Nigeria — OPEC members that are exempt from curbing output because of internal turmoil.
In November, two weeks before OPEC decided to implement curbs, Ross predicted an agreement could eliminate most of the surplus stocks by the beginning of the second half of this year.