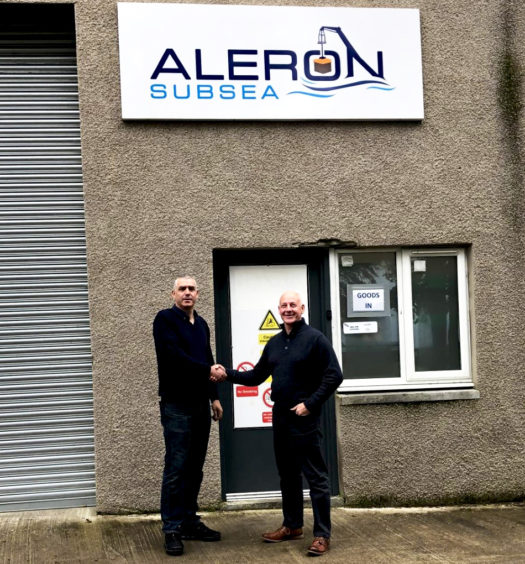 For much of their working lives, Aberdeenshire-based subsea engineering firm Aleron's Mike Bisset and John Walker were in direct competition.
As the driving forces behind Specialist ROV Tooling Services and J2 Subsea, two of the leading companies in remotely operated vehicle (ROV) technology, they built up a wealth of knowledge about the industry.
Aleron, which was founded by Bisset in 2010, specialises in ROV support for the energy sector and is comprised of two companies; Aleron Subsea, which designs and builds ROVs for rental and sale, and ROVQUIP, which focuses on tooling solutions.
Walker joined in October last year as business manager with an eye on securing new partnerships and expanding the firm's global reach.
Bisset said: "We were always pretty much in director competition but we were always very friendly. If we did something, John wouldn't go near that and vice versa. We kept apart and didn't tread on each other's feet."
Walker agreed: "It was one of those unwritten rules in the business, even though we were both active in exactly the same market and spoke to the same people. But we had expertise in different areas and we'd utilise one another's tools when we could."
The pairs specialist work frequently meant they had to team up on larger projects to make the most of one another's expertise.
And Walker feels that there is a re-emerging need for rental companies to work together to navigate current and emerging challenges.
He said: "It wasn't single-item supply, it was package deals and within that you could never achieve doing everything so we were looking at joint cooperation and working together. I think that's what the market is going to have to do. We're going to need far more people working together because you can't do everything and cementing partnership deals is going to be key."
In recent months, Bisset and Walker have been forced to use all their experience to navigate Aleron through the dual challenges of coronavirus and the oil price downturn.
But having previously endured both the slump in 2015 and the 2008 financial crash, Bisset and Walker are in a strong position to weather this most recent storm.
Aleron, which is headquartered in Dunecht, has already invested £200,000 in capital expenditure in 2020, as well as launching a range of new products, including the MultiROV earlier this year targeting renewable developments.
And with the firm having committed to spending a further £300,000 in the coming months, the future looks bright.
Bisset said: "The enquiries have kept coming in and we've worked our way through it with a reduced crew. When lockdown came into force, we put a lot of our staff home so it was John, my son and me coming in most of the way through it to get the work done.
"We managed to meet all the orders, get all the rentals out and we actually invoiced one of our largest months half way through lockdown as well."
Walker added: "Being asked to cut costs and look at personnel is tough, especially as we're only just out the back of the 2014-15 oil and gas downturn. But I think, if you look at Aleron, being the size it is, we're actually quite capable of adapting to the market requests.
"When operators are removed or reduced from projects, they look at rental companies. We've got a wide range of equipment in there on a rental basis that we can offer to the market – that's where we're seeing an uplift at the moment."
The pair are also keen to point out that their goals haven't changed, despite the challenges facing the sector.
John said: "We've only altered them in that they're now slightly bigger than they were before. Being able to adapt and change quickly is key at the moment.
"We set off on a strategic plan at the beginning of the year and started following that. But when Covid hit in March we've found we've had to navigate a pretty different road. You come to a crossroad and you have to make a change and say, right, we've still got that end goal but how we get there isn't a direct route now. You have to find different ways of doing things and that's one of the edges we have at Aleron."