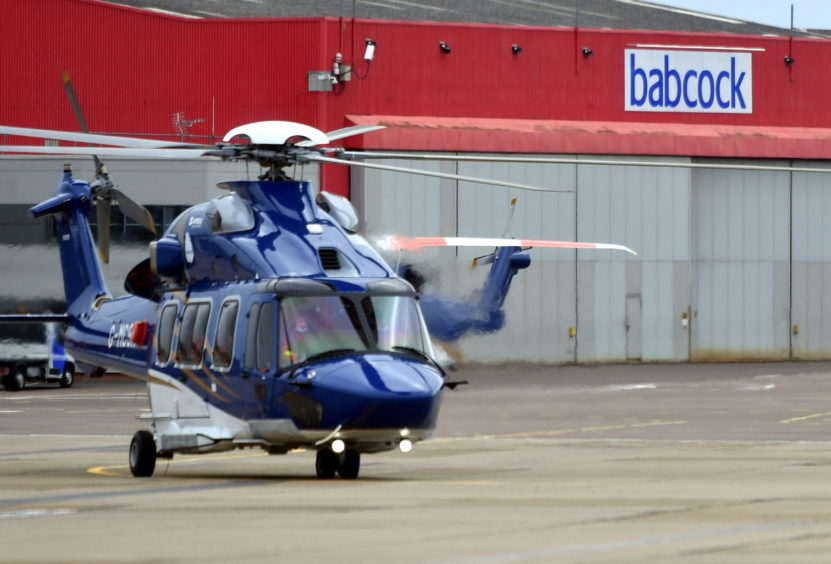 Babcock helicopters has conditionally agreed the sale of its oil and gas aviation business to rival CHC.
The Aberdeen-headquartered firm employs more than 500 people and operates around 30 helicopters across locations in the UK, Denmark and Australia.
Babcock said the deal is expected to complete in the second quarter of this year, subject to third party conditions.
CHC and Babcock declined to disclose how much is being paid, or what implications there may be for the workforce.
Both said further information will be disclosed once the deal is completed.
Competition
Steve Robertson, director of the Air and Sea Analytics consultancy, said: "It is likely that they will consolidate the ground operations in Aberdeen and achieve cost savings there which should in theory enable them to operate Babcock's current contracts more profitably."
The deal would reduce the number of operators in the Aberdeen airfield from four down to three, consolidating the "fiercly competitive market", he added.
The Balpa pilots union has been asked to comment on the potential impact to workers.
It follows a tough year for the North Sea helicopter market, with analysts predicting M&A in light of the Covid-19 pandemic.
Babcock has had a run of loss-making contracts, while group bosses have made claims in recent months about the oil market no longer being attractive.
"Race to the bottom"
Babcock's attempt to exit the market has been "known for a while" and previous attempts to sell have been hampered by contract losses, Mr Robertson said.
However the firm has managed to recover market share, taking business from the likes of CHC, NHV and Bristow in the process.
Contract wins over the first two led to accusations of a "race to the bottom", with unsustainable pricing on deals.
CHC emerged from Chapter 11 bankruptcy in 2017 but has a "long-track record" of acquisitions in the industry.
The firm's North Sea subsidiary, CHC Scotia, employed a total of 297 people as of April 30, 2020, according to accounts published this week.
CHC Scotia has 20 helicopters operating Aberdeen, Sumburgh, Humberside and Norwich, according to those accounts.
Meanwhile, Babcock Mission Critical Services (MSC), which is dedicated to the North Sea, employed an average of 363 people over the 12 months to April 30, 2020, across Aberdeen, Blackpool and Sumburgh.
Mr Robertson added: "CHC is a company with an incredible history and a long track-record of making acquisitions in the offshore rotorcraft space that goes right back to their roots in St Johns, Canada.
"This acquisition is an important one as it will consolidate what has become a fiercely competitive market in Aberdeen, taking the number of operators on the airfield from four to three."
Recommended for you

CHC Scotia helicopter workers set to strike across UK in pay dispute