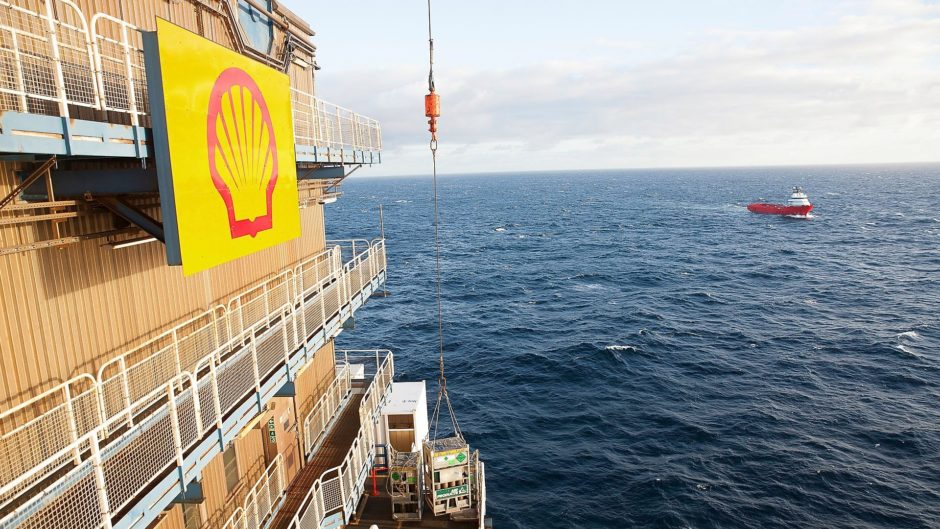 Shell's CEO has said it will "rise to the challenge" after the supermajor was ordered by a Dutch court to drastically cut its emissions.
But Ben van Beurden said the landmark ruling has not impacted the fact that Shell is "more determined than ever" to play its part in tackling climate change.
He also confirmed that Anglo-Dutch company is reviewing the judgement and expects to appeal it.
A court in the Hague recently ordered Shell to cut its net carbon emissions by 45%, compared to its 2019 level.
The case, which was brought forward by Friends of the Earth Netherlands (Milieudefensie), was hailed as a momentous win for environmental groups.
As a result of the verdict, Shell will have to ramp up its decarbonisation agenda, though there are likely to be future court battles over the case.
Reacting to the judgement, Mr Van Beurden said: "My first response was surprise. After all, Shell has set the pace in our industry by taking responsibility for reducing all our carbon emissions: not just those we produce ourselves, but also those produced when our customers use the energy products we sell, for example, to drive their cars, power their businesses and heat their homes. Over 90% of the emissions we are responsible for come from the use of the products we sell.
"I also questioned the ruling and its implications. We are carefully reviewing the court's judgment and the challenges it presents, and we expect to appeal. Some two weeks on, I still feel disappointed that Shell is being singled out by a ruling that I believe does not help reduce global CO2 emissions.
"But, along with my colleagues, I feel something else: a determination to rise to the challenge."
Despite the prospect of an appeal looming, the court has said its decision applies immediately and should not be suspended in the event of future court battles.
For Shell, that "does not mean a change", rather an "acceleration" of its strategy to become a net-zero emissions business by 2050, Mr van Beurden said.
He added: "We have set rigorous, short-term reduction targets along the way to make sure we achieve net zero.
"But now we will seek ways to reduce emissions even further in a way that remains purposeful and profitable. That is likely to mean taking some bold but measured steps over the coming years.
"In April this year we published our detailed Energy Transition Strategy. And in May, we became the first energy company to put its energy transition strategy to a vote of shareholders at our Annual General Meeting. It won 89% support. We will give our shareholders a chance to vote on our progress every year.
"The court did not consider this because the hearing that led to the ruling took place several months before we published this strategy and, of course, before major investors demonstrated their support at the AGM."
Mr van Beurden also reinforced the industry's message that oil and gas will be part of the picture for decades to come.
He also warned of the possible implications of companies calling time on hydrocarbon production.
"To mention one, perhaps extreme scenario, imagine Shell decided to stop selling petrol and diesel today. This would certainly cut Shell's carbon emissions. But it would not help the world one bit. Demand for fuel would not change. People would fill up their cars and delivery trucks at other service stations," Mr van Beurden said.
As it stands, Shell has free reign to decide how it wishes to cut its carbon emissions, with divesting carbon intense assets offering an easy solution.
But analysts have warned that this could lead to an increase in global emissions as assets fall into the hands of smaller operators with less experience.
Mr van Beurden said the decision by the court to single out one energy company is "not the answer" to tackling climate change.
He said Shell should work with its customers to help them "find their own pathways" to hitting net zero, thereby helping to "grow demand for new low-carbon products".
Mr van Beurden added: "For companies to invest successfully, they also need bold, clear, and consistent government policies and regulations. Greater collaboration between governments, companies and customers will allow us and others to build up our low-carbon energy businesses in the fastest way.
"Nevertheless, a court has ordered us to go even faster. Shell is a great company with a long history of rising to the most difficult challenges. We may disagree with this order, but we will continue to embrace the leading role we must play in helping to develop a low-carbon energy system. This is another challenge we will rise to."