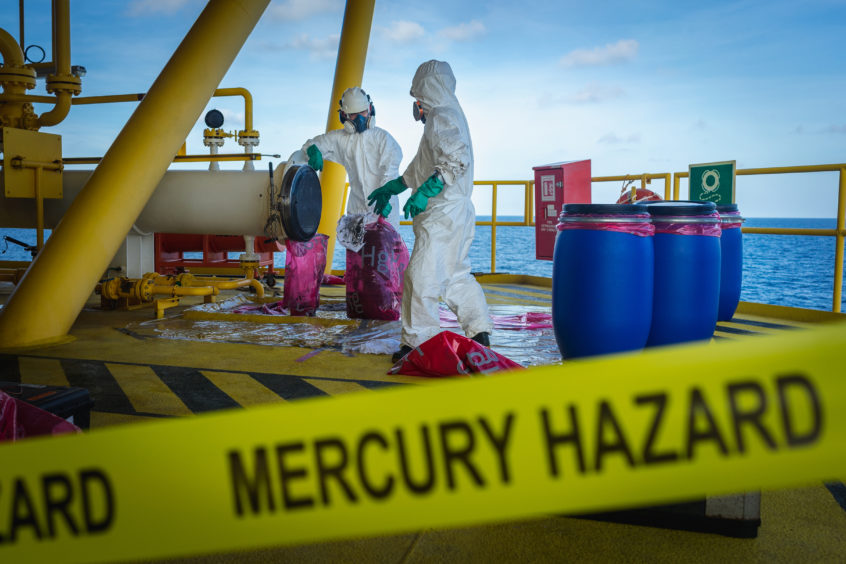 The oil and gas industry is vast, complex and heavily relies on millions of workers worldwide to keep it moving. The sector has made progress in recent years to better protect workers and tighten up safety standards, which is reflected in the decreasing number of sector-wide fatalities. As a major hazard industry nevertheless, common and health and safety exposures remain.
The Health and Safety Executive (HSE), the UK governing body are globally recognised as setting the gold standard in chemical management and occupational ill health. In 2019, they reported that in UK workplaces alone, 4.8 million working days were spent on offshore oil and gas.
Managing chemicals in the workplace is complex and often seen as a niche area of workplace safety, quality, risk and compliance. Businesses have an increasing legal and moral responsibility to manage the damage that exposure to hazardous chemicals can cause to their employees and their business.
Global chemical regulations such The Control of Substances Hazardous to Health (COSHH), REACH and CLP set the benchmark for chemical safety compliance and if adhered to correctly, ensure the safety of people. Those responsible for managing chemical risk face challenges such as changing legislation, the introduction of new harmful substances and a lack of specialist knowledge that can result in employees suffering and businesses facing significant fines, prosecution, and irreparable reputational damage.
Effective health and safety management is essential to prevent and protect against workplace dangers both onshore and offshore. All industries carry ill health risks for workers and the oil and gas industry is no different. Offshore oil and gas use hazardous substances and chemicals during daily work activities such as painting, spraying, soldering, mixing of drilling muds and insulation installation. Working onshore, hazardous substance risks are linked to chemical and gas exposures in businesses who carry out hydrocarbon exploration.
The industry's view
Following a survey conducted to health, safety and operational workers in the oil and gas industry, we have shared insight into how hazardous substance and chemical compliance is currently being managed in the industry:
61% of respondents say that they require more support and training on chemical management
58% of respondents say that chemical management is not a priority for its leadership team
55% of organisations admit that more can be done to protect their workers from exposure to hazardous chemicals
42% say that their organisation do not do enough to substitute or eliminate chemical hazards from the workplace
Protecting your people from exposure to hazardous chemicals
Whether workers are drilling for oil, carrying out routine maintenance or harnessing renewable energy sources, there is exposure risk. If exposure is not properly controlled, it can cause adverse health effects such as skin dermatitis, cancer and lung disease such as occupational asthma and respiration irritation, as well as the potential for asphyxiation, fire and explosion.
Alcumus, a global leader in workplace chemical management solutions is hosting a free webinar event, 'Overcoming Chemical Management Challenges in Oil & Gas'. The event is taking place on Thursday 24th of June at 2pm. Matthew Pritchard, Alcumus' in-house chemical expert will explore this topic further and advise on how to protect your workers and organisation from the hidden risk of harmful chemicals and substances. Matt will explore globally recognised chemical regulations such as REACH, COSHH and CLP and how to adhere to them in your workplace.
Matthew will share his experience of working with the oil and gas industry and discuss the common challenges that business leaders have to overcome and provide best practice advice on how to implement effective chemical management strategies.
Join Alcumus on this 45-minute webinar and you will have the opportunity to submit questions beforehand and ask live questions throughout the event. Register your place now – https://attendee.gotowebinar.com/register/8127363868316055568?source=NEW
Recommended for you

Gallery: 'End of an era' as Foinaven FPSO arrives at Hunterston from BP oilfield