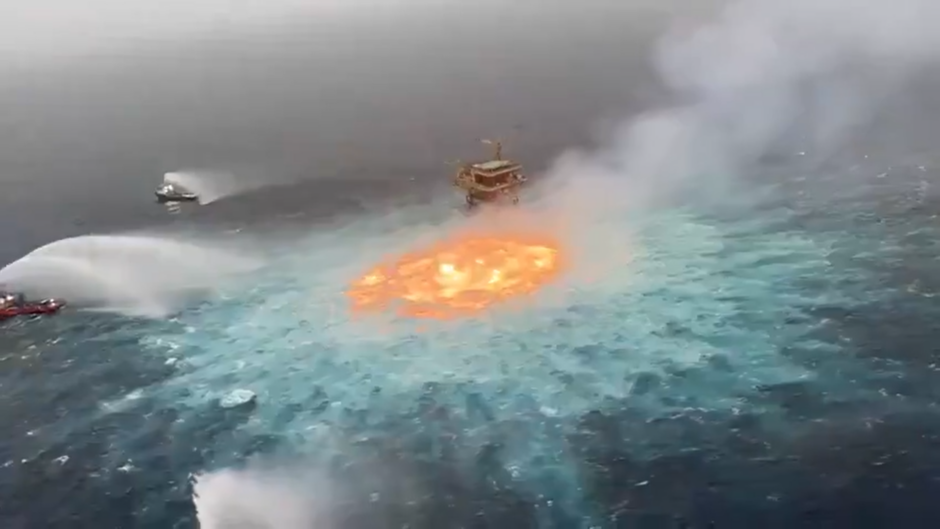 Oil firm Pemex has said there was no environmental damage caused, days after a viral clip was shared online of an "eye of fire" near an offshore platform in the Gulf of Mexico.
In a statement, state-owned Petroleos Mexicanos (Pemex) said work is being carried out to identify the cause of the gas leak in the pipeline which caused the surface blaze.
Over the weekend, footage captured by a helicopter showed flames erupting near an oil platform, which was brought under control within five hours.
"It should be noted that there was no oil spill and immediate actions to control the fire that occurred on the surface of the sea avoided environmental damage", Pemex said.
No injuries or evacuations were reported by Pemex from the Gulf of Mexico fire.
#ULTIMAHORA | Explota línea submarina de #Pemex en la Plataforma KuSierra de 78 metros de profundidad. El accidente mantiene un incendio sobre la superficie, no se reportan lesionados. Tres barcos han apoyado para sofocar las llamas. Pemex no ha emitido ningún tipo de comunicado. pic.twitter.com/Yt5KRlo4o9

— Televisa Veracruz (@televertv) July 2, 2021
The incident took place at Ku-Maloob-Zaap, one of Pemex's most productive cluster of oil fields, accounting for over 700,000 barrels of oil equivalent a day, or roughly 40% of the company's total output, according to data from the Energy Ministry.
The clip was shared widely on social media by the likes of Greta Thunberg and New York mayor Bill de Blasio.
The Gulf of Mexico is literally on fire. Fossil fuels, everyonehttps://t.co/02RIEZVphr

— Greta Thunberg News (@great_thunberg) July 3, 2021
News agency Reuters reported that Gusatvo Alanis, from Mexico's environmental law centre CEMDA, thinks it is too soon to conclude that no environmental damage was caused.
Greenpeace, CEMDA and other environmental groups have signed a statement calling for a detailed assessment of the impact of the fire.
Recommended for you

Scores of unexploded wartime bombs found in Moray Firth