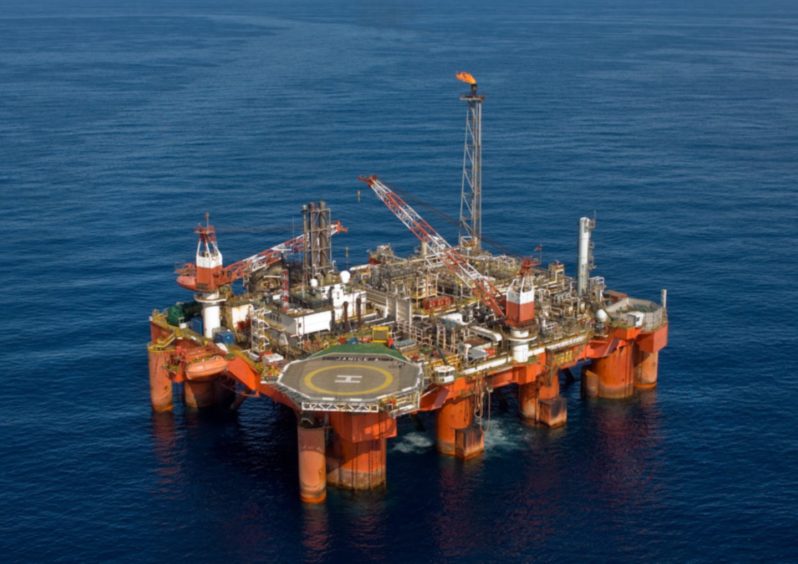 The industry drilled more wells in 2021 than 2020, IHS Markit has reported, with notable successes in high impact wells adding new resources.
There was a "slight uptick" last year, the consultancy said. This is "significant considering the headwinds of the continuing pandemic and the challenges to upstream provided by the energy transition".
IHS Markit went on to say that new discoveries accounted for just over 13.8 billion barrels of oil equivalent, from 197 new finds. Around 30 of these finds have volumes of more than 100mn boe.
The number IHS Markit provided stands in contrast to that from Rystad Energy. The Norwegian consultancy has reported a total for 2021 of 4.9bn boe, around the lowest for 75 years.
IHS Markit said its resource figure was likely to increase as companies appraise finds. IHS Markit pointed to 2019, saying the initial amount discovered was reported at 13.5bn boe, but this grew to 19.4bn boe. In 2020, finds increased from 11.9bn boe to 15.1bn boe a year later.
Rystad put the 2020 resource discovered at 12.5 billion boe.
Rystad vice president Palzor Shenga said the consultancy included reservoir modelling and flow rates for its resource numbers. Unless the reservoir is proved "through flow testing or subsequent geographical spread by appraisal … we believe that the numbers are yet to be proved and testified", Shenga said.
"Also, the resource estimation for a particular discovery is a continuous process for us and the numbers are updated as and when additional information are available."
Totting it up
Latin America was the standout winner in 2021 for IHS Markit, providing 4.6bn barrels of oil and condensate and 3.1bn boe of gas. Brazil accounted for four of the big discoveries of the year, while Guyana had two and Mexico one.
IHS Markit said 2021 had been a success for high impact wells. The top 30 discoveries accounted for 82% of the volume. The industry drilled the highest number of these high impact wells in Latin America, at 17, including eight in Brazil and five in Mexico.
Meanwhile, five big wells were spudded in Africa. The Graff, Venus and Mlima wells are continuing into 2022, aiming to prove up hopes off Namibia and Kenya.
Brazil took the top spot, with Guyana coming second. Turkey came third, with IHS Markit saying its find in the Black Sea was proving this as "a hot area for exploration in the region".
Energy transition plans have had an impact on exploration but the consultancy said high impact wells continued to be a "fundamental aspect" of the industry.
Up this year
IHS Markit estimates companies will drill around 20 of these high impact wells in 2022, with another six wells spudded in late 2021 that are due to complete this year. Another 15 high impact wells may be spudded this year.
Latin America looks set to continue its domination of exploration this year. Three high impact wells are under way in Brazil. These are TotalEnergies' Marolo and Petrobras' Temisto and Alto de Cabo Frio Central wells.
Petrobras may also drill the Tutoia target this year. ExxonMobil is planning to drill the Cutthroat well in Brazil and may follow up with two more wells, Atlas and Espinela.
In Europe, Shell is planning the Edinburgh well, while Copernicus is also scheduled for this year in Norway. A drilling campaign is already under way in Cyprus, with a potential well in Italy.
Africa will see two wells drilled in Gabon, at Seal and Tigre, with Niamou in Congo Brazzaville and Gainde in Sao Tome & Principe.
Further wells could be drilled at Gainde in Guinea Bissau, Raia in Mozambique, Gazania in South Africa and Muzarabani in Zimbabwe. On the latter, Invictus Energy has said it plans to drill a first well in Zimabwe in May.
These come in addition the Namibian and Kenyan wells currently under way.
In the Middle East, high impact wells will be drilled in Kuwait and Lebanon. IHS Markit said the Zhenis well was due to be carried out in Kazakhstan this year.
Two wells will be drilled in Australia, with two in Indonesia and one in Malaysia. There are also tentative plans for work in Vietnam and Papua New Guinea.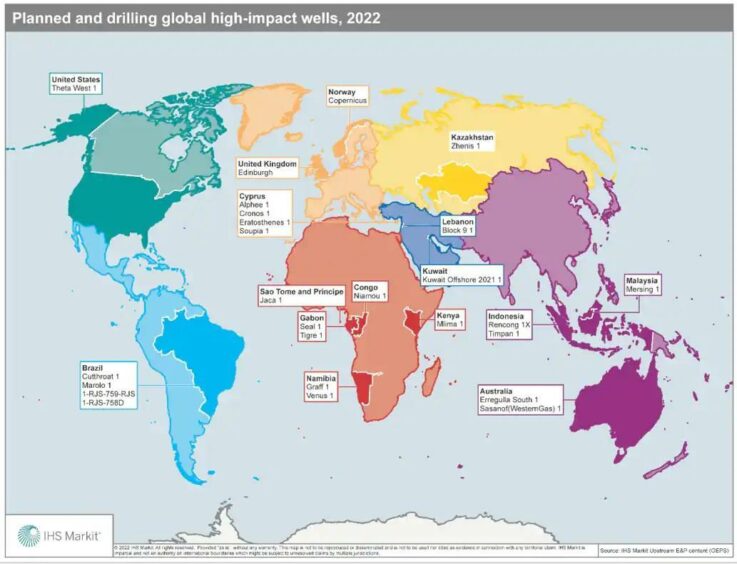 Updated at 2:40 pm with comments from Rystad's Shenga on assessing resource discoveries. 
Recommended for you

Escalating Moscow-Western tensions speed up Russia's energy pivot to China