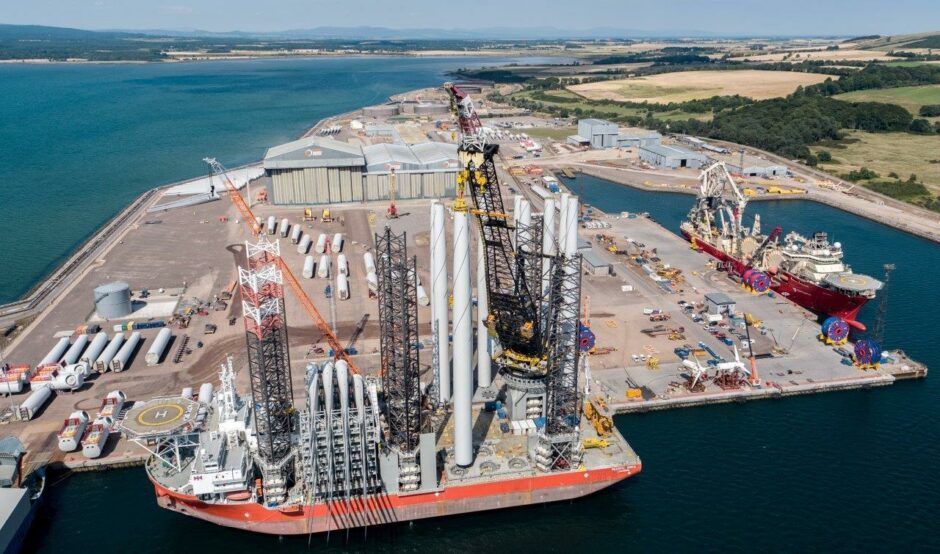 The Port of Nigg has been selected by wind turbine and services group Siemens Gamesa as its assembly and installation port for the Moray West offshore wind farm.
The conditional agreement signed with port operator Global Energy Group would see the site used as the base for turbine assembly and marshalling works prior to offshore installation.
The Ocean Winds consortium is developing the Moray West project, an 860MW offshore wind farm in the outer Moray Firth with consent for up to 85 turbines, subject to an award under the latest Contracts for Difference (CfD) round.
Siemens Gamesa was selected as the preferred supplier for offshore turbines last October.
Subject to CfD and financial close of the project, Siemens Gamesa said turbine components would be marshalled at Nigg prior to installation and commissioning through 2024.
If successful, it would mark the latest in a pipeline of offshore wind projects that have used Nigg as a base, including Moray East, in which Ocean Winds is also the majority stakeholder. The 950-MW Moray East scheme secured a CfD in 2017 and is currently in the final stages of commissioning.
Siemens Gamesa said the Moray West project would be progressed under "a rapid deployment plan," meaning almost continuous use of Nigg for pre-assembly and installation campaigns for offshore wind energy projects from 2017-24.
Project Director for Moray West, Adam Morrison, said: "The decision to utilise Nigg follows three successful and safe large installation campaigns, including our sister project Moray East. Having suitable facilities to secure the Moray West work has underlined the value of earlier investments in Nigg and the ongoing need to invest in quayside infrastructure to support the growth of the sector."
Global Energy Group CEO Tim Cornelius said that having already supported three previous installation campaigns, its team looked forward to welcoming Ocean Winds back to site.
"The knowledge and experience we gain through each of these campaigns allows us to continually seek to improve our service offerings as Scotland's leading pre-assembly and turbine installation port," Mr Cornelius added.
"Our location coupled with existing laydown space and heavy load bearing capacity makes the Port of Nigg the ideal location to deliver large scale storage and marshalling for both fixed and floating offshore wind projects. We are committed to further capital investment in the development of the necessary infrastructure, facilities and land around the site to support the future increase in demand we expect to see from leading developers such as Ocean Winds."
Ocean Winds was also successful in the recent ScotWind tender, securing exclusive rights to develop a 1-GW, bottom-fixed offshore wind project in block NE4 of the seabed tender, adjacent to the existing Moray East and West seabed lease areas.
Referencing the future ScotWind developments, Mr Morrison added: "The recent success in the ScotWind leasing round means that Ocean Winds will make significant early investments to drive the next steps necessary to build capability and capacity in the Scottish supply chain."
The medium-term outlook for Siemens Gamesa is less clear. The company – formed in 2016 as a merger of the two engineering groups' wind businesses – issued a profit warning last week after it reported an operating loss for its first financial quarter.
The company has cut its financial outlook three times in nine months, blaming increased supply chain costs and the rising cost of its new generation of turbines.