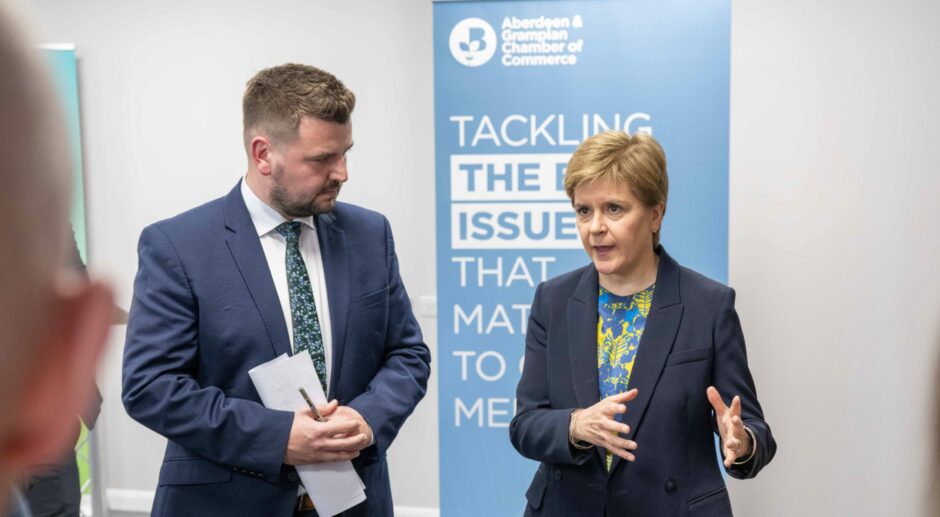 Scotland's First Minister has accused critics of her government's controversial energy strategy of not engaging with the plan properly.
Nicola Sturgeon claimed "many of the companies" she regularly engages with are "very seized" of the opportunities presented by the move away from oil and gas.
She also committed to working in "partnership" with the sector, adding that descriptions of the plan as a "breathtaking betrayal" suggests there "hasn't been a proper reading" of it.
In response, an Aberdeen business leader has called on the first minister to "listen to the experts and academics", rather than "firing off nippy remarks".
Energy strategy divided opinion
Published last month, the draft energy strategy and just transition plan is Holyrood's blueprint for moving away from oil and gas.
It sets out the challenges, and potential economic benefits, of replacing hydrocarbons with renewables, as well as intentions to create thousands of green jobs.
For many though, it was the plan's "presumption against" new North Sea oil and gas exploration that leapt off the page.
Chief executive of Aberdeen & Grampian Chamber of Commerce, Russell Borthwick branded the move a "breathtaking betrayal of one of Scotland's biggest industries", and concerns were raised about the potential job losses of pursuing such a tactic.
Chance to create more jobs
But Ms Sturgeon says "describing the strategy in that way suggests that there hasn't been a proper reading of it, or absorbing of the potential in it".
She added: "In terms of oil and gas, there is a real commitment to making sure that we achieve the energy transition in a way that is respectful to the skills, the people, the infrastructure and the expertise in the sector.
"But what the strategy makes very clear, and nobody can escape this, is that even if we didn't have the climate emergency, North Sea oil and gas is a declining asset. The North Sea is a mature basin, and the research in the strategy showing that 20 years from now production – even if all of the new exploration opportunities are taken up – will be a tiny fraction of what it is now.
"There is an imperative to make that just transition, and the climate emergency makes it more important. The research in the strategy shows that if we get that transition right, we stand to create more jobs than are currently supported by oil and gas."
Successive let-downs for Aberdeen
Ms Sturgeon also claimed also claimed there is "every reason" for Aberdeen to be optimistic, despite a string of disappointments for the city.
Snubs for the Acorn CCS project and the north-east's bid to become a green freeport have added insult to the North Sea windfall tax's injury.
Successive let-downs have left many in Aberdeen concerned that city is on a downward trajectory, despite claims it will be the engine room of the UK's energy transition engine room.
Ryan Crighton, Policy Director at Aberdeen & Grampian Chamber of Commerce, said: "We have indeed read the document, which clearly shows that this strategy will blow a £9 billion hole in Scotland's GVA at a time when our public finances are at breaking point.
"It also concedes that UK oil and gas extraction carries a relatively low carbon footprint compared to the countries we would become reliant upon for hydrocarbons if we pursued this path.
"Instead of firing off nippy remarks, the first minister needs to stop talking and start listening to the companies who are warning that the proposed presumption against future exploration is already costing the North-east crucial investment.
"She also needs to listen to the experts and academics who say that accelerating away from oil and gas too fast, before renewables jobs are available at scale, will cost tens of thousands of jobs in the North-east of Scotland.
"And she also needs to listen to the Scottish public at large, 87% of whom think the UK should aim to meet its demand for oil and gas from domestic production."
Recommended for you

Move Net Zero Department to Aberdeen, Chamber asks Hunt