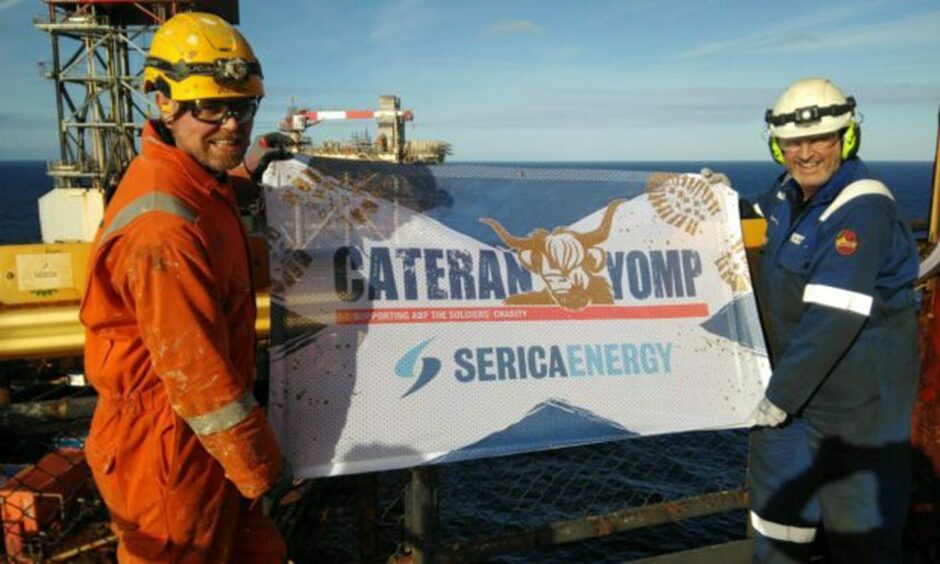 Oil workers from Aberdeen are preparing to raise thousands of pounds for the British Army's official charity.
The Serica Energy team is swapping hard hats and laptops for walking shoes as they prepare to march 54 miles.
They are taking part in ABF The Soldiers' Charity's Cateran Yomp in June.
Participants walk 22, 36 or 54 miles across the rugged terrain of the Perthshire countryside in under 24 hours.
Last year's event raised £500,000 for soldiers, veterans and their families.
Serica Energy yompers
The Serica Energy team, which includes staff from Aberdeen and London, is one of the largest corporate teams taking part.
The team is being led by Aberdeen-based Scott Wells, a lead area scheduler.
He said: "When the Yomp came to our attention, we were inspired to pull a team together.
"Although I haven't been in the forces myself, I've spent many an evening with friends who find it difficult to settle into civvy life. They need a listening ear as there is not enough support out there.
"I like to push myself. I'm extremely proud of the funds my cycles, runs and rows have raised for charities over the years.
"The Yomp will be the most challenging. Bring it on!"
Participants will head off on the Cateran Trail in the foothills of the Cairngorm Mountains at 6am on Saturday June 3.
Tragedy inspiration for taking part
Mr Wells will be joined by colleagues aged 25 to 60 in roles ranging from offshore technicians to senior management.
Michael McIntosh, production technician, was a Gordon Highlanders reservist in the 1980s.
He said: "Many of my 'Bydand Brothers' chose to join the regular army during the Gulf and Iraq wars.
"Some of those returned from conflict zones suffering from PTSD and with very little support from the Armed Forces they had served.
"The Yomp has given me the opportunity to help raise awareness and funds for ABF."
Brian Langton, mechanical technician, said: "My mind sometimes takes me back to my time with the Royal Navy diving branch and the inexplicable death of a super fit colleague. Though never proven, it was a suspected suicide.
"The devastation that caused to friends and family and the possibility of avoiding it with better support has stuck with me.
"Over the years, I have also observed people struggle with PTSD with little support."
Serica, which has 11 fields in the UK North Sea, recently announced a 361% jump in profits.
Since its launch, the Cateran Yomp has raised more than £4 million for ABF. Donations fund everything from wheelchair ramps for the homes of soldiers, veterans and their families, to respite care for injured soldiers returning from the front line.
Recommended for you

Former Aberdeen oil and gas worker turned entrepreneur on community mission