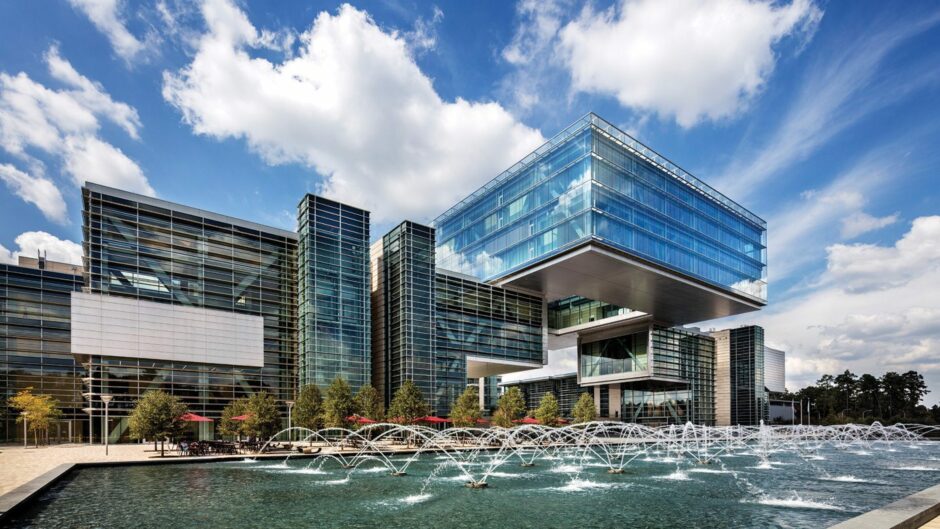 Any major office move tends to be disruptive. However, for ExxonMobil's top executives, the company's plans may be somewhat more painful.
As part of a strategy announced last January, the supermajor is moving its corporate headquarters from Irving – the Dallas suburb which has hosted the company since the late 1980s – to its newer campus in Houston.
The announcement came as CEO Darren Woods also sought to combine Exxon's chemical and refining divisions as part of a drive to save around $6bn this year, and preserve its generous dividends and buybacks for shareholders.
However, the move will also see the firm do away with some luxurious executive perks.
Nicknamed the "God Pod" the 20,000 square feet executive floor at Irving is reportedly accessible only to an elite band of the company's top brass, and replete with private chefs, as well as sculptures and paintings from the company's corporate collection.
According to Quartz, furnishings at the campus include, among other things, Anigre wood paneling, staircases from Africa, French limestone and Welsh slate – materials garnered from across the world, supposedly to project the company's global operational reach.
Indeed, the site was dubbed by a local real estate agent as "the best corporate campus that no one's ever seen."
However, observers have suggested the move signals not just an efficiency drive but a reset of Exxon's corporate culture towards something more "egalitarian."
The more modern, glass-walled campus is split into several buildings with a central common area adorned with plants and water features, Bloomberg reported.
And while executives may still have their own floors in Houston, the Wall Street Journal suggests these spaces will be also glass-heavy, in a bid to foster transparency and collaboration.
Nevertheless, Mr Woods efficiency drive coupled with buoyant commodity prices has borne fruit. Last month Exxon's recorded its fourth consecutive quarter of profits exceeding $10 billion – a streak not seen since the era of $145-a-barrel crude in 2008.
For his trouble, Mr Woods also bagged the largest pay packet of the major oil CEOs.
Houston office residents may even have new colleagues to welcome, with speculation now growing over whether Exxon will use some of its record cash flow for a major corporate acquisition.
Early-stage talks with Pioneer Natural Resources were reportedly held last month.
And while both companies declined to comment on the rumors, analysts suggested the deal would make strategic sense and would make the supermajor the largest producer in the US Permian Basin.
Recommended for you

Exxon weighs chemicals output boost as EVs threaten gasoline use