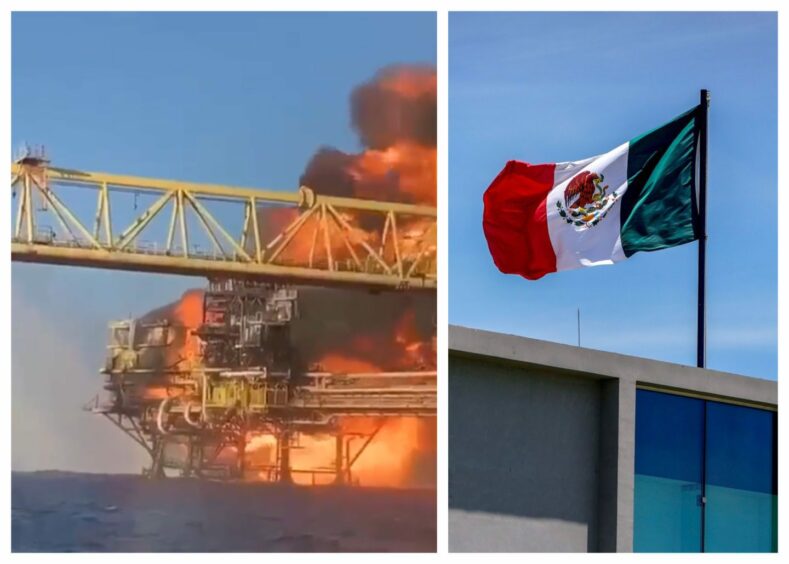 Safety should always be at the forefront of not just the energy industry but every sector, however, some say the reporting last week's fatal fire on a Pemex rig in Mexico highlights a profits-over-people mentality.
On Friday there was an incident on the Nohoch Alfa platform gas processing centre that resulted in the deaths of two workers, the injury of a further eight and saw another go missing.
This tragic loss of human life would be the headline for any reporting on the incident, one would assume.
George Galloway, advisor and investor at wind industry site Kitemill, said this has been far from the case.
Taking to social media on Tuesday, Mr Galloway wrote: "I've yet to find a report on this event that recognizes the human and environmental cost of this tragedy or offers any kind of comfort to those affected."
🔴 Momento exacto de la explosión en la plataforma de Pemex en Campeche; hasta el momento se reportan seis heridos

🎥 #VIDEO Especial pic.twitter.com/KKaY4a9KoC

— El Universal (@El_Universal_Mx) July 7, 2023
It is worth noting that there have been reports from a number of publications that have focussed on the individuals affected.
Although there has been extensive reporting on the human side of this tragedy, there are notable examples of reports leading on the production loss that resulted from the fire.
Some led on the fact that Pemex was losing out on 700,000 barrels of oil output as a result of the incident, adding details of those injured, missing or dead, late in their coverage.
Mr Galloway posed the question to his LinkedIn connections: "Does this tell us something about the underlying culture?"
Drawing a comparison to Piper Alpha and Deepwater Horizon
Asked about his opinions on this by Energy Voice, and how it reflects the industry's mentality towards safety, Mr Galloway pointed to the comments below his LinkedIn post.
He said: "Several comments have been added which add voice to the view that this should not be happening in 2023, ironically almost exactly 35 years after Piper Alpha."
According to the advisor and investor, the energy sector has "moved considerably in the 35 years since Piper Alpha", pointing to how many of the recommendations from Lord Cullen's report following the incident have been "implemented globally".
Drawing a comparison to a more recent offshore disaster that claimed the lives of workers, Deepwater Horizon, he added: "Yes, many learnings taken from what happened but the extent to how far they were implemented varies across the globe."
Graham Skinner, health and safety manager for the trade body Offshore Energies UK, has also written on social media that the incident at Nohoch Alfa marks "one of an estimated 10 major incidents in a year."
Industry safety
Safety procedure is a recurring talking point at industry events with thought leaders pointing to how standards can be improved or how they have developed over time.
Organisations have been set up to improve safety across the board, with firms signing up to benefit, on such organisation that Mr Galloway points out is the International Association of Oil and Gas Producers (IOGP).
He said: "One particular organisation at the forefront of promoting a safer, healthier and more sustainable oil and gas industry is IOGP.
"Their membership includes many of the major oil and gas players including operators and contractors with one notable absentee – Pemex."
IOGP can boast industry heavy hitters amongst its members, such as BP, Shell, Chevron, TotalEnergies, Exxon Mobil and Equinor. However, to this investor and advisor, Pemex's absence is damning in the wake of the fire at Nohoch Alfa.
OEUK's Mr Skinner said on LinkedIn: "In about 2016 I provided wells training to a delegation of Mexican Regulators on wells safety issues. At the time the regulator was trying to get tough on safety issues at PEMEX."
He explained that low wages for regulatory staff led to a "generally competent" workforce but one that lacked experience, something he described as "Vital to unpick complex process safety leadership issues and hold leaders accountable."
Mr Skinner concluded: "Mexico can seem a long way away from the UK but the management system challenges, process safety leadership, maintenance backlog, gaps in competence and experience, the undermining of regulatory experience, are all warning signs that we should not be complacent."
Explosion at Pemex's  E-Ku-A2 platform in 2021
The fire at the Nohoch Alfa platform marks the most recent safety incident at a Pemex installation to create headlines.
In 2021, Pemex chief executive Octavio Romero made the visit to the site of a fatal explosion where a fire broke out and five people died on the E-Ku-A2 platform.
At the time, the company released images of the chief executive on board the installation, which is part of the Ku-Maloob-Zaap field, Pemex's most productive oilfield.
Recommended for you

Pemex platform fire leaves two dead, one missing