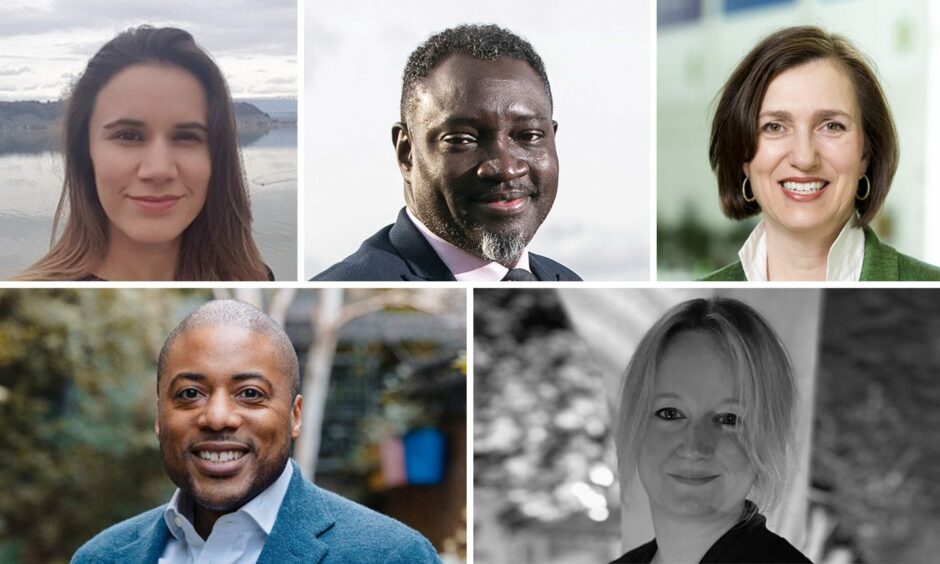 At an industry event in Aberdeen, energy sector bosses spoke candidly about the discrimination hurdles they faced due to their gender and race.
The AXIS Aberdeen and AFBE-UK-Scotland session heard stories from BP, Intertek and other leaders on barriers they've faced as they climbed the career ladder.
BP's vice president for the North Sea, Doris Reiter, told attendees that in her first semester at university, she was asked multiple times whether she was "just there to catch a husband".
Doris Reiter went on to earn a PhD.
The supermajor's North Sea boss also shared an experience early in her career within the energy sector about a "development conversation" she had with a manager.
She said: "I want to solidify my technical background and I would like to be a team leader and a manager."
Dr Reiter's then-manager told the Austrian native, "Doris, I don't think you're really cut out for leadership."
She added that she'd been told "We do promote women but they either have a British or American accent."
AXIS Network vice chair and business development manager at Intertek, Emma Behjat also shared her personal experiences.
Emma Behjat told those attending the event at Wood's office in Altens that she came from a "low socio-economic background." Despite this, she went on to graduate from Imperial College with a PhD in chemical biology.
Achieving this made her "really proud and excited to get into the workforce," Ms Behjat said she thought she had "overcome all of the hurdles" she would face; however, this was not the case.
Dr Behjat told those in attendance: "When I was applying for roles, I used my given name, which is Hamasseh Behjat, and I wasn't getting much feedback and that was disheartening.
"I remember my dad saying to me one day that he wanted to have a look at my CV and then he told me to use my preferred name, Emma."
After changing the name on her applications "the response was much different" to what she had experienced when applying to roles under Hamasseh, Ms Behjat said.
This was not the end of the prejudice Ms Behjat faced: "I work in sales and sales technical sales, and I can remember it was a male-dominated environment.
"There was in one meeting, and the training and the coach at the time was telling everybody that me, I was getting my sales based on people finding me sexually attractive, basically disregarding my knowledge and my technical experience."
Disparity in the industry
Earlier this year, POWERful Women released its Annual State of the Nation report, finding that 21% of energy companies across the UK have no female representation on their board of directors.
The event held in Aberdeen by AXIS Network and AFBE Scotland UK provided examples of some issues minorities across the sector might face when setting out in their career.
The theme of the panel event was 'intersectionality of issues', with two additional panellists and a moderator discussing the topic.
Intersectionality is the belief that inequalities experienced based on gender, race, ethnicity, sexual orientation, gender identity, disability, and class, cross over to create unique effects for an individual.
Shaun Scantlebury, partner at EY People Advisory Services, moderated the panel that was made up of Ms Reiter, Ms Behjat, co-chair AFBE-UK and head of process and safety at Optimus Plus Aberdeen, Ollie Folayan, and vice president for diversity and inclusion at Wood, Chrissie Clarke.
Feilding the first question of the evening, Dr Folayan gave a description of what intersectionality means to him and why it is important that firms strive towards being more inclusive.
The AFBE-UK co-chair said: "The whole idea of intersectionality is based on the fact that every one of us is a complex human being. We're made up of different experiences, different overlapping identities, and different other aspects of our lived experience.
"Where it what matters is when you and I, within our companies, are thinking about how we frame the diversity and inclusion question.
"It's about how we ensure that we are truly widening participation and enhancing the whole person. We want to ensure that we are thinking about all of that"
He explained that when people are viewed as "just one thing" individual experiences "fall through the cracks."
Tackling energy industry discrimination
After hearing about Dr Behjat's personal experiences those attending the event were not shocked to hear that Chrissie Clarke thinks the understanding of intersectionality in business is "not very mature."
Ms Clarke said: "As a society, we're still on a journey with 'what is diversity, inclusion, equality and equity?'
"I was having a conversation a little while ago about belonging and they went 'another term, what does this mean?' Then you throw in intersectionality when someone is just coming along for the journey, about what is diversity data, what is inclusion?
"People become uncomfortable, what if I say the wrong thing? So I think maturity in the term intersectionality is not very mature across the UK and other countries, but I do think the passion to make sure everyone has got that sense of belonging and they can innovate and thrive, it's getting more and more mature by the day."
Doris Reiter explained that "business resource groups are usually valuable," she pointed out that at BP there are "almost a dozen".
She said: "As a leadership team, about four months ago we did the wheel of intersectionality and it's really quite insightful of very personalised."
However, agreeing with Ms Clarke, the BP Noth Sea boss said that intersectionality is a "term that has emerged in the not very distant past."
Calls for industry to 'harness intersectionality'
Understanding the lack of maturity around the term, Dr Reiter called for energy firms to "harness intersectionality and bring more awareness to the compounding effects of different strands.
Dr Reiter added: "Are we where we need to be? No, but there is no shame in admitting that there's so much more work to be done.
"But when I think back to when I entered the industry, we have moved the ball forward quite a bit."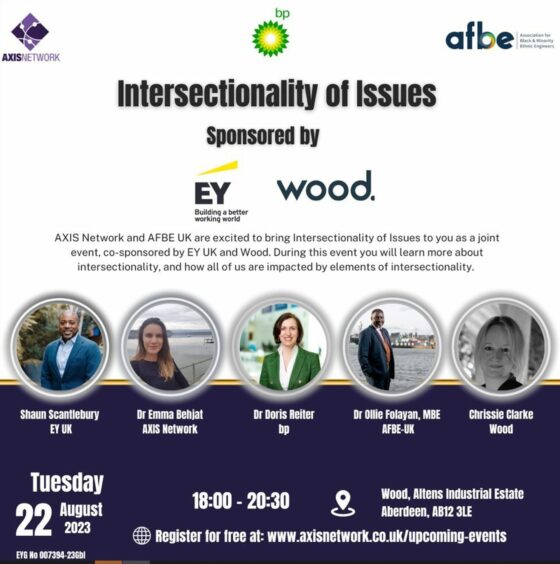 Looking to push the ball further forward, Dr Folayan asked that the energy sector looks to approach inclusivity and intersectionality in a similar way to how it has tackled safety issues in the past.
The co-chair of AFBE-UK said: "If we look at the example of how we created change, that was the safety within our organisations, we've done it by constant reinforcement of the importance of that particular thing.
"One thing that happened was, following the tragic death of George Floyd, Bernard Looney, BP's CEO, put out that blog that so many people responded to.
"That was a really powerful sign to a lot of people that work in the company, and even any of us that don't, that this is something that's important and needs to be continuously reinforced."
Recommended for you

Next generation of senior leaders to help 'make strides' in D&I