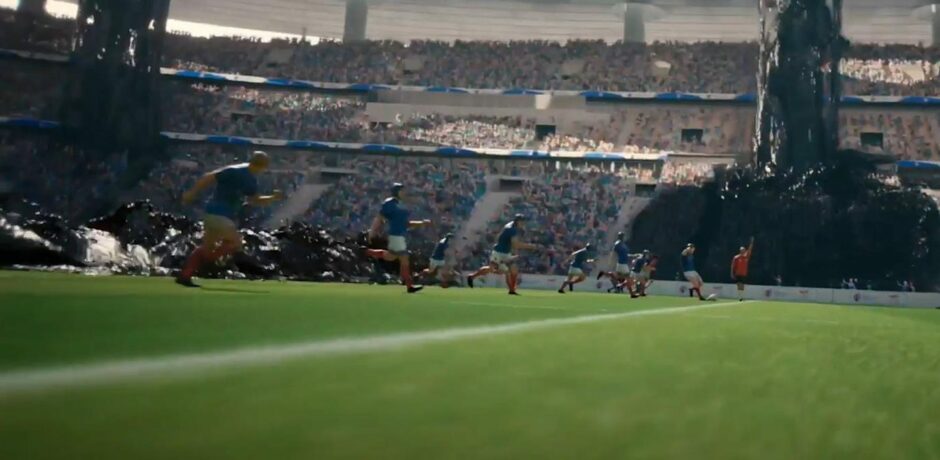 Ahead of the Rugby World Cup, Greenpeace has called for a ban on all fossil fuel advertising and sponsorship in sports.
A week before the event that will see Scotland and Springboks lock horns in France, Greenpeace has released an animated video showing the Stade De France stadium filling with oil during a mock rugby match.
In collaboration with production company Studio Birthplace, Greenpeace created the film ahead of the global sporting event which this year is sponsored by French supermajor TotalEnergies.
This is not the first time Greenpeace and TotalEnergies have gotten into a scrum this year, the French energy giant launched legal action against the NGO, following a report on the company's carbon footprint.
TotalEnergies took Greenpeace France to court on April 28. The supermajor accused the NGO of "disseminating false and misleading information" in its reporting on TotalEnergies' carbon emissions.
Kicking oil sponsorship into touch
Greenpeace has previously spoken out about what it calls 'sportswashing'.
The NGO defines the term as: "When companies use sponsorship of major sports events to tarnish their image and distract from their impacts on the environment."
In the past, the group criticised the reports that Jim Ratcliffe, chief executive of INEOS, was looking to take over football club Manchester United when rumours were in the headlines surrounding the potential deal.
Edina Ifticene, campaigner at Greenpeace France, said: "We want a complete ban on fossil fuel advertising and sponsorship of major sporting events.
"It benefits no one but fossil fuel companies and deliberately distracts everyone from the environmental destruction they cause and the communities they harm.
"For a safer and fairer world, we must end the fossil fuel era, starting with climate-wrecking new fossil fuel projects, before it's too late."
TotalEnergies responded: "It's wrong to claim that TotalEnergies is greenwashing by sponsoring the Rugby World Cup 2023.
"TotalEnergies has a long tradition of partnership with rugby (for 35 years, the Company has supported Section Paloise, in Pau, a Top 14 club in France), which shares common values with our Company.
"With the Rugby World Cup, TotalEnergies is sponsoring an international sporting event taking place in France, the Company's home country, where we have nearly 35,000 employees, hundreds of sites, millions of customers and a strong local presence.
"In particular, this event is an opportunity for the Company to raise awareness of the multi-energy dimension of our activities and our ambition to be a major player in the energy transition, committed to carbon neutrality by 2050, together with society."
The firm added that it has made efforts to "develop low-carbon mobility during the event", it has done this by "installing ephemeral electric charging stations near the stadiums, providing car-sharing solutions for fans, and offering free electric recharging on match days."
'A calculated attempt to maintain the status quo'
The video features a tongue-in-cheek commentary from Irish comedian and actor Seán Burke that describes TotalEnergie's oil disrupting a match played by model rugby players.
In the Greenpeace video, oil fills the ground that will host Rugby World Cup matches, covering spectators and players before bringing Mr Burke's colour commentary to an end as he too is engulfed by the hydrocarbons.
Seán Burke said: "We're way past the point where sponsorship by fossil fuel companies should be acceptable.
"Their cute graphics and friendly animations are just a calculated attempt to maintain the status quo and extend a deadline that ran out years ago.
"Make no mistake, the temperature rising is fine by them as long as the profits do too."
Greenpeace activist Edina Ifticene added: "Integrity, passion, solidarity, discipline and respect.
"Those are rugby values. But fossil fuel companies like TotalEnergies piggyback those values by sponsoring popular sports events like the Rugby World Cup, to distract everyone from their climate destruction.
"Meanwhile, fossil fuel companies won't stop extracting fossil fuels – even though they know it's jeopardising a livable future for us all – because they like the record-breaking profits they're making."
TotalEnergies added: "As a reminder, TotalEnergies will invest nearly 5 billion euros in renewable and low-carbon energies by 2023, and will therefore, for the first time, devote more investments to low-carbon energies than to new hydrocarbon projects.
"By 2030, TotalEnergies will be one of the world's largest low-carbon power producers. TotalEnergies is thus implementing its ambition in a concrete way, and is making far-reaching changes to its production and sales mix, while continuing to meet the energy needs of the growing global populations."
Recommended for you

Namibia: Shell and TotalEnergies giant oil discovery threatens resource curse