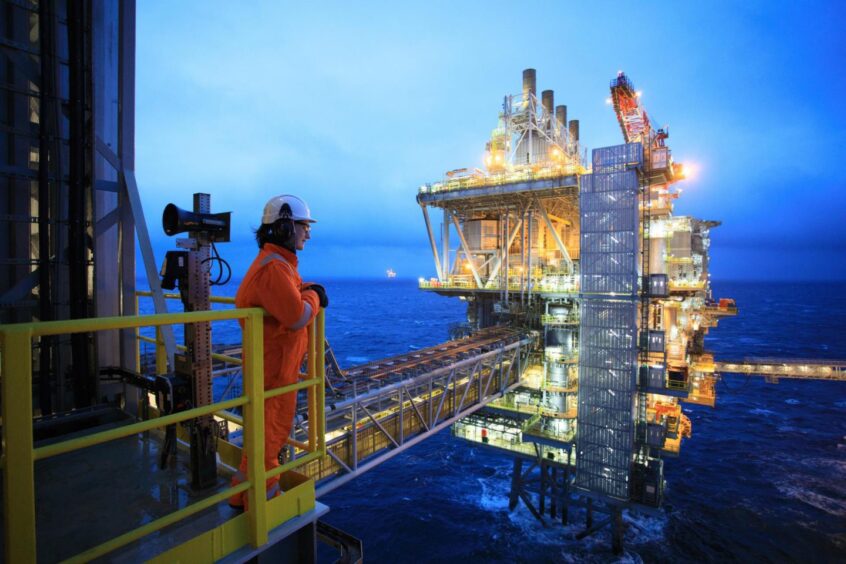 It's no secret that the UK has a declining basin and as the country transitions to net zero, oil and gas platforms will cease production and later be decommissioned. However, which asset will be the last one standing?
The days of fixed bottom platforms look to be gone as the industry has moved towards the use of floating production storage and offloading (FPSO) vessels for the last few major fields in UK waters, namely Rosebank and Cambo.
As FPSOs become the more lucrative option for operators and production drops off, it's clear that there will come a day when there are no more traditional oil and gas platforms left standing.
Energy Voice spoke to James Reid, senior research analyst for North Sea upstream at Wood Mackenzie to discuss which asset will hold the title of the last platform in the UK.
Mr Reid said: "If you're looking at the pure cessation of production, the last fixed platform at the moment would potentially be in Clair West of Shetland."
The Wood Mac analyst says that BP's Clair platform, which encompasses Clair, Clair Ridge and Clair South (once it's brought online) will be the last one standing.
Yvonne Telford, research director for Westwood Energy, shared a similar assessment when questioned on the matted.
Ms Telford said: "Based on our current economic assumptions and known investment plans, Westwood estimates that Clair Ridge will be the last platform installation with production in the UKCS, with cessation of production in the 2050s."
He explained: "Given the fact that obviously, we've been looking at FPSO for a lot of the new developments now. Cambo, Rosebank, Buchan, and Avalon are all looking at FPSOs as a solution from both a cut with a cost and emissions perspective."
The Wood Mac analyst explained that a Shell's Jackdaw is a "possible outlier" as it is going to be "a little unmanned wellhead platform."
BP was asked to comment on the forecast that it will be the last operator of a platform in UK waters.
In April Energy Voice reported that BP is looking to the next phase of its giant Clair oilfield in the west of Shetland as the firm aimed to make a key final investment decision (FID) next year.
Clair South – now known simply as Clair Phase Three – will be the latest stage for developing the largest hydrocarbon accumulation in Western Europe, with a total of seven billion barrels in place on the overall Clair field.
Mr Reid pointed out some other installations in other regions of the UK that are set to be among the last of their kind.
He said: "In the central North Sea, you've got things like Elgin Franklin are going to be out to sort of 2040 time and Magnus in the northern North Sea to the mid to late 2030s."
However, he reaffirmed that "barring any major new discoveries" Clair would be the last platform on the UK continental shelf.
He continued: "Even so, with big new discoveries it's likely they would utilise an FPSO.
"From a cost perspective and looking down the line, decommissioning costs as well, which makes it simpler to have an FPSO than a fixed steel platform."
Can CCS breathe new life into these ageing assets?
There is a possibility for these end-of-life UK platforms to be repurposed in the energy transition.
James Reid followed up his comments on Clair being the last platform standing in UK water by diving into the possibility of assets being repurposed for carbon capture utilisation and storage (CCUS).
"The only caveat to that would be that it depends on what might be reused for CCUS," Mr Reid added.
Westwood Energy's Yvonne Telford corroborated this, telling Energy Voice: "Looking at how much technology has changed and advanced in the last 25 – 30 years it is hard to speculate how much things will have changed by 2050, and therefore how much an installation like Clair Ridge could be repurposed."
She added: "Looking more at the near-term, there are a wide range of installations which could be re-purposed for carbon storage (CS).
"Some are already being considered in current CS projects or being evaluated following the 1st Licensing Round awards."
Earlier this year, INEOS and Wintershall DEA repurposed an end-of-life hydrocarbon well for their 'Greensand' CCS project.
Greensand utilises the existing Siri platform in Danish waters for the injection of CO2 that has been shipped from Antwerp.
The vessel that delivers the greenhouse gas from the Danish coastline hooks up to tubing on the drilling rig, at which point the CO2 is brought to the optimum temperature and pressure before being pumped over 6,500 feet below the surface.
Once injected below the surface the carbon dioxide will remain in the reservoir.
Mr Reid also pointed to the recent CCS licencing round to speculate on the future of certain assets.
He said: "If you look at some of the licences that have been offered, they're sort of close to existing assets and the natural thought process is to reuse existing pipelines or potentially build new pipelines depending on the age of these assets to utilise them to inject into the reservoirs.
"Obviously, that's still quite early stage in terms of figuring out what, how that might look."
This type of repurposing can save ageing assets from being decommissioned as the technology develops.
However, some platforms may not be fit for this type of repurposing and those that are will have to be assessed on a case-by-case basis.
Ms Telford explained: "Factors will include, but are not limited to, platform integrity (some platforms have been operating for 40 or 50 years, well beyond their original design life), well stock integrity and the business case for operating a carbon storage facility."
Wood Mackenzie's James Reid also said that "long-term asset integrity and costs" will be major considerations when firms assess whether platforms are fit to be used for carbon storage.
Mr Reid commented: "These assets are quite old, the ones in the areas where they want to use CCUS are quite old already and you've got hefty asset integrity bills and asset integrity concerns.
"They might not make it to the end of CCS projects, but there would need to be something there."
Recommended for you

'Pivotal' work on Western Isles FPSO is happy landing for Apollo