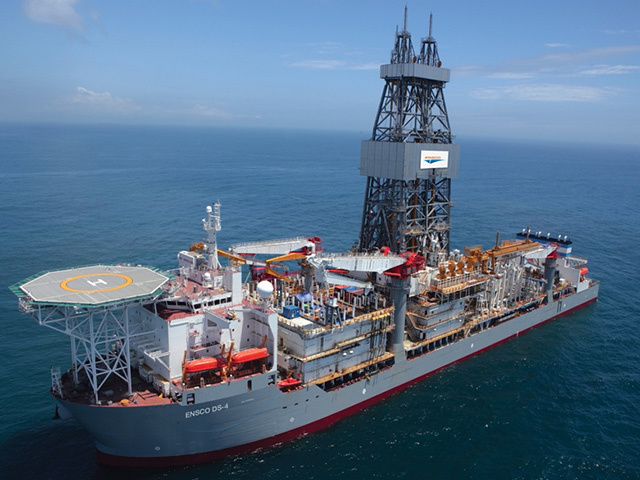 Ghana has had a decidedly mixed couple of months, with a major offshore discovery offsetting problems at Tullow Oil and Aker Energy.
The announcement last week from Springfield Exploration and Production of the 1.5 billion barrel Afina-1 well has done much to highlight opportunities in the offshore. The company is the first African explorer to drill and find oil in the continent's deepwater.
The potential for further discoveries in Ghana is one factor cited by the International Monetary Fund (IMF) as a contributing factor to the country's expected growth of around 5% per year in the medium term.
Springfield
The Afina-1 find was drilled in Ghana's western offshore, in an area previously held by Kosmos Energy. The well was drilled fairly close to Eni's Offshore Cape Three Points (OCTP) block, home of the Sankofa Gye Nyame project.
Springfield's well found 50 metres of net pay in the Cenomanian sandstones, with another 10 metres in the Turonian. In addition to the 1.5 billion barrels in place at the find, plus 700 billion cubic feet (19.8 billion cubic metres) of gas, the company said it believed the wider area held 3 billion barrels of oil and gas.
It is too early to say what the true potential of the Afina find is, Westwood Global Energy's Andrew Jackson told Energy Voice. Taking the 1.5 billion barrel number at face value would "imply standalone development potential. We are holding a placeholder reserve volume of 150mn barrels for now, based on the net pay and published prospect outline. It is possible that Afina could be an extension of Eni's Sankofa field's Cenomanian channel complex and unitisation might be needed," he said.
Tough times
The Springfield well came just as Tullow downgraded performance expectations, based on problems at its Enyenra field, and Aker Energy's efforts to make progress on its Pecan development were forced to be reconsidered. These problems led to the resignations of Tullow's CEO Paul McDade and exploration director Angus McCoss, and Aker Energy's CEO Jan Arve Haugen.
Tullow said it was cutting back its production expectations for 2020, to 70,000-80,000 bpd, from 87,000 bpd in 2019. Previously, volumes in 2019 had been expected to be maintained. Free cash flow was also cut, from $350 million in 2019 to a forecast $150mn in 2020.
The company has struggled with the amount of gas it exports to the onshore for domestic consumption, while wells have suffered from an increased water cut. At the TEN project's Enyenra, two wells were reported to be undergoing mechanical issues with decline rates biting faster than had been expected.
Jackson went on to describe Enyenra as "unusual" given that it was "a narrow, elongate slope channel and the reserve downgrade is looks to be primarily a subsurface issue".
PhD researcher and lecturer at the University of East London Aba Yalley also noted problems with completion work on Enyenra's EN-14 well, owing to illegal fishing. The Ghanaian government has opted to take gas from Eni's Sankofa field, rather than from Jubilee or TEN, could "continue to affect production volumes from the two fields", the academic said.
Aker Energy faced a different set of problems at its work on the Deepwater Tano Cape Three Points (DWT/CTP) block. The Norwegian company bought the asset from Hess in a process completing in 2018, following which it carried out appraisal work on discoveries.
The new operator submitted a Plan of Development and Operations (PDO) in March, with a proposed investment of $4.4bn. Yalley told Energy Voice that the plan had been criticised by local groups because it would allow Aker Energy to "develop infrastructure to tie in other fields and recover the exploration cost in the other areas from the Pecan fields without ring-fencing, which will reduce government take from the field". Concerns had also been expressed about the licence, which appeared to allow the company to sub-contract without tendering, to the potential detriment of local content.
"The underperformance of some fields in Ghana and the consequent shortfall in government revenues has resulted in a loss of trust that needs to be rebuilt," Westwood's Jackson said.
Making plans
Despite these problems, there is a bullish mood around the West African state – and opportunities for new entrants.
"Ghana is making good progress. We've signed up Valaris' DS 4 rig and that will be drilling at the end of March or early April," Amni International's acting managing director Galen Treadgold told Energy Voice. Nigeria's Amni has the Central Tano block. "There were four different areas identified on our acreage for exploration, each of which has multiple opportunities. We eventually picked the one we liked the most and we've chosen one with a very good chance of finding hydrocarbons."
The official noted that Tullow's Enyenra had "turned out to be a bit more disconnected than had been thought. From our review of that system, we see it as being less sand rich than further to the east, towards Jubilee," Treadgold said. This Enyenra shortfall is seen by Amni as an "ullage opportunity", Treadgold said. The Kusia-1 exploration well will be drilled "right between TEN and Jubilee", he continued, raising the chance of a tieback to Tullow's existing infrastructure.
While Amni is in the process of looking for partners on its Ghanaian block, the company intends to press ahead with its drilling whether it has brought another party on board or not. Amni has a 90% stake in the block, with the remaining 10% carried for GNPC, and has brought in Envoi to handle the farm-out process.
There are some challenges to operating in Ghana, the Amni official said, but "none too onerous. There's a lot of dialogue with the government." Many companies have come to Ghana – and the wider West African transform margin – in a bid to find another Jubilee, but this has proved to be more difficult than expected. "Amni's acreage is in the heart of the Tano basin migration fairway, we don't need to find another Jubilee … we just need to find valid traps," Treadgold said.
Another company with plans for Ghana is Heritage Oil. The company, which has a substantial presence in Nigeria via the OML 30 asset, plans to drill two wells offshore Ghana in the second half of 2020. The company is also interested in bringing in a partner, but will drill on the Offshore South West Tano (OSWT) block with or without such support.
The first well planned targets a downdip extension of Jubilee sands, with a deeper Turonian target also in the offing. The second well, Edinam, has four targets, in the Mahogany, Turonian and Cenomanian. Westwood's Jackson said a discovery in the first well, extending Jubilee, would raise "potential unitisation challenges".
ExxonMobil signed a deal entering the Deepwater Cape Three Points block in 2018 and, after some disputes about the way in which the company had secured the licence, progress is being made. It opened an office in Accra in June.
Next steps
UEL's Yalley said there was potential for Ghana to reach the government's production targets of 420,000 bpd by 2023, but it would be challenging.
Aker Energy's Pecan could contribute 110,000 bpd, while Springfield's Afina might add another 100,000-150,000 bpd. Production in 2019 has averaged around 196,000 bpd. Bearing in mind declines from Tullow's fields, in addition to bringing two big projects into production in short order, suggests 2023 is optimistic.
Ghanaian activity has been clustered in the country's west, in the Tano Basin. The country's neighbour, Cote d'Ivoire, took a claim for some of this offshore area to an international tribunal. While Abidjan lost its case to take acreage from its neighbour, there is clearly the opportunity for additional finds to be made on the other side of the border.
Cote d'Ivoire's Tano Basin is more lightly explored than Ghana's share of the basin, Jackson said, "and despite some early promising deep water discoveries, none have yet proved commercial". He cited Total's work in the CI-100 block in 2013 and various wells by Vanco Energy and Lukoil in Cote d'Ivoire.
Drilling in the Ivoirian offshore has focused on transform faulting with steeper slope gradients, which reduces the ability of sands to pond, Jackson continued, while fault movement has had an impact on trap integrity. "Both of these risks can be mitigated by moving down slope into the deeper water, which is the strategy the BP-Kosmos Energy joint venture have pursued with their large acreage grab further west, on Blocks CI-707, 708, 526, 602 and 603."
This thesis has yet to be tested, although Kosmos earlier this year said it was working on maturing prospects for drilling in Cote d'Ivoire in 2021. Drilling offshore in Ghana in 2020, and Cote d'Ivoire in 2021, has the potential to help drive progress forwards – perhaps helping win back some of the confidence lost in the last couple of months.
Recommended for you

Tullow extends Tano Basin holding in Cote d'Ivoire