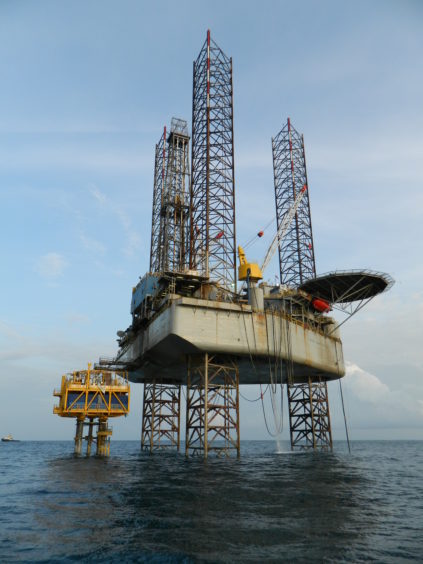 Construction and installation of subsea structures can be challenging in countries with limited local capacity, and Aquaterra Energy aims to fill a niche with its conductor supported platform (CSP).
"The CSP is a different way of supporting a platform topside," Aquaterra Energy's technical director Stewart Maxwell told Energy Voice. "It's a modular subsea structure that supports a frame for the topsides, which can be installed with a jack-up as it's made up of smaller elements."
Aquaterra Energy, partnered with local partner Algoa, recently won work from Chevron's Cabinda Gulf Oil Co. (CABGOC) in Angola, on Block 0's Lifua-A.
Installing a conventional one-piece jacket, which might be 85 metres long, offshore Angola carries challenges as the number of yards available to handle such equipment is limited, Maxwell said.
"By splitting the work into smaller elements, it increases the range of facilities that can carry out the fabrication." The work can also be divided between a number of smaller yards, offering more flexibility in Aquaterra Energy's work.
This local construction also reduces the vessels that would have otherwise been needed to transport equipment from where they were built.
As a result, the 250 to 400 tonne modules can be moved into the country with smaller scale vessels, "as opposed to the 1,000 tonne alternative, which would need specialised heavy lift vessels". The process of installation can work with the equipment that an operator already has in its fleet.
Scaling down heavy lifting capacity also provides savings – in both cash and reduced emissions. There are other areas in which a CSP can save cash, Maxwell said, such as reduced steel use, but the most significant influence on costs will be determined by the platform needs.
Speed was another benefit cited by the Aquaterra Energy official. Fabrication can be carried out faster than a subsea jacket, in one instance taking less than 12 months. "We can split the topsides work to fabricate the 'dumb steel' quickly and allow drilling to go ahead, before carrying out the more complex topsides installation," Maxwell explained.
There is a "temperate zone" where the Sea Swift can be deployed, with a relatively benign marine environment required. The North Sea, for instance, can be too challenging given the waves but West Africa, Latin America and Asia Pacific all provide opportunities for deployment. Despite these provisions, a platform off Trinidad had been subjected to an earthquake that measure more than 6 on the Richter scale and emerged unscathed.
The contract with Chevron in Angola marks an important step for Aquaterra Energy and the super-major, Maxwell said, noting this was the first new platform for the US company in the country for a number of years. "In Angola, and other parts of West Africa and the world, there's a drive to access marginal fields with cost-effective infrastructure," he continued.
Recommended for you

Siemens Energy sets up twin taskforces to investigate wind unit