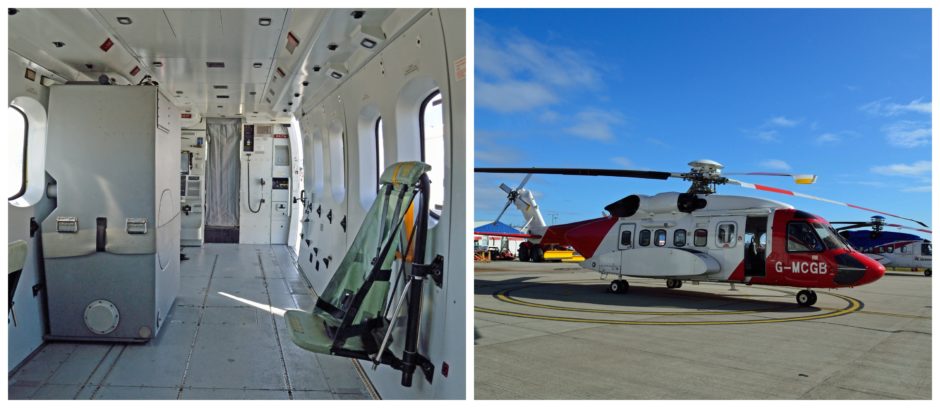 Bristow Helicopters has used modified three former search and rescue (SAR) helicopters to bring North Sea workers suspected to have coronavirus to shore.
The operator said one of the dedicated helicopters has been used to recover three suspected Covid-19 cases from offshore rigs since Wednesday.
Each of the Sikorsky S-92 aircraft have been modified with different seating configurations to ensure the "necessary separation" between flight crew, an on-board medic, and passengers suspected to have the virus.
The helicopters are also fitted with protective curtains, separating the cockpit from the passenger area and airflow systems, while specific entrance and exit points are provided for each of the flight crew, medic and passengers.
The helicopters have carried out two repatriation flights so far and are fully decontaminated after each one, assisted by the rugged waterproof seating and a fully waterproof floor which were already in place for their SAR roles.
It comes as rival CHC yesterday launched a similar service for the likes of Total, Shell, CNR, Taqa, Spirit Energy, Equinor and EnQuest to call upon, unofficially dubbed the 'corona copter'.
Bristow said its service has been set up with support of Oil and Gas UK's pandemic steering group, which it is active in.
Matt Rhodes, director UK and Turkmenistan Oil & Gas at Bristow Helicopters, said: "The successful introduction of these dedicated aircraft for suspected Covid-19 cases is a key indication of Bristow's commitment to supporting the energy industry in what are extremely challenging circumstances.
"This service has been established with approval from the CAA, and the support of Oil and Gas UK, our client base and the relevant health authorities – and we remain in continuous dialogue with those organisations."
Earlier today, BP confirmed it has had a worker on its Clair Ridge platform flown to shore after showing signs of the virus.
Meanwhile Shell is making travel arrangements for a worker on its Brent Charlie installation.
The industry is also grappling with the wider challenge of the oil price drop, brought on by the outbreak, which has led to warnings of heavy job losses for the industry.