Exploration companies big and small are warming up for a busy next 12 months – although some have warned this may be the last such push in the energy industry.
Taking a leading role is TotalEnergies. The company's Vice President exploration for Africa Emmanuelle Garinet said the Ondjaba-1 exploration well would spud "in the coming days".
Speaking at Frontier's Africa E&P Summit in London, Garinat said the well would be in the deepest water ever drilled, at around 3,600 metres. TotalEnergies will drill the well in Angola's Block 48.
Orange Basin
Following this, the rig will move to Namibia to drill the hotly tipped Venus well, in Namibia's Orange Basin. It expects to drill this well in December. Next on Garinet's radar is Niamou, in Congo Brazzaville, and Mlima in Kenya, both coming in 2022. The latter will be operated by Eni, which is also planning the Raia well in Kenya next year.
Working with the French company at Venus is Impact Oil & Gas. The company's Phil Birch said he was "incredibly confident" on the well, predicting it could hold 1.5-2 billion barrels.
Shell is also warming up to return to frontier drilling. The company's exploration manager for Africa, Ben Mee, said it will drill the Graff-1 off Namibia this year. The company is also playing an important role in the Jaca-1, off Sao Tome & Principe, although Galp is the operator.
"These could be transformational for Namibia and Sao Tome and potential new heartlands for Shell."
Also speaking at the conference, Mee said Shell was operating on a franchise model for drilling, with a limited number of well types across the portfolio. This has provided cost savings of 20% in the Gulf of Mexico, he said, "but is capable of more".
Another well in the area is Azinam's Gazania plan, over the border in South Africa. This well is a follow up to a non-commercial discovery and is in shallower water. A discovery of 50 million barrels would be commercial, Africa Energy's Tobias Tonsing said.
Onshore
Cairn Energy expects to complete its entry into Egypt's Western Desert and will begin drilling. The company's Eric Hathon said there was a 10-well exploration programme planned, with partner Cheiron spudding the first of these in the fourth quarter of this year.
Cairn has also recently signed up a block offshore Mauritania. While the company does not yet have a firm date for a well, it has begun a baseline environmental survey for the Dauphin prospect.
In 2022, wells to watch include Reconnaissance Energy Africa's shift to testing its Kavango Basin theory.
The company has drilled stratigraphic wells, and reported hydrocarbon shows, but the next phase will incorporate results from the 2D seismic. Drilling is due to begin in the second half of next year.
ReconAfrica will also begin seeking a partner to its Namibian project in the first quarter, CEO Scott Evans said.
Australia's Invictus Energy also plans to drill in 2022, testing a major gas prospect onshore in Zimbabwe.
Impact, and CNOOC International, will also test their AGC Profond block in the third or fourth quarter of 2022. This lies in the shared zone between Guinea Bissau and Senegal.
Uncertain future
The comments from the supermajors came amidst discussion of a move away from frontier exploration, though. Shell, Mee said, would not carry out frontier exploration beyond 2025.
Garinet played down the idea that TotalEnergies would ramp up spending in response to high prices.
"There's a real change in our company. We are not following the oil price, we will not increase exploration. We are very selective on new opportunities, we have strict criteria and we will stick to them."
Exploration would continue, she said, but with the aim of maintaining production, rather than increasing.
Evaluating options
Part of the problem for exploration plans has been a lack of major oil discoveries, Westwood Global Energy's Graeme Bagley told conference attendees.
Infrastructure led exploration (ILX) has been viewed more favourably than the frontier plans. Westwood has reported success rates at these wells in which in Africa at 6%, slightly lower than the global figure of 8%.
"This could be the last wave of frontier exploration wells being drilled not only in Africa but potentially globally," Bagley said.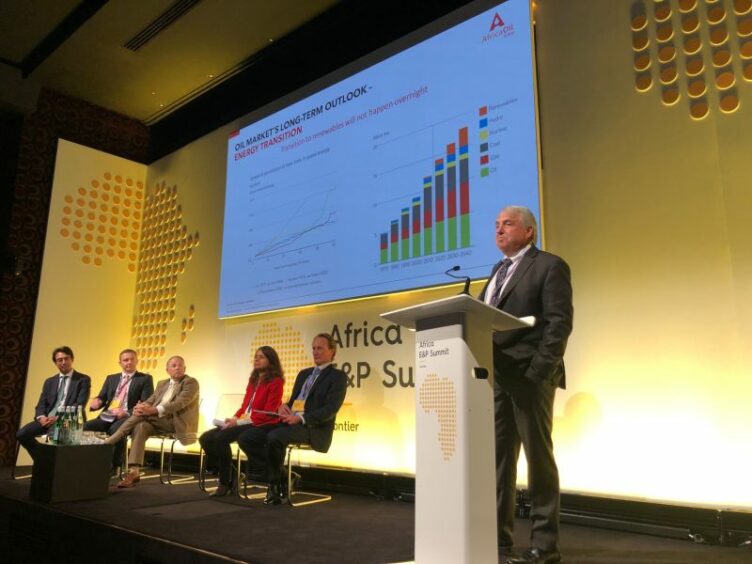 Other speakers at the conference took against this downbeat tone. Africa Oil's Keith Hill took to the stage with a triumphant call of "I told you so" in reference to higher oil prices.
"We're going to have a pretty significant shortfall of oil and gas by 2040," Hill said. "Exploration is going to have its day again."
Echoing this bullish stance was Mike Lakin at Envoi. "Some have suggested frontier exploration may be over. Looking further ahead, I don't think it is, in the near term, possibly. What we lack is money coming into the small and mid-cap companies that have created so much oil and gas potential in Africa."
Investment will flow first to short cycle developments, Lakin said. He went on to call for governments to "roll out the red carpet" for potential investors, or risk losing out.
Next phase funding
The difficulty for the industry is likely to lie in funding. The larger companies are the only ones that have the balance sheet able to roll the dice on risky offshore opportunities.
Costs are lower onshore, at least initially, but do run the risk of delays and more challenging circumstances.
Retail investors appear receptive to onshore opportunities, as can be seen in the share price rises of ReconAfrica and Invictus Energy. As these projects mature, though, larger companies will need to come in to provide capital – and that enthusiasm seems lacking, at least for now.
Recommended for you

Eco Atlantic sets out Orange Basin drill plans