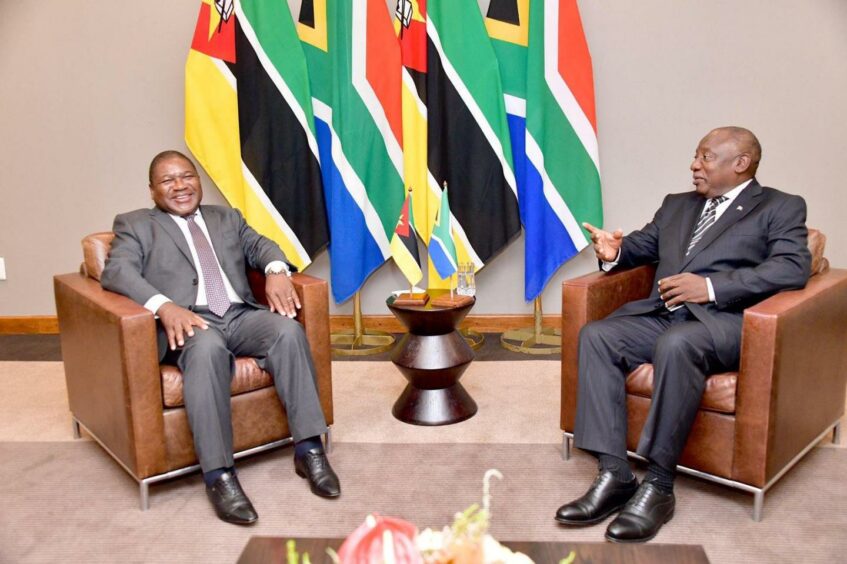 South Africa has made clear it is not moving away from hydrocarbons in the near term, talking up exploration plans and gas imports, in addition to scope for new coal generation.
The Department of Mineral Resources and Energy officials have been on tour this week, flying the flag for energy developments, including coal.
"It is our considered view, as it is with all countries, that we cannot plunge ourselves into technology uncertainty and energy insecurity," Deputy Minister Nobuhle Nkabane said. Speaking at the Northern Cape Mining Investment Conference, she said it would take time for South Africa to become greener.
"There is an umbilical cord between South Africa's coal mining and energy. Currently, our reliance on coal as a primary source of energy is at 75%," Nkakabane said. "We have committed to progressively contribute our fair share as part of our approved Nationally Determined Contributions, and we aim to reduce coal consumption in the power generation sector to below 60% by the year 2030."
South Africa "deserves energy security", she said, as provided by its coal fleet and Koeberg nuclear power plant.
The country is exploring carbon capture and storage (CCS) plans, she said, in addition to renewable energy projects.
The renewable energy Bid Window 5 should "reach financial close soon", the minister said, adding 2,583 MW.
Nkakabane noted that regulatory changes now allowed embedded energy generation of up to 100 MW, without the need for an additional licence. "As an intensive electricity use industry, the mining sector stands to benefit from own generation in terms of cost and the ability to secure own supply," she said.
Planned growth
Between 2022 and 2030, South Africa aims to add 31,338 MW, according to its 2019 plan. Of this, 1,500 MW will come from coal, while nuclear will add 1,860 MW, through work to extend the life of Koeberg. Gas will also provide 3,000 MW.
South Africa will seek requests for proposal on the coal and gas capacity in 2022-23.
The largest single source will be wind, with 14,400 MW, while solar photovoltaic will provide 6,000 MW. At the same time, South Africa will decommission 11,017 MW of its coal fleet by 2030.
The country faces an uphill task in securing power. Load shedding reached Stage 4 this week, with Eskom asking for non-essential items to be switched off. It warned that its emergency diesel storage was depleting faster than expected, due to high use.
Commissioning new coal projects will likely be a challenge, but gas may also provide some difficulties. Financing for such hydrocarbon developments has dried up in recent years and there is also local opposition growing.
Communities have come together to oppose offshore seismic campaigns. Shell's plans off the southern coast were thwarted at the end of 2021 and Searcher Seismic suffered a defeat in its hopes on the west coast recently.
Searcher had mobilised the BGP Pioneer to carry out this work but, following its courtroom defeat, the vessel is now under way to Oman.
Securing supplies
In an effort to tackle this challenge, DMRE Minister Gwede Mantashe visited the Kingdom of AmaRharhabe, in the Eastern Cape, earlier this week. Mantashe called for the country to find a "balance" between protecting nature and economic development.
The DMRE will talk to traditional rulers and communities, he said. "Exploration and development cannot be the end. We must pursue it until it happens."
South Africa is in the process of debating a bill, Upstream Petroleum Resources Development. The legislation aims to "create an enabling environment" for exploration and production, among other things.
The Department of Forestry, Fisheries and the Environment (DFFE) has published a report on the country's maritime outlook. The report confirmed that South Africa's National Development Plan 2030 identified hydrocarbons – and renewable energy – as offering potential for growth.
"This is an area of high risk but with huge economic potential that requires substantial capital investment," it said. While highlighting opportunities, the report also called for more work to be done studying the impact of exploration on South Africa. In particular, it noted a potential impact on fishing.
Further out, the DFFE report noted potential for CCS in the offshore. South Africa has 150 billion tonnes of CO2 storage capacity, it said.
Import plans
Alongside the country's domestic ambitions, South Africa must also look abroad. The country has highlighted Mozambique as one key area.
Mozambique President Filipe Nyusi visited his South African counterpart, Cyril Ramaphosa, today, with the two discussing energy links.
The country already provides South Africa with 1,000 MW per day of power from the Cahora Bassa hydropower plant.
"Mozambique remains one of South Africa's top trading partners in the region, and there are several opportunities for expansion. South Africa is keen, in particular, to expand cooperation in the energy sector," Ramaphosa said.
"Mozambique is endowed with significant volumes of natural gas," he noted. "Energy security is vital to economic growth in our respective countries, and we look forward to significant progress towards securing and sustaining our energy needs," the president said.
Recommended for you

Transmission's crucial role in South Africa's energy crisis