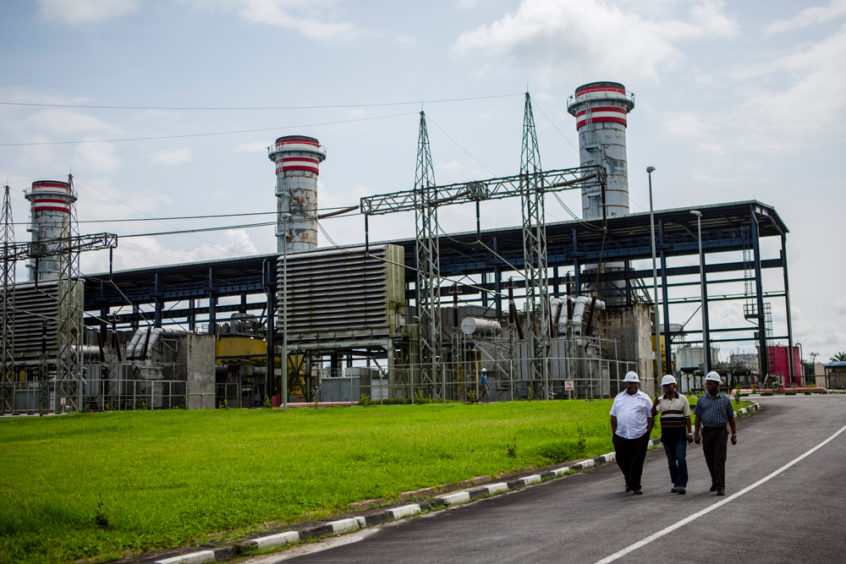 Savannah Energy is an independent with a plan for growth, but the plan has taken some knocks with Chad nationalising its assets.
The Chad move is a "real challenge and setback" for Savannah, Panmure Gordon's Ashley Kelty said. The company has an "extremely strong case" at the ICC tribunal, he said, but "the resolution for Savannah will take years to achieve by legal routes".
Sources have guided an ICC ruling to be around 18-24 months.
"Consequently, the outlook in the near term is now centred around revenues from Nigeria and the Chad-Cameroon pipeline," said the Panmure Gordon analyst.
The UK-listed independent signed a deal with ExxonMobil in December 2021 to buy the Doba oil project, which produced around 28,000 barrels per day gross in 2022. It also agreed to buy Exxon's share of export infrastructure, in the Chad-Cameroon pipeline. This link carries Doba production to a terminal offshore Kribi.
Exxon had encountered problems with Chad in the past. Perhaps most famously, Chad attempted to levy a $74 billion fine on the US supermajor in 2016 in a dispute over royalties.
As Exxon was heading for the exit, these worries did not dissipate with Chad seeking to extract additional taxes. The company announced its withdrawal from Chad in December, with Savannah announcing the deal's completion. Savannah valued the deal at $407 million, with Exxon providing $170mn via a pre-payment facility.
Conditions
The sale agreement came with a number of provisos, though. Savannah said it, and Exxon, agreed to waive the condition requiring ministerial consent for the deal. They also agreed to waive a requirement that Exxon's local unit settle disputed taxes with the government.
Under the upstream and midstream contracts, Chad Minister of Petroleum and Mining Djerassem le Bemadjiel had 60 days to approve – or not – a sale, Savannah said. With no word from the minister, the buyer and seller agreed this was tacit acceptance.
Le Bemadjiel, speaking this week in Chad, defended the move to nationalise the assets. The decision to seize the fields and pipeline was, he said, to protect Chad's heritage and natural resources.
Exxon, a local news site reported the minister as saying, had violated provisions of Article 30, paragraph 1 which requires state approval for such a transfer. Exxon decided to leave Chad unilaterally and without government approval, he continued.
Savannah "does not have the technical and financial capacity to effectively continue the management of the Chadian pipeline", the minister said.
Exxon has not yet responded to a request for comment.
The pressure has been building over the last few months. N'Djamena expelled Savannah's eight employees in December. Savannah secured an initial arbitration ruling from the International Chamber of Commerce (ICC) in January.
Setback
A note from FinnCap said the loss of Chad was "clearly disappointing" and that the country was now essentially "uninvestable".
Savannah had "expended huge effort and considerable monies on the transaction. It is even more disappointing given asset performance has been strong since Savannah assumed operatorship from ExxonMobil, with production up ~9% since and an investment programme initiated to significantly increase production further over coming years."
In the first half of 2022, Savannah spent $14.6mn as a deposit for the Exxon transaction.
Chad analyst Amine Idriss described the nationalisation as a mistake. The move exposes the Chadian state to potential retaliation, he said, but also "sends an extremely negative political signal. Investing in Chad is now perceived as riskier than ever".
He also questioned whether the government had the technical skill to manage the mature Doba fields and said it raised the prospect for more corruption.
Seeking security
In addition to raising warnings over the appeal of Chad, the country will also not benefit from Savannah's planned renewable energy plans. The company had planned to build up to 500 MW of solar and wind power in the country.
Africa analyst Ben Hunter at Verisk Maplecroft said the nationalisation was "likely linked to President Mahamat Deby's drive to gain more control over the country's lucrative oil sector. Deby is attempting to achieve this via a range of a measures, from purchasing stakes owned by foreign firms to outright nationalisation."
Part of the challenge for Deby is that his position, gained following the death of his father via a coup, is not entirely secure, Hunter said.
Deby "is likely to ignore" the ICC ruling, the analyst said. "He will view greater control over Chad's primary income stream as more important to his political survival than respecting an international arbitration award."
Petronas
Savannah had also struck a deal to buy out Malaysian Petronas' assets in Chad in December 2021 for around $266mn. It announced a mutual agreement to cancel this plan in December 2022, at the same time as announcing the closure of the Exxon deal.
Petronas said, in March, that it was selling down its Chad assets – with the rumour being that Chad's state-owned Societe des Hydrocarbures du Tchad (SHT) is the buyer. Some sources have suggested Perenco is funding SHT's acquisition from Petronas. Petronas has not responded to a request for comment.
At the same time that Savannah was announcing the cancellation of its deal to buy the Petronas assets in Chad, it set out an even more ambitious plan with the Malaysian company.
Savannah agreed to pay $1.25 billion for Petronas' interests in South Sudan. The final amount will depend on completion adjustments, depending on the effective date of the transaction. This should reduce the actual amount paid quite substantially.
The company has not provided a net figure for production from Petronas' South Sudan interests. The Malaysian company is the country's largest producer, largely as a result of its 40% stake in Block 3 and 7.
Kelty said South Sudan was difficult, but no more so than other parts of Africa. "I don't see it as being any more difficult – although still a challenge – in which to operate."
The country has struggled to boost production and would be eager to secure new investments. However, it is seen as the third most corrupt country in the world.
Petronas has come under fire by a German NGO for oil spills and pollution of drinking water in the country. While there is scope to increase oil production, Savannah would need also to demonstrate its environmental bona fides.
Debt plans
Savannah said it would carry out this deal using its cash – which stood at around $193mn in late 2022 – and debt.
The company has had some success in using debt for acquisitions in the past. The company's productive base is in Nigeria, where it acquired the former assets of Seven Energy.
It has made progress on paying down its overall debt levels. In 2019, net debt was $484mn, which fell to $408.7mn in 2020, $370mn in 2021 and $310.1mn in 2022.
Savannah has not yet published its 2022 figures. However, at the end of 2021, its Accugas debt facility stood at $371mn.
The company has been trying to refinance this, with the aim of shifting from a US dollar-denominated facility to naira-denominated, which would allow it to avoid foreign exchange pressures. Talks have been under way for some time, with Savannah hoping that it might make progress within the next three months.
Gas reliant
For now, Savannah continues to be reliant on its Nigerian assets – of which gas production accounts for 90% – for cash flow. While the company has grown a substantial position in terms of providing feedstock for gas-fired power, local sales have missed out on much of the international rise in prices.
While the company's Chad plans have moved away, it has taken ownership of the Cameroon section of the pipeline. This around 70% of the length, around 900km, with associated infrastructure.
While Chad is signed up to arbitration at the ICC, Cameroon is also signed up to the New York Convention, giving some additional assurances against expropriation.
With Chad in the weeds, the pressure is on South Sudan to come through with the goods. The hope is that the deal will complete within the first half of the year.
Operations in South Sudan would bring their own challenges, not least around political risk, but Savannah needs to diversify its operations.
Recommended for you

Chad seizes control of COTCO, halts dividends to Savannah