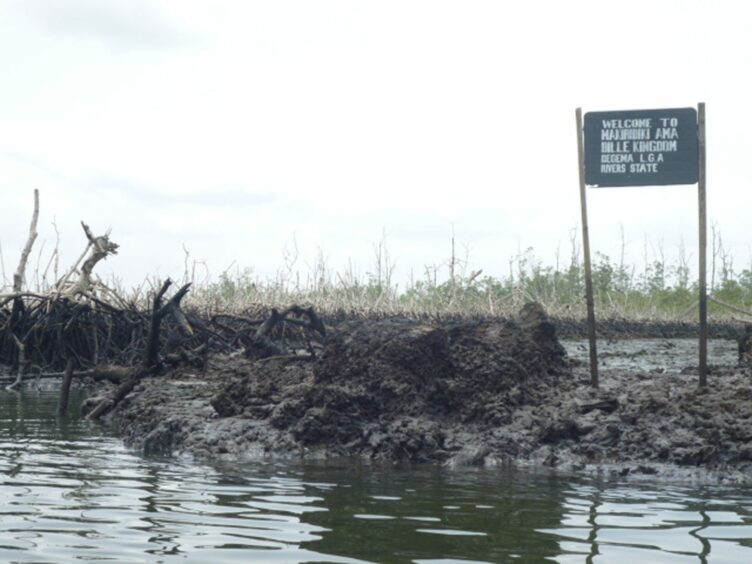 People from the Ogale community have signed up to a case in the UK against Shell, seeking compensation for loss of livelihoods and damages.
Leigh Day, representing the communities, said 11,317 people from Ogale – and 17 institutions including churches and schools – have registered. This comes in addition to the 2,335 individual Bille claims, from 2015.
The law firm also said there were two representative actions, one from each community, seeking compensation for communal property.
Leigh Day announced the Ogale update the same day Shell announced record profits of $40 billion.
Shell exit
The case seeks to link blame for the pollution to Shell's parent company, in the UK. It expects the trial to take place in 2024. A case management hearing is due in spring this year, Leigh Day has said.
Leigh Day partner Daniel Leader said the case raised questions about oil and gas companies' responsibilities. The case targets both Shell and its Nigerian subsidiary, Shell Petroleum Development Co. (SPDC).
"It appears that Shell is seeking to leave the Niger Delta free of any legal obligation to address the environmental devastation caused by oil spills from its infrastructure over many decades," he continued. "At a time when the world is focused on "the just transition", this raises profound questions about the responsibility of fossil fuel companies for legacy and ongoing environmental pollution."
Another Leigh Day partner, Matthew Renshaw, said Shell was making "unprecedented profits". The company has fought the communities for seven years, he said.
"It is high time that it addressed the ongoing pollution caused to these communities by its operations. The question must be asked whether Shell simply plans to leave the Niger Delta without addressing the environmental disaster which has unfolded under its watch?"
Shell, in 2021, said it planned to withdraw from onshore oil operations in Nigeria.
Challenging issue
Shell has not been active in Ogoniland since 1993. However, pipelines cross the area – with the company attributing the environmental despoliation to sabotage of these links.
"The overwhelming majority of spills related to the Bille and Ogale claims were caused by illegal third-party interference, including pipeline sabotage, illegal bunkering and other forms of oil theft," said a Shell representative.
"Illegal refining of stolen crude oil also happens on a large scale in these areas and is a major source of oil pollution."
A filing from Leigh Day says securing legal remedy in Nigeria is "practically impossible for impoverished communities". A London court must hear the case, as a result, they say.
The lawyers noted the Bodo case, in which 15,000 people demanded compensation for two large spills in 2008. Shell agreed in 2015 to pay out £55 million.
The Shell spokesperson went on to say litigation would do little to address the real problems in Niger Delta.
"Oil spills due to crude oil theft, illegal refining and sabotage, with which SPDC is constantly faced and which cause the most environmental damage. SPDC works closely with the regulators, local communities, and other stakeholders to address this challenging issue for the benefit of all."
Recommended for you

Shell to face Ogale, Bille spill claims in High Court