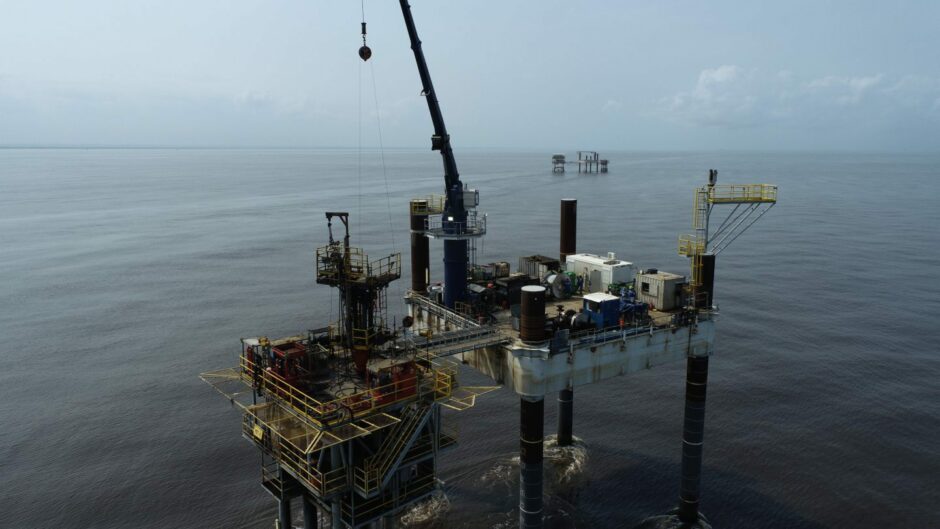 Perenco has installed its 11th platform, placing a self-elevating system on the Mibalé field, offshore Congo Kinshasa.
The company said it had developed the Fololo design – flower in the local Lingala language – for work in the country. The platform has lightweight floating pontoons and legs that can self-elevate.
"The Fololo is another example of a disruptive solution made by Perenco as an alternative to the technologies available on the market," said Perenco Rep managing director Arthur Gueriot.
"It is more cost effective and has a reduced impact from construction to the installation in terms of CO2 emissions, allowing small capacity wells to be optimised safely and more efficiently. Additionally, it is repeatable, small footprint, light and versatile."
The company said the Fololo design offered an alternative to conventional options in the shallow water, of less than 30 metres depth. The conventional option is jacket based and required a heavy lift barge.
The Fololo allows workover teams to install electric submerged pumps (ESPs) without external assistance.
The company used its first Fololo platform in February 2017 on the Mibalé field. This doubled production from 2,500 barrels per day to 5,000 bpd. It then installed more such platforms in Cameroon and Gabon.
This 11th installation will see the company carrying out intervention work on a water injector well. It installed another of these platforms some months ago on the Motoba field, also offshore Congo. This increased production from 250 bpd to 650 bpd.
Perenco is now working on a way to develop the design to work in deeper waters, in the 40 to 60 metre water depth range. This, it said, would support redevelopment on more fields.
The London-based company operates 11 fields on- and offshore Congo, producing 25,000 bpd in 2021.
Updated at 12:46 pm with picture of platform.
Recommended for you

'Dangerous and damaging': Six-tonne North Sea oil spill in marine area