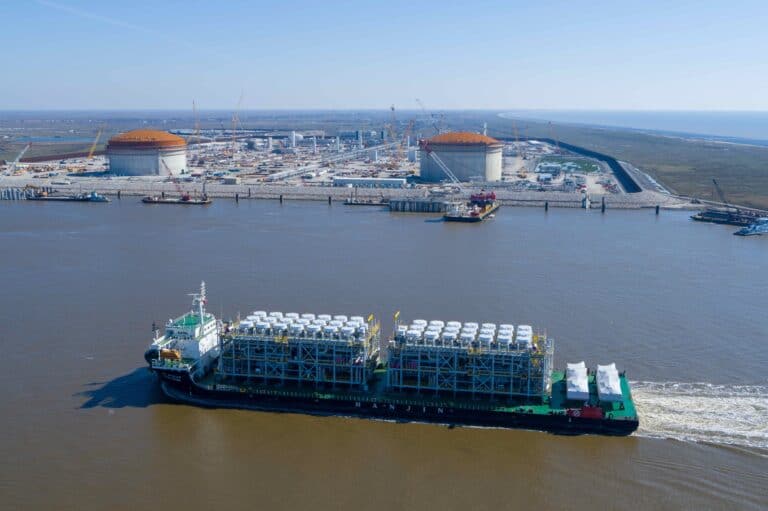 Venture Global has set out plans to capture 500,000 tonnes per year of carbon at its Calcasieu Pass and Plaquemines LNG projects.
The company said its carbon capture and sequestration (CCS) plant was "shovel ready", pending regulatory approval. It will compress CO2 at its liquefaction sites, then transport the gas and inject it into subsurface saline aquifers.
A second CCS project would store a similar amount from a second phase at Calcasieu Pass.
"From driving down the cost of LNG to driving down our carbon footprint, Venture Global continues to execute on our mission to constantly innovate in order to deliver the best product possible to our customers," said Venture Global CEO Mike Sabel.
He went on to say cleaner LNG would "displace coal around the world".
Louisiana provides an ideal opportunity for CCS, he said. The state will "become the national hub for innovative energy technology to tackle climate challenges".
Louisiana Governor John Bel Edwards welcomed the proposal from Venture Global. The state "fully recognises that our nation is in the early stages of a profound transition in our energy mix, and I am committed to supporting private sector investments that address greenhouse gas emissions in a major and sustaining way in our state."
Export plans
Calcasieu Pass LNG will produce 10 million tonnes per year of LNG. The next phase, CP2, will have nameplate capacity of 20mn tpy. Plaquemines will also have capacity of 10mn tpy in its first phase.
Venture Global took a final investment decision (FID) on Calcasieu Pass LNG in August 2019. At that point, it projected commercial operations would begin in 2022. The project will use 18 midscale trains.
NextDecade has also set out CCS plans connected with its LNG project in Texas. Working with Mitsubishi Heavy Industries America, the Rio Grande LNG will host a 5mn tpy CCS facility. The company hopes to reach an FID on the LNG project in 2021.
Qatar is also working on plans to control carbon linked to its LNG exports. Qatar Petroleum (QP) aims to capture more than 7mn tpy, with facilities to be in place by 2027.
Recommended for you

Japan's INPEX pursues giant CCS hub as part of clean energy future in Australia