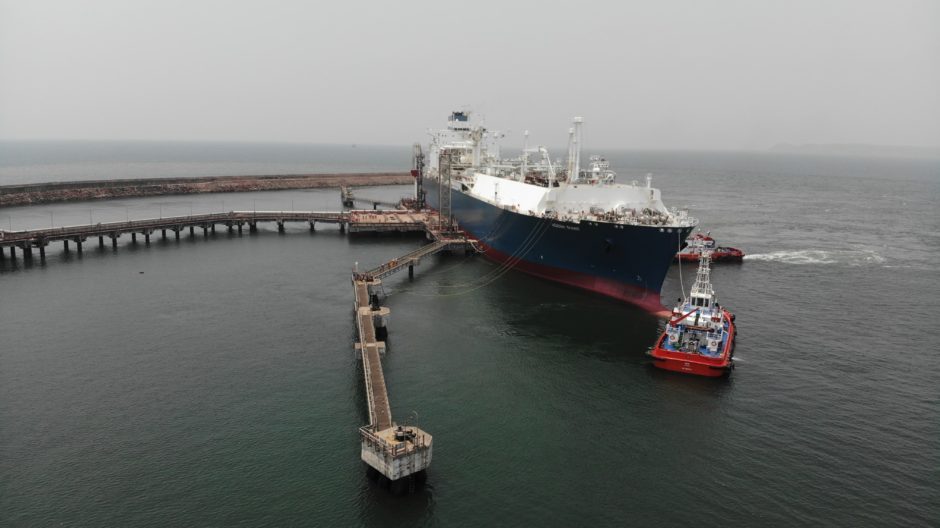 India's first floating storage and regasification unit (FSRU) the Höegh Giant docked at H-Energy's Jaigarh liquefied natural gas (LNG) import terminal in Maharashtra earlier this month and is targeting to start operations in the first week of May – when the first LNG cargo arrives.
India's first FSRU-based LNG regasification terminal, capable of processing 6 million tonnes per year (t/y) will boost India's LNG regasification capacity to 51 million t/y, as the government seeks to increase the share of gas in the fuel mix to 15% from 6% by 2030.
H-Energy has chartered the FSRU for ten years. The unit has a storage capacity of 170,000 cubic metres and regasification capacity of 750 million cubic feet per day.
The FSRU will deliver regasified LNG to the 56 km long Jaigarh-Dabhol natural gas pipeline, which connects the terminal to the national gas grid. The facility will also deliver LNG through truck loading facilities for onshore distribution and reload LNG onto small-scale LNG ships for bunkering services.
H-Energy also plans to develop small-scale LNG markets in the region, using the FSRU for storage and reloading LNG onto smaller vessels.
H-Energy said it is currently developing LNG regasification terminals and cross-country pipelines on the west and east coast of India. These infrastructure projects will entail investments up to $2 billion, said the company.
India's appetite for gas will see LNG imports surge
India's liquefied natural gas (LNG) demand will rise from 25 million tonnes per year (mtpy) in 2020 to almost 45 mtpa in 2030. And it will surge to 85 mtpa by 2040, as domestic production falls sharply, data from Rystad Energy shows.
The Hiranandani Group and liquidated LNG trading company
H-Energy, a member of India's Hiranandani Group, is a smaller, new entrant in the LNG space.
Elsewhere, an LNG trading company that was until recently based in Dubai and part of India's Hiranandani Group is being liquidated, according to a letter to creditors seen by Bloomberg News.
HE Mideast Ltd. had insufficient funds to meet its debts, according to the letter, dated April 1, reported Bloomberg on 9 April. The company defaulted on at least $50 million worth of debt to LNG suppliers including Malaysia's Petronas and Royal Dutch Shell, said people with knowledge of the matter, reported Bloomberg.
"The company took speculative positions on physical and paper LNG trades over the last few years, which strapped them with debt they were unable to repay, said the people, who requested anonymity as the matter is private," added Bloomberg.
Recommended for you

India set for LNG deal-making rush in win for Modi's gas push