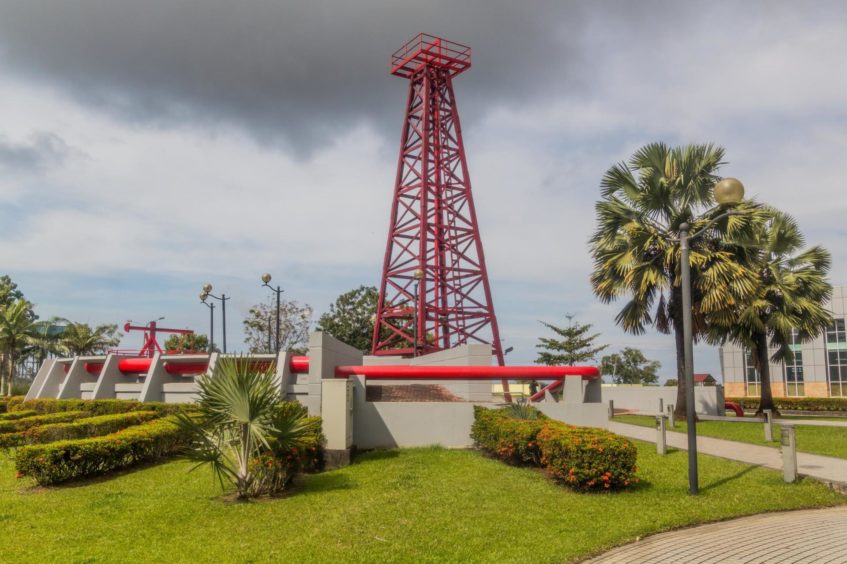 The eastern Malaysian state of Sarawak, home to the country's liquefied natural gas (LNG) export complex, has awarded its first onshore block to Petra Energy and Uzma, as it hopes to revitalise its onshore oil and gas industry after taking regulatory control from the federal government.
Malaysia's Petra Energy will operate Block SK433 on behalf of joint venture partner Uzma following the award by state-energy company Petroleum Sarawak (PETROS). Block SK433 covers the Miri-Marudi area in Northern Sarawak. It also holds a discovery, Adong Kecil.
In a statement Friday, the Sarawak Chief Minister's Office (CMO) said the award was the result of a competitive bidding exercise that was managed by PETROS since January this year.
The CMO said this marks a significant milestone for Sarawak as it looks forward to the resumption of active exploration and production activities onshore.
The total duration of the contract is 29 years, Petra and Uzma told the Malaysian stock exchange on Friday. Phase one of the contract covers an initial four years with an option to extend for another year. If the first phase is successful, then phase two will involve development and production activities.
Since the 1970s, significant oil and gas reserves have been discovered offshore Sarawak, which have helped supply one of the world's largest LNG plants in Bintulu.
Although there has been significant exploration onshore since the 1980s, results have been modest. Still, Sarawak remains hopeful that new investment will help prove fresh commercial reserves by applying new technologies.
Sarawak, after winning a recent battle against the federal government and national oil company Petronas for greater control of its natural resources, has started offering onshore acreage through open auction, as well as direct negotiation. Two onshore blocks, covering the Miri and Limbang, as well as Lawas areas – SK 433 and SK 334 – were opened for bidding. The award of Block SK 344 has not yet been announced.
The open auction signalled the start of the state government's efforts to assert its "constitutional rights to regulate oil mining under the state laws and take complete control over the exploration and production of petroleum in the onshore areas," said Sarawak's chief minister Abang Johari late last year.
The state government, through its petroleum company PETROS, will have control of, and legal title to, all the oil and gas produced onshore, and will appoint contractors, or enter into joint ventures, with investors to explore and produce hydrocarbons onshore.
"After a lapse of several years, PETROS, as the state-owned petroleum company, will be the one stop centre for the state and playing the role of resource regulator and manager," the CMO said.
It added that the award signifies — as a milestone — the "operationalisation" of the state government's control of oil mining and exploration in all the onshore areas of the state, pursuant to the Commercial Settlement Agreement (CSA) between the state government and Petronas signed on December 7 last year.
PETROS will now spearhead the state's enhanced involvement in the oil and gas industry, especially the downstream sector, as the local government strives to secure more gas supplies to drive its industrial development agenda, which includes establishing a petrochemical hub, and gas processing plant, to meet rising demand for LPG in Sarawak.
PETROS, along with the state government, have a shared 2030 vision to make Sarawak a high income and advanced economy, by developing onshore natural resources to create a high-value downstream industry.
Crucially, there has been widespread resentment in East Malaysia over how the region's natural resource wealth has been managed and distributed in the past. Although the area produces much of the nation's petroleum wealth, Sarawak and the neighbouring state of Sabah remain much less developed than Peninsular Malaysia. Sarawak intends to reverse this trend.
As a result, PETROS' upstream strategy centers around building a portfolio of profitable producing assets, starting petroleum contracting for onshore Sarawak and rejuvenating exploration to monetise new resources. It also wants to position itself in strategic infrastructure assets that form the backbone of the state's oil and gas value chain from upstream to downstream.
Still, developing a successful onshore industry maybe easier said than done. Onshore Sarawak is geologically difficult terrain. Many companies, including most recently JX Nippon, have tried to tap it. But the reservoirs are highly faulted and compartmentalised, making exploration tricky and also driving up production costs, as more wells are needed.
Nevertheless, PETROS is hoping to lure some intrepid investors that are willing to hunt for play-opening gas exploration projects onshore Sarawak.
Recommended for you

Petronas seeks to appease ConocoPhillips and Shell with $3bn floating LNG unit