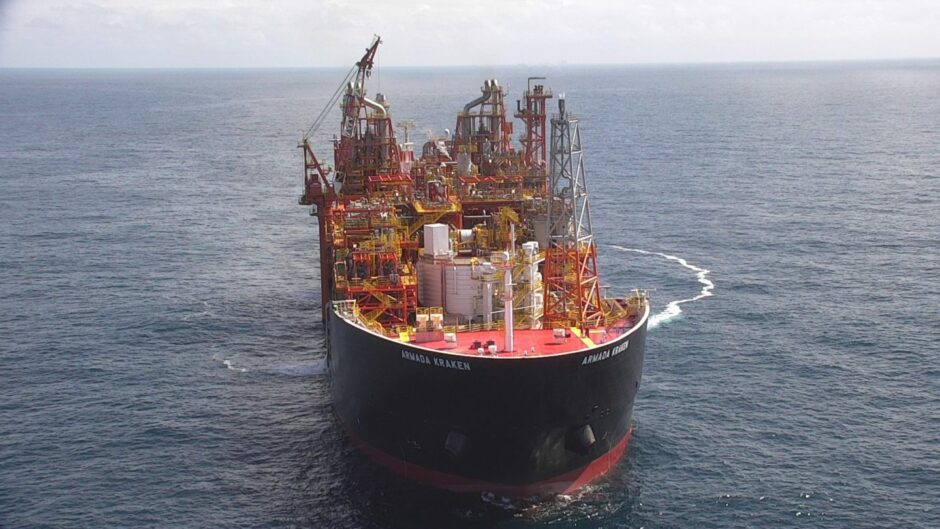 Bumi Armada posted an uptick in profit and revenues for the third quarter, having resolved issues which took its Kraken FPSO offline during the summer.
Malaysia-based (KLS:ARMADA) Bumi reported pre tax profits of 165.1 million ringgit (£28.4m) for the third quarter, on revenues of 524.8m ringgit (£90.2m).
That contrasts with earnings of £18.2m in Q2.
The company said the rise was "mainly due to higher contributions from Armada Kraken" in Q3, with production having resumed after the failure of transformers for hydraulic pumps.
Sat some 220 miles from Aberdeen, the floating production storage and offload (FPSO) vessel is leased and operated by duty holder Bumi Armada on behalf of Kraken field operator EnQuest (70.5%) (LON: ENQ).
The North Sea vessel was taken offline in June following the breakdown, though output resumed a few weeks later after remediation works were carried out.
In its latest update the group confirmed the successful reinstallation of pumps D and A, with production returned production to "100% of target". A new transformer was also installed on the vessel in September.
A further new transformer has been received and is awaiting a good weather window to enable transport to the vessel and installation, Bumi said on Thursday.
A root cause analysis as to the failure of the equipment is "ongoing."
Operating income this quarter fell due to a gain on the disposal of the Armada Claire and the last OSV vessel in Q2 2023, but was offset by gain on disposal of a joint venture in Q3.
Cash flows during the period were mainly used to "further deleverage the balance sheet and reduce interest costs" it said, with the company holding cash balances of 752m ringgit (£129m) as of the end of September.
Looing ahead, its firm orderbook at the end of Q3 amounted to some 10.6 billion ringgit (£1.8bn), with additional optional extensions of up to 9.8bn (£1.7bn).
Tulip & Aster
Meanwhile, the firm also pointed to progress off Indonesia, with its consortium of Armada Akia (51%, operator) and Pexco Tarakan (49%) awarded the Akia PSC on 21 September 2023.
The Akia PSC covers 8,394 square kilometers and contains the Aster and Tulip oil and gas discoveries. The Tulip discovery has an estimated recoverable resource of 860 billion cubic feet of gas and 60 million barrels of oil and condensate.
Bumi said the pair would look to acquire new 3D seismic over the Tulip discovery to evaluate the potential for a fasttrack development.
The water depth at the Tulip discovery is 800m and Bumi Armada would provide and operate an FPSO and an FLNG or gas pipeline for the development.
Recommended for you

Bumi Armada signs up to Indonesian FLNG plan