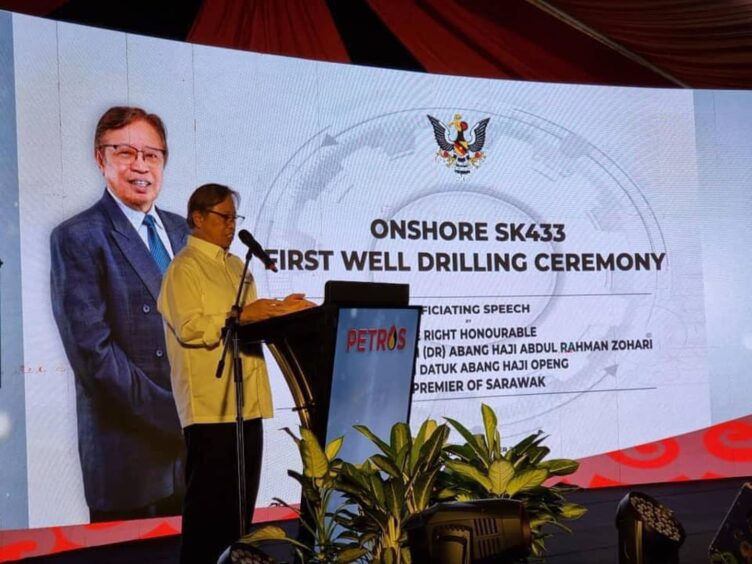 Drilling has begun onshore in Sarawak for the first time in 50 years, with a high-profile ceremony showcasing the event.
Sarawak Premier Tan Sri Abang Johari Tun Openg attended the event on SK433. Shell drilled the first well on the area in 1910. The first well is known as the "Grand Old Lady", on Canada Hill.
Petra Energy and Petroleum Sarawak are working on the new well, on the Adong Kechil West field.
"I hope this marks the beginning of Sarawak's very own venture into oil and gas production – by Sarawak, for Sarawak," the premier said. He called for the companies to rename the field as the "Grand New Lady of Sarawak".
The aim is to produce gas from the field for local consumption. The local government has talked of the Sarawak Gas Roadmap, with first gas from Petra's field expected in 2027.
Work on a 400 MW CCGT power plant at Lutong Miri has begun.
Sarawak awarded the SK433 licence to Petra in 2021. The licence had an initial period of four years, with a one-year extension option.
More drilling is on its way in Sarawak. London-listed Upland Resources is working on SK334, also onshore, following a 2022 deal with Petroleum Sarawak.
Today, Upland said it had signed a letter of intent (LoI) for well planning and drilling in 2024 with NRG Group. The company said it was in the "final stages" of finding a rig to drill on SK334.
Shell continues to work in Sarawak, although the fields are offshore. The company started developing an onshore gas plant in September in Bintulu, which will go to supplying the LNG facility.
Updated at 2:22 pm on October 10 to correct Upland's listing. 
Recommended for you

PTTEP scores three Sarawak finds