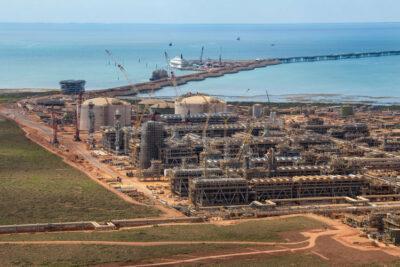 The threat of strikes at some Australian liquefied natural gas plants remains in focus amid pay disputes between Chevron and union officials, as unions endorsed action at the company's Gorgon and Wheatstone facilities.
Strikes aren't guaranteed, and the unions must give Chevron seven working days notice before beginning industrial action. Outages at Chevron's two facilities would threaten about 5% of global LNG supply.
Global gas prices have slumped since Woodside Energy Group made a breakthrough with unions last week, avoiding strikes that could have shut one of their plants.
Here are the key dates so far —
July 26: Australia's Fair Work Commission, a labor regulator, authorizes the Australian Workers' Union and the Communications, Electrical, Electronic, Energy, Information, Postal, Plumbing and Allied Services Union of Australia to hold ballots of members at Woodside's North West Shelf operations on industrial action.
Aug. 9: Almost 150 Woodside workers vote in favor of potential action, including stoppages of between 30 minutes and four hours, and activities such as refusing to unload cargo other than food, water or medical supplies, to restart process gas compressors or generators, or to facilitate helicopter landings.
Industrial action must start within 30 days of a completed ballot, unless the commission grants an extension
A union needs to give up to seven days' notice before any industrial action commences
Aug. 10: The commission approves requests by the AWU and CEPU to hold ballots on action among members at Chevron's Gorgon LNG facility. Separately, the regulator approves both unions to hold votes among workers at the Wheatstone downstream LNG facility.
Voting needs to be completed no later than 10 days after a ballot order is made.
Aug. 14: Requests by the AWU and CEPU to hold ballots of workers at Chevron's Wheatstone platform on industrial action are also approved.
Aug. 15: Talks take place between Woodside and unions on disputes at the North West Shelf operations. The sides remain apart on job security and remuneration, according to the Offshore Alliance, a group that includes the AWU.
Aug. 18: A ballot of workers at Chevron's Gorgon and Wheatstone downstream facilities will begin, according to the alliance.
Aug. 21: Voting among workers at Chevron's Wheatstone offshore platform is scheduled to open.
Aug. 23: Woodside avoids strikes after a 15-hour meeting with union results in an in-principle agreement. If a deal wasn't reached, strikes would have started as soon as Sept. 2.
Aug. 24: Workers at Gorgon and Wheatstone downstream voted in favor to enable strikes if a deal isn't made.
Aug. 28: Workers at the Wheatstone platform voted in favor to enable strikesNow that workers at all three Chevron projects have endorsed strikes, negotiations with the union are expected to begin as soon as late Aug.
Workers must give seven working days' notice before action begins.
Aug. 31: Deadline for workers to vote on Chevron's proposed enterprise agreement on pay and other matters, which the unions oppose.
Sept. 1: Deadline for Woodside and unions to agree to a final deal.
Recommended for you

Chevron and unions agree to end Australia LNG strikes