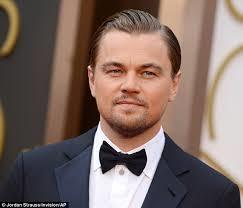 The newly-elected Canadian Prime Minister Justin Trudeau has called on Hollywood actor Leonardo DiCaprio to tone down his "inflammatory rhetoric" on climate change.
The politician made his remarks after the Oscar-nominee hit out at the "corporate greed" od the oil and gas industry.
Both men made their remarks as world political and business leaders and celebrities gathered for the World Economic Forum (WEF) in Davos, Switzerland.
Trudeau said Dicaprio's comments had not been helpful to those who had lost their jobs in the industry.
The movie star told the WEF earlier this month that corporate greed was causing climate change and "enough is enough."
Trudeau said:"I pointed out that both Alberta and Canada have new governments over the past year that are committed to action on climate change…and that there are families suffering, out of
work, who need to be supported, and inflammatory rhetoric doesn't necessarily help those families or help Canada.
"He actually said if we took concrete action on climate change he would be the first to come up and celebrate with us."
DiCaprio had been honoured at the WEF Crystal Awards which celebrate the achievements of leading artists who have shown "exemplary commitment" to improving the world.
He told his audience at the event "enough is enough" and more needed to be done to protect the environment.
DiCaprio said: "We simply cannot allow the corporate greed of the coal, oil and gas industries to determine the future of humanity.
"Those entities with a financial interest in preserving this destructive system have denied and even covered up the evidence of our changing climate.
"Enough is enough. You know better. The world knows better. History will place the blame for this devastation squarely at their feet."
It is not the first time the actor and producer has spoken so passionately on the subject – at the 2014 UN Climate Summit in New York he warned the world would "perish" without swift action.
"We need to put a pricetag on carbon emissions,and eliminate government subsidies for coal, gas, and oil companies," he said then, adding: "We need to end the free ride that industrial
polluters have been given in the name of a free-market economy."
And at another New York event late last year he pledged to divest from his fossil fuel holdings and increase his investment in renewable-energy companies.
But the star of films including Titanic, Catch Me if You Can, The Great Gatsby, The Wolf of Wall Street and the Revenant, has also been accused of hypocrisy over his environmental stance.
Documents obtained by Wikileaks last year suggested DiCaprio took six private jet flights between LA and New York in just six weeks during 2014.
Recommended for you

SNP Westminster leader Stephen Flynn plays down oil and gas rift with Sturgeon