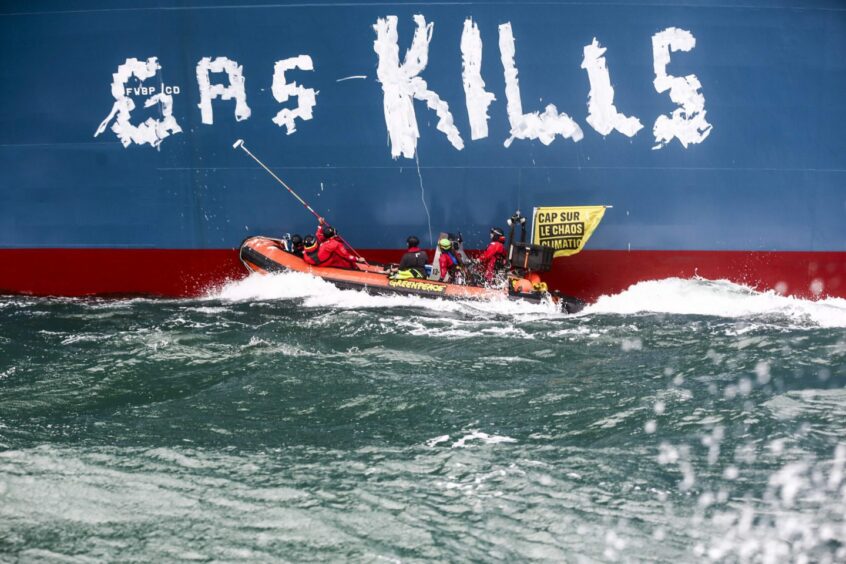 Greenpeace France activists have graffitied an FSRU, arriving at Le Havre, in protest at plans to import shale gas.
Protestors approached the 280-metre long Cape Ann FSRU while at sea. The vessel is intended to provide energy security to France, in response to the gas crisis of last year, triggered by the Russian invasion of Ukraine.
Hélène Bourges, a campaigner at Greenpeace France, said gas operators had "cynically used the opportunity" of the invasion "to frighten governments into massive, unneeded investment into and expansion of fossil gas imports and infrastructure".
Greenpeace activists painted the message "gas kills" on the hull of the Cape Ann. Others held up banners reading "Total: shale dealer", "Macron: shale dealer" and "End Fossil Crimes".
"The only beneficiaries of the LNG gas infrastructure in Le Havre are TotalEnergies, the operator of the floating terminal, and its shareholders", continued Bourges. The company has the "complicit support of the French government that granted an unprecedented legal preferential regime to set up this operation".
One of the major reasons flagged by Greenpeace France for its action was the accusation that the FSRU would receive LNG cargoes from the US.
The group said LNG would come largely from US shale gas, while France has banned fracking on its own territory over environmental concerns.
Greenpeace has previously raised concerns over the Cape Ann. In July, the group said the French state had been overly secretive in the planning process.
The government opted not to publish details of the plan "because of some concerning details", Greenpeace said. The Cape Ann will be in place for five years, according to planning documents.
Recommended for you

Greenpeace calls for Rugby Wold Cup oil ads to be sent to sin bin