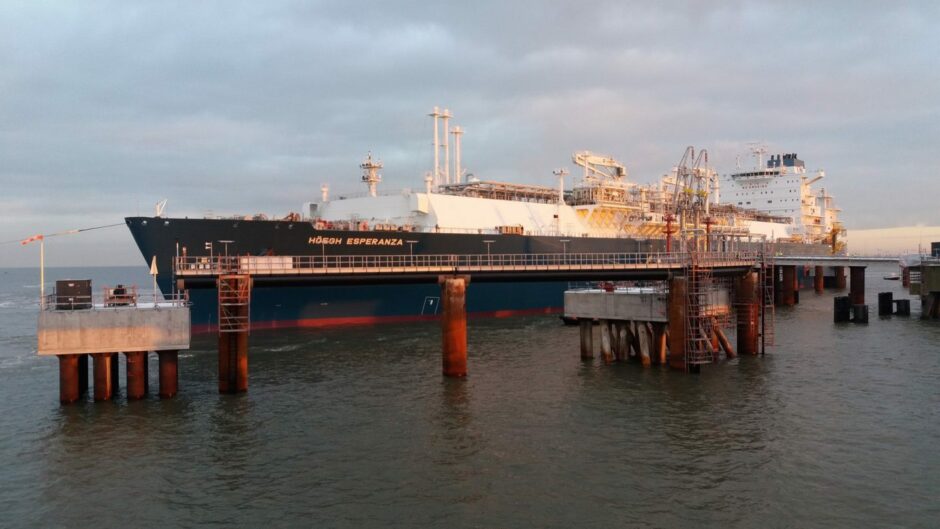 Germany wants to lock in contracts for liquefied natural gas with a delivery obligation, an effort to deter profit-chasing traders from diverting shipments elsewhere as the nation boosts its commitment to the fuel.
The government plans to include a delivery clause for at least 50% of the capacity offered in an auction next month, the first in a series of similar events for its state-run terminals, according to Peter Röttgen, managing director of Deutsche Energy Terminal GmbH.
"We not only want to be fully booked, but actually receive gas," he said in an interview. And the federally owned company wants to hold suppliers to their word: "It's clear there has to be a consequence for not delivering," he added.
The requirement highlights both Germany's growing reliance on LNG and a potential source of friction between the government and suppliers. Europe's largest economy was hit particularly hard during last year's energy crisis as Russia cut pipeline gas shipments and prices soared to record levels. In response, Germany doubled down on its ability to import LNG.
However, the risk of delays and canceled shipments has risen due to the increasingly global nature of the LNG trade. Most shipments don't have a destination requirement, allowing traders to quickly fill gaps in the market, such as shifting supply between Asia and Europe.
Companies like Germany's Uniper are keen to retain this flexibility.
The issue of securing supply has recently taken on importance as Europe's gas market has seen renewed volatility due to supply risks. Germany is also bracing for potential gas shortages if winter is unexpectedly cold.
In addition, a German state-run gas trader is now under contract to receive gas from a US supplier that has been criticized for longer-than-expected deliveries to other parts of Europe.
October auction
DET will hold the first short-term auction on Oct. 16 for its Brunsbüttel and Wilhelmshaven terminals. It's seeking contracts for regasification — turning LNG back into gas — including gas storage and send-out. Separate auctions for LNG supplies will occur later.
Two more state-run terminals are set to come online in the first quarter of 2024. A private facility at Lubmin is also currently in operation.
The operator expects the first auction to be fully booked, according to Röttgen. A previous market survey showed that suppliers have a tendency for three- to five-year agreements, he added.
Last year the government struck a temporary deal with companies to import LNG through Wilhelmshaven and Brunsbüttel to alleviate the crisis. Those agreements — with Uniper, RWE Supply & Trading GmbH and EnBW Energie Baden-Wuerttemberg AG — are set to expire at the end of March.
Uniper didn't immediately comment on delivery requirement for the auction. RWE's trading arm said it understands the new approach of the state operator and is currently analyzing the rules. EnBW declined to comment, citing contractual and competitive reasons.
Recommended for you

Stranded gas tanker in Australia could cause rise in global LNG prices