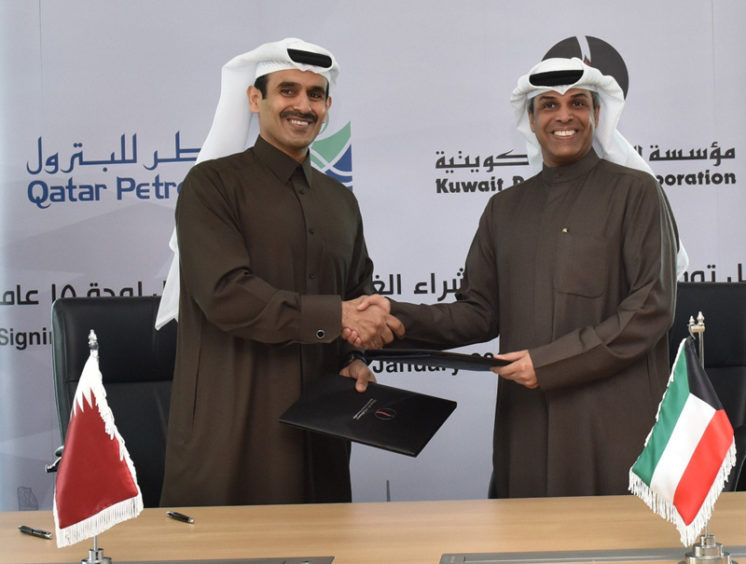 Qatar Petroleum (QP) has signed up to supply Kuwait with 3 million tonnes per year of LNG for 15 years, under an agreement with Kuwait Petroleum Corp. (KPC).
Supplies will begin in 2022 and are expected to meet Kuwait's growing energy needs, particularly from the power sector. Deliveries will go to the Al-Zour port, where Kuwait expects to complete a regasification terminal in 2021, with capacity of 11.3mn tpy.
"This agreement extends Qatar's long standing LNG supply relationship with Kuwait well into the 2030's and highlights our commitment to meeting Kuwait's LNG requirements. We are confident that the exceptional reliability of our LNG supplies will provide KPC with the required flexibility and supply security to fuel the State of Kuwait's impressive growth," Qatari Minister of State for Energy Affairs Saad Sherida Al-Kaabi, also the president and CEO of QP, said.
Al-Kaabi signed the agreement with Kuwaiti Minister of Oil Khaled Al-Fadhel, also the chairman of the KPC board. The Kuwaiti minister said his country was "embarking on an ambitious path of economic growth, which requires cleaner energy sources such as natural gas that will contribute to reducing emissions and improving local air quality. Whilst KPC is working towards increasing local natural gas production, there remains a pressing need to secure imports of natural gas supplies."
Kuwait currently imports LNG via the Mina Al-Ahmadi port, where a floating storage and regasification unit (FSRU) is moored. Initially this was only to meet increased demand in the summer season, from April to October, but in recent years the import season has widened.
KPC signed a 15 year deal with Shell International Trading Middle East in 2017. This covers LNG deliveries from 2020 for 15 years, with volumes estimated at 2-3mn tpy. This gas is also expected to go to Kuwait's power plants.
Qatar is expanding its LNG capacity, with plans to scale up to 126mn tpy by 2027, from the current level of 77mn tpy. While the state has recently lost its crown of top producer to Australia, by the end of the 2020s it is expected to be back on top. At a time when discussion of reducing reliance on the Straits of Hormuz are once more timely, the appeal of local supplies for Qatar is clear.
Doha came under pressure in mid-2017 from its neighbours, led by Saudi Arabia and the United Arab Emirates, who were eager that Qatar shift its foreign policy. An embargo imposed upon Qatar at the time remains in place but there have been some signs of reconciliation, with Kuwait playing a role as intermediary.
Recommended for you

Conoco signs up to receive Qatari LNG in Germany